Titanium
Deep Pot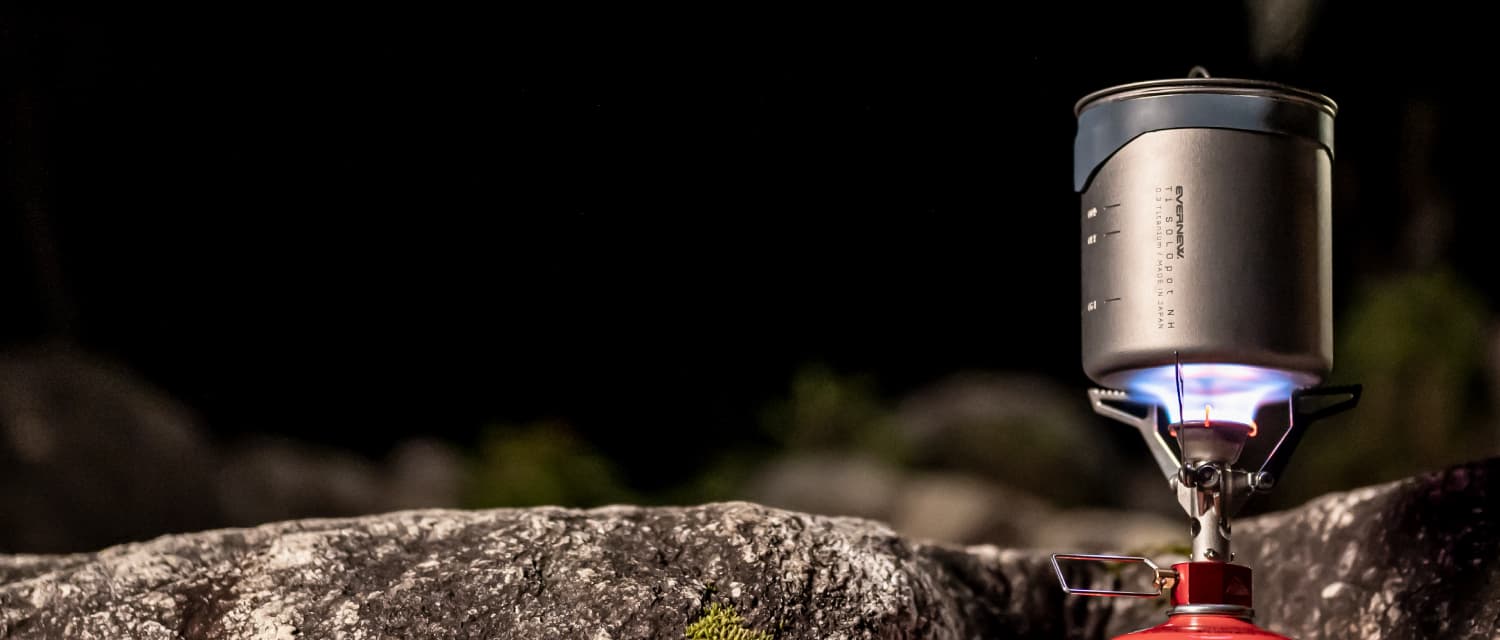 History of Deep pot
In the late 1970s, the current gas canister was launched overseas, and spread immediately to Japan.
Until then, the popular heating set were based on highly volatile liquid fuels such as kerosene and gasoline, but with the advent of safe gas canisters, gas rapidly became the popular heating set.
Most of the cookers were the traditional "flat-pot" style, with foldable handles for mountaineering.
In the 1980s, Since the stove head has been miniaturized, the "Deep pot" was introduced as a cooker that could store both items together. In the early '80s, the first vertical cooker was also released by EVERNEW.
The unique shape of these cookers, which are rarely seen in daily life, has become synonymous with "mountaineering" in a sense and continues to be a mainstay of sales.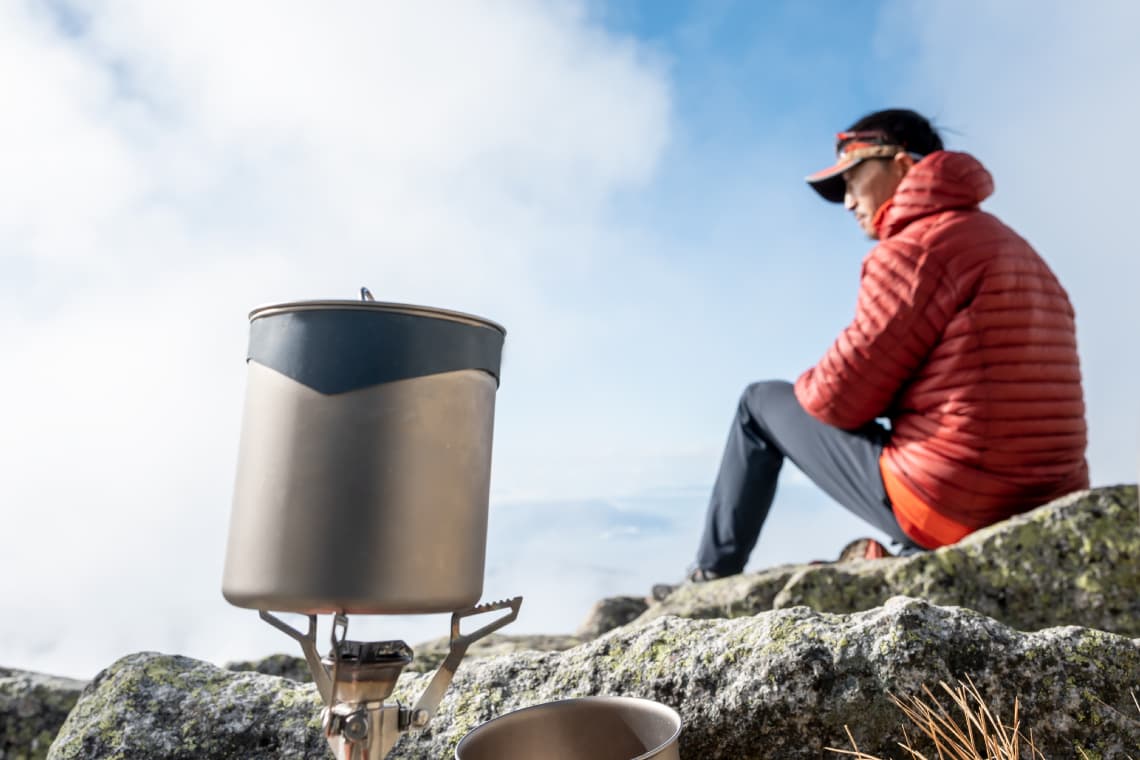 Combustion efficiency and Ultralight
For a deep pot, which has a small area to receive energy from the heat source, the design of the stove head and the Flame size are important for the efficient use of fuel.
To concentrate heat energy in the form of flames, the stove which has a design that makes the flames rise directly above is suitable.
However, while this type of head is fine for cooking with liquids, such as boiling water, making ramen noodles, or boiling pasta, care should be taken when cooking with this type of head, as it tends to burn easily.
Combustion efficiency and Ultralight
Another common case we see is that the heat level is too strong.
Even if you want to boil water quickly, the flame size to extend beyond the bottom of the pot come to wasting energy.
Adjusting the flame so that it does not extend beyond the bottom of the cooker is the most efficient way to consume fuel.
Using less fuel efficiently is an important step toward weight reduction, so please be a little conscious of your adjustments.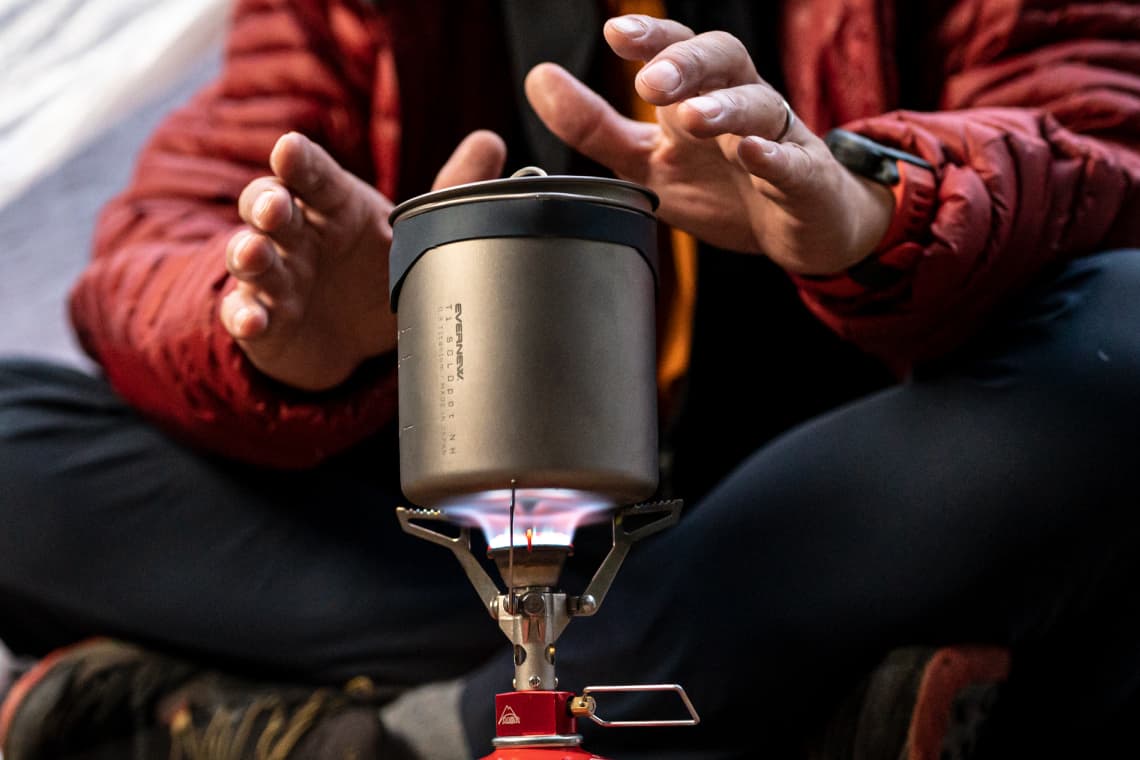 Ti SOLO pot NH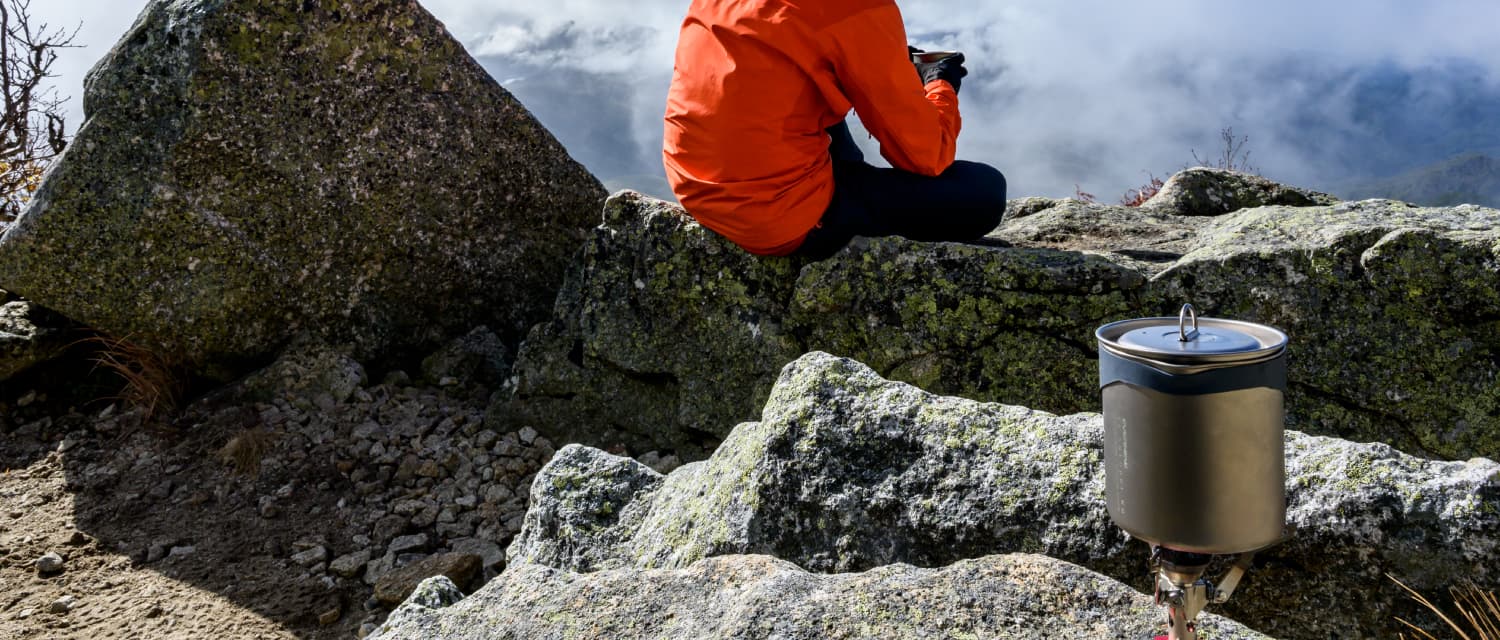 Text:Kazutoshi Ota Photo:Ryohei Kawamoto
Easy way to get
the U.L. Style
A new standard

for Ultra Light Pot

The most familiar heat source for climbers will be a gas stove.
The most effortless and lightweight cooking system for such climbers is a small gas canister, a lightweight stove head, and a lightweight pot.

From the viewpoint of compactness, cookers, gas canisters, and stove heads are the last items that remain the same in volume when carried to the end of a mountaineering trip.

The ECA624 Ti SOLO pot NH is the optimal solution that EVERNEW has come up with to see how much the volume these three items can be cut down in total.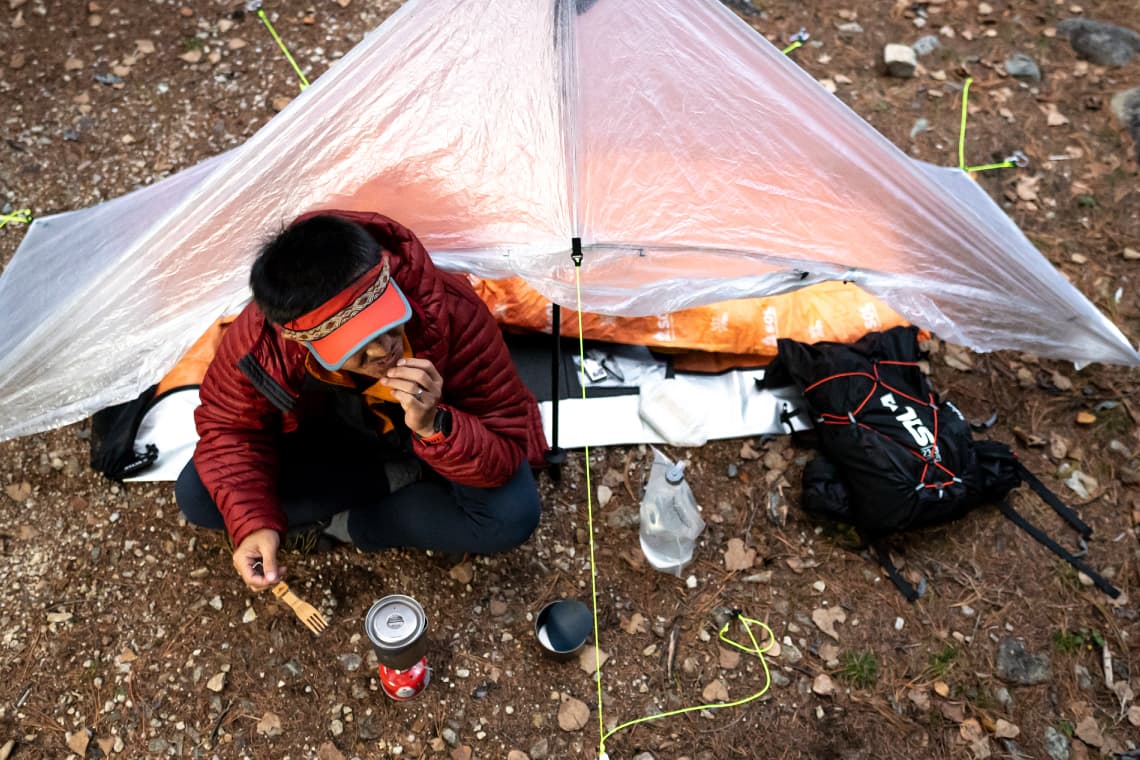 Even 1g light
Small gas canister/110 and a small stove head, just barely large enough to close the lid.
The flameproof silicon band provides "No Handle" specifications.
The new U.L. Ti cooker is recommended for everyone who wants to keep the convenience of a gas stove yet keep it lightweight and compact.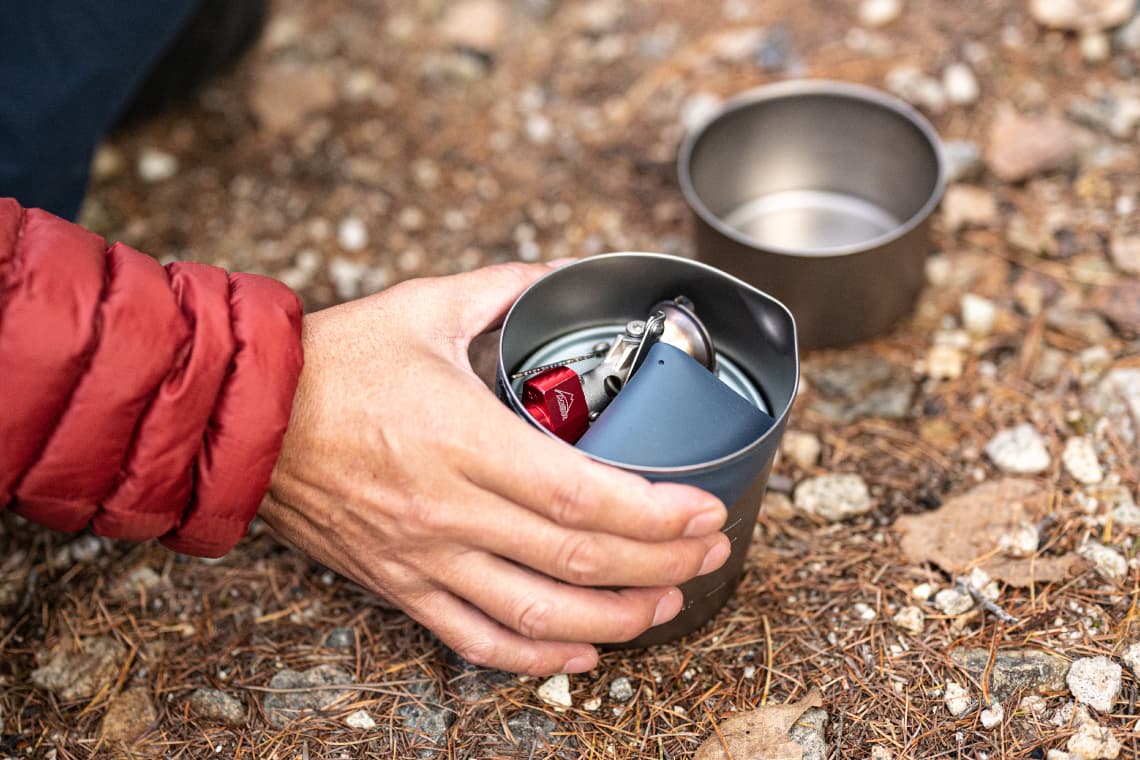 Cool buddy
It's no way to drink delicious coffee with same pot that you used to eat greasy Ramen.
If you are particular about dripping the coffee, you need another cup.
This pot can store in the 400 mug pot. If you want to shave weight more, you can make a buddy with ECA625 Ti 400NH.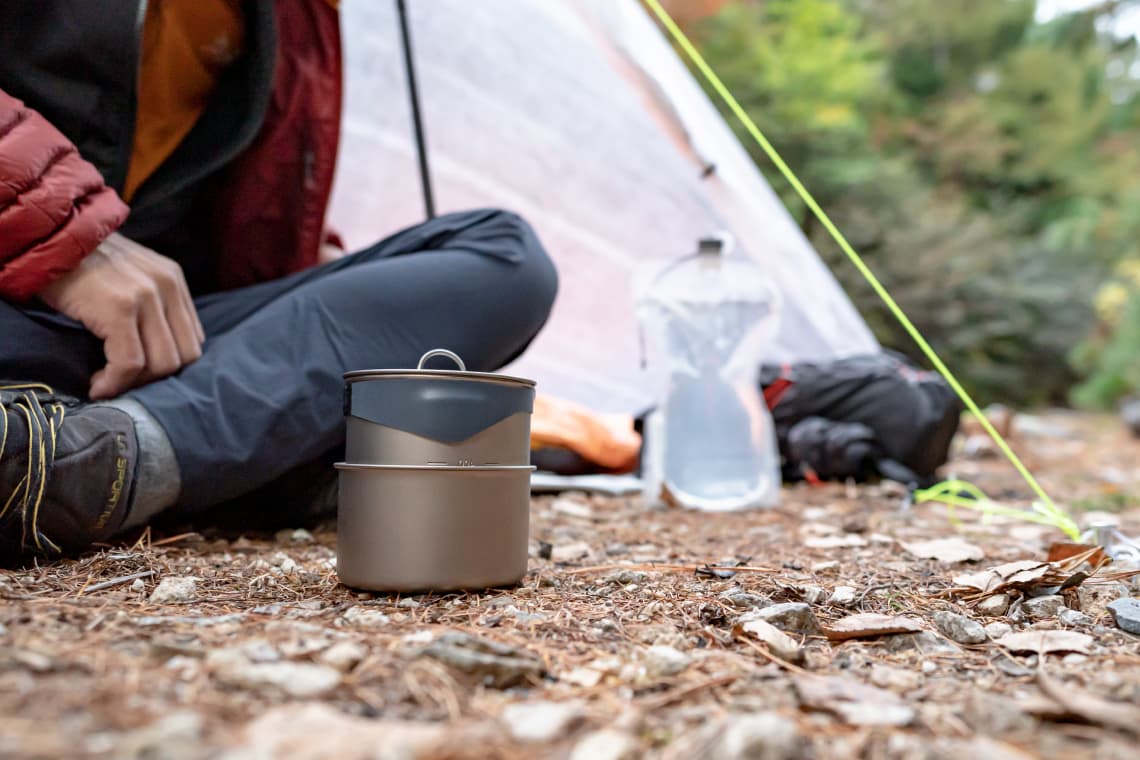 Advantage of handleless
Using the pot directly by hand, rather than by the handle, allows for subtle adjustments when pouring hot water.
The "delicacy" required for dripping coffee is superior to that of the Ti Mug pot 500, which has a handle.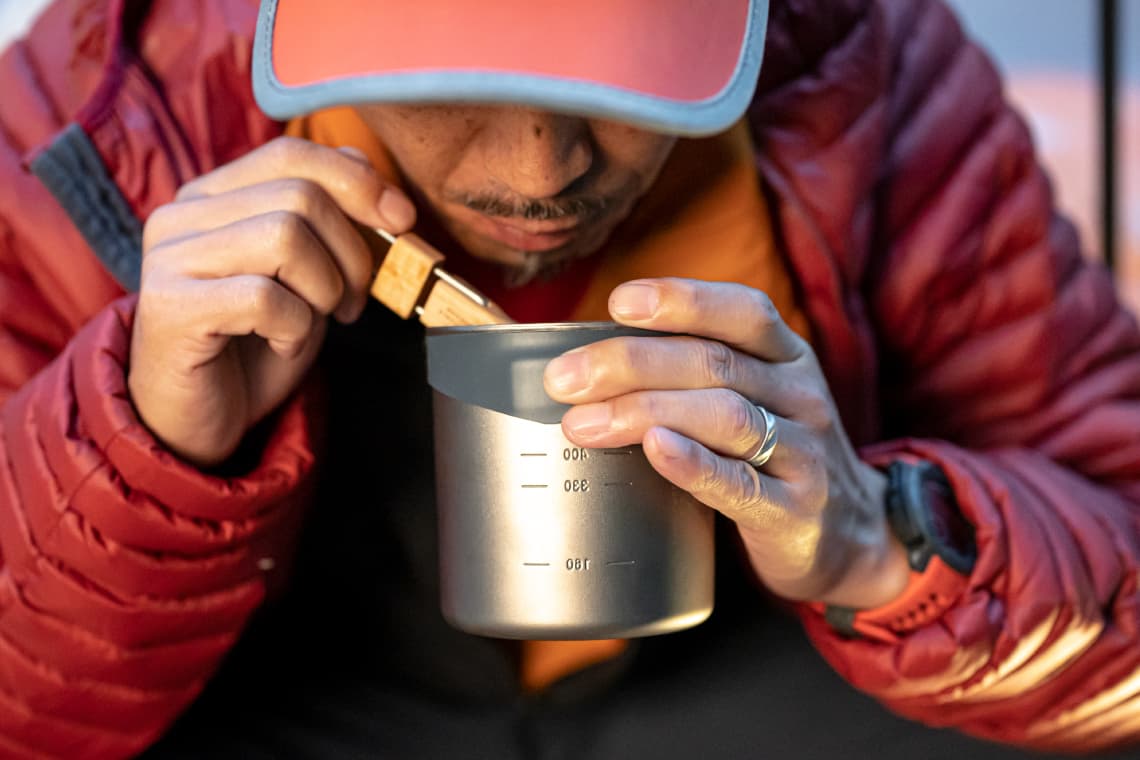 Ti Mug pot 500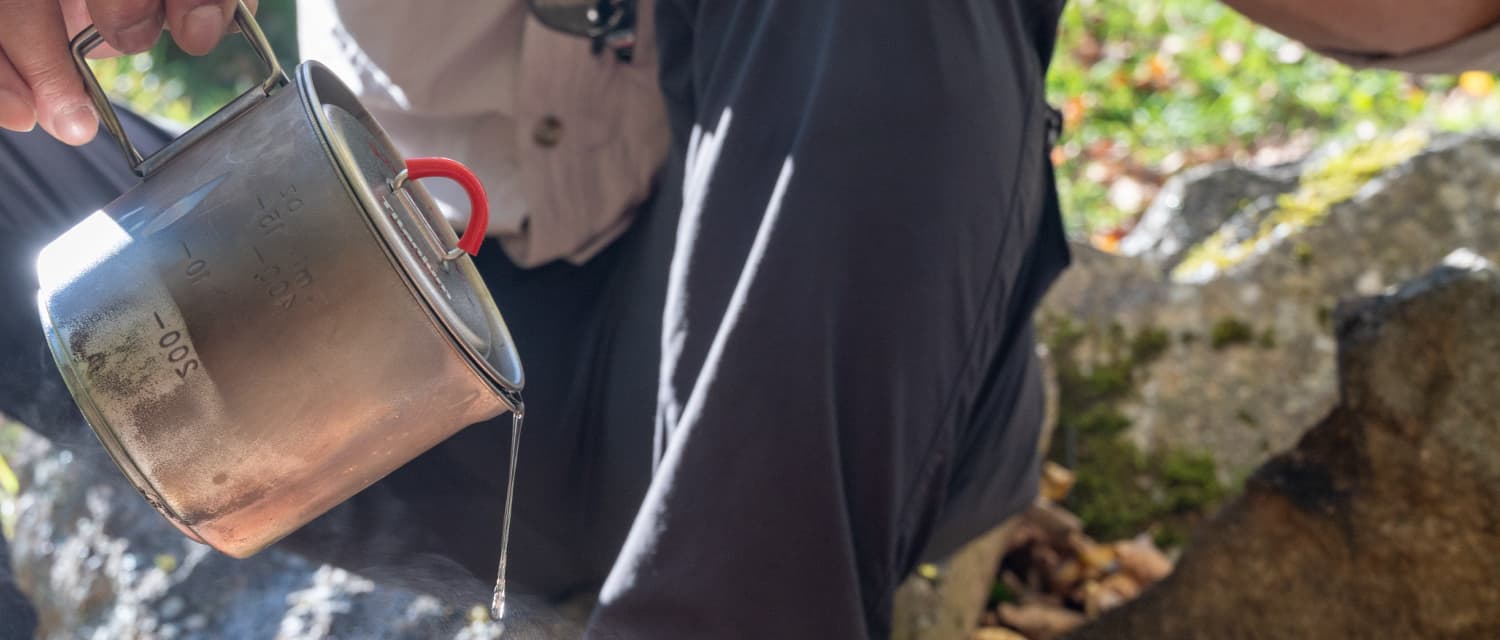 Text:Kazutoshi Ota Photo:Ryohei Kawamoto
Ti Mug pot 500" is

the most popular cooker for solo use.

Along with "Ti 400FD Cup", "Ti Mug pot 500" is also popular.
For solo use,"Ti Mug pot 500" is lightweight and compact use as far as the Ti 400FD Cup.

It can store 110 size small gas canister.
NP Cooker Cases are elastic and can be used to store cartridges and stove heads inside.*
*Depends on the type of stove.

It can boil water for coffee for about 3 people at once.
The spout on this pot allows the water to drain easily and does not drip easily.
As a drip pot
The size is just right for solo or duo coffee time.
It can pour hot water as thin as a drip pot and the hot water drainer is also very easy to use.
An example of a fast-packing meal

after arriving at the tent site

An example of when to eat after arriving at the tent site:
Boil 320 ml of water in a Mug pot 500.
160 ml of water add the freeze-dried, and the remaining 80 ml of hot water to make miso soup in the Ti Mug pot 500.
Put "Ti Mug pot 500" into "NP Cooker Case 500" to keep it warm.
It will keep the temperature for quite a long time.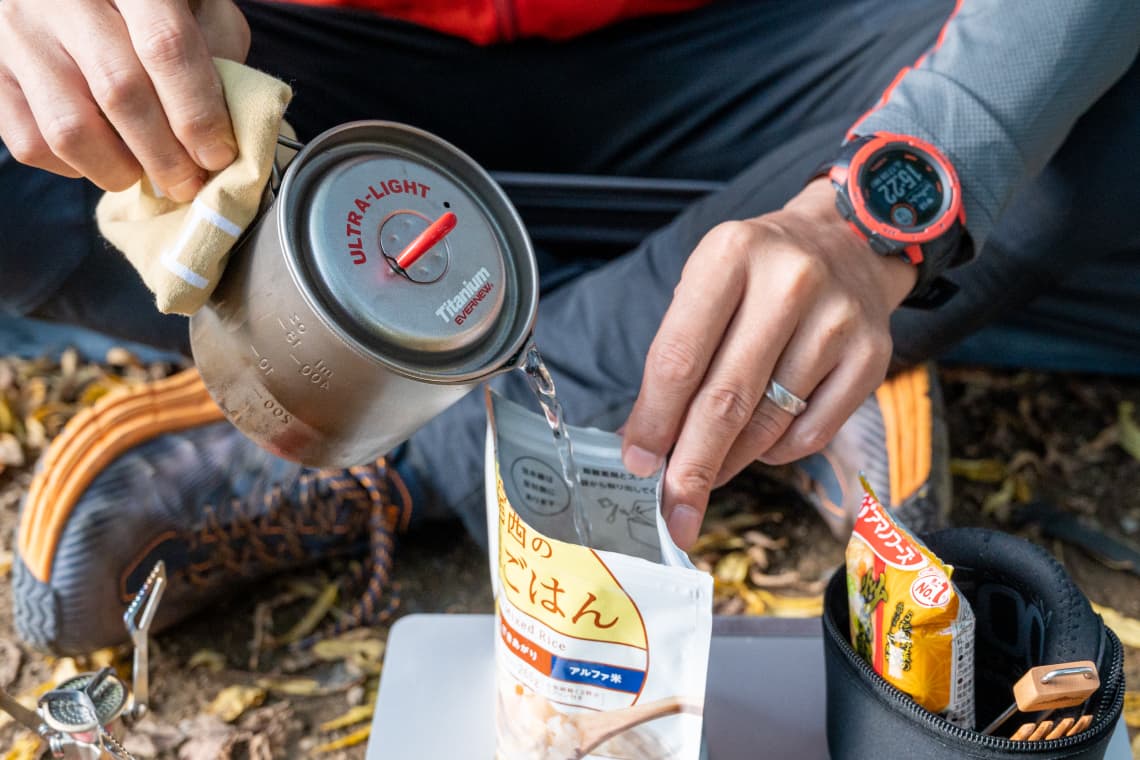 Ti Pasta
Pot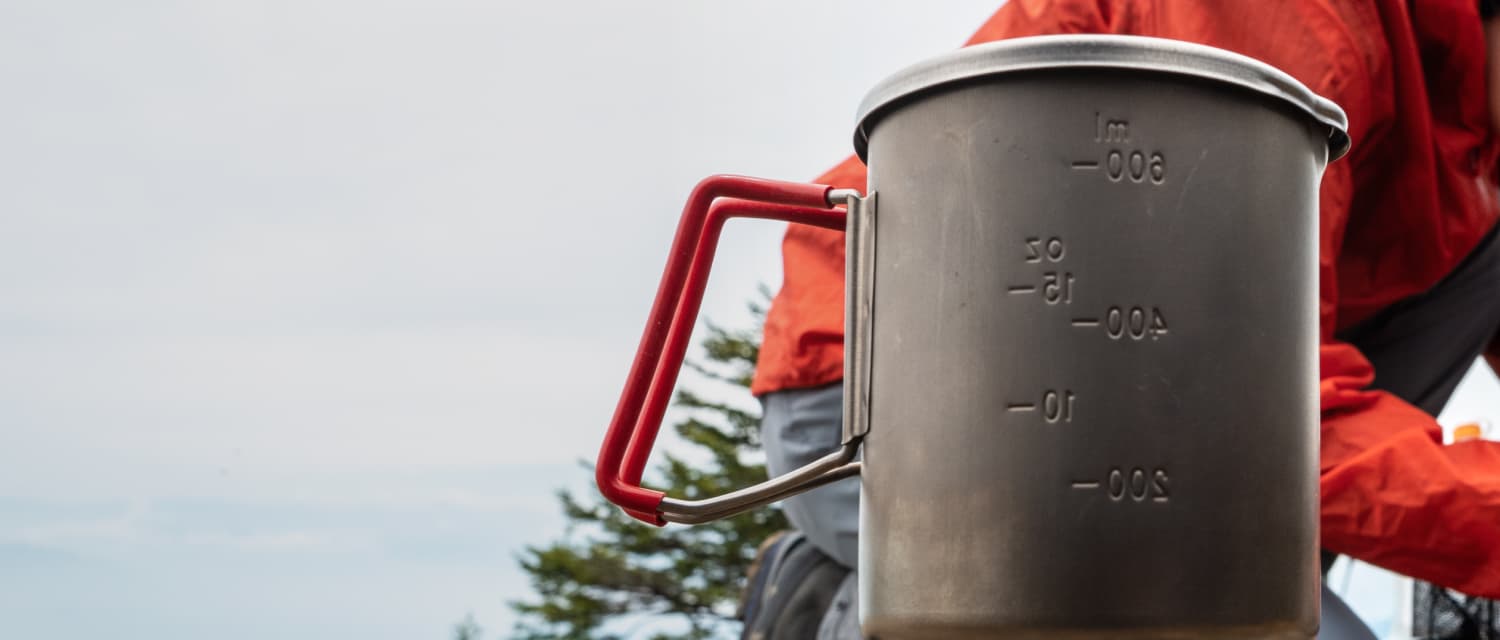 Text:Kazutoshi Ota Photo:Ryohei Kawamoto
I want to drain pasta water easily.
This pot with a hot water drainer was created at the request of pasta loving thru-hikers.
This is the only pot with a possible fixed lid, and it is unique in that the lid is hooked on from the hot water drainer side.
Although it is a strong fixation, remember to drain the water while holding the lid down in case of emergency.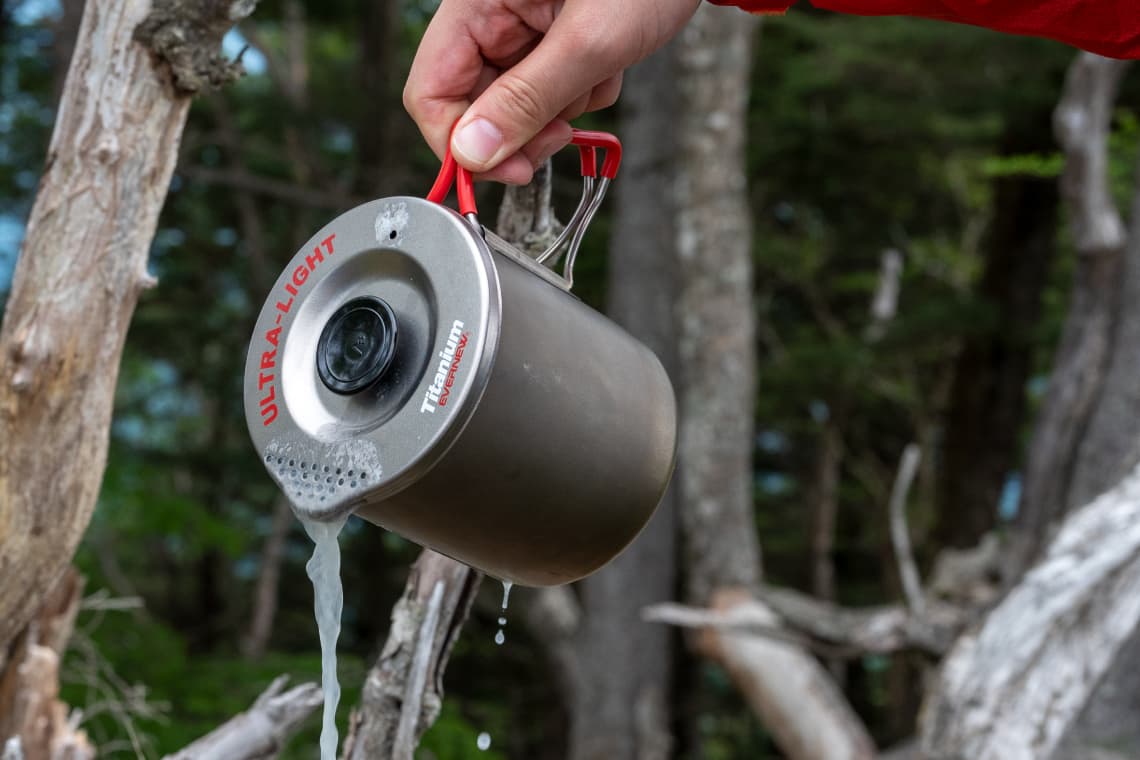 Ti U.L. Pot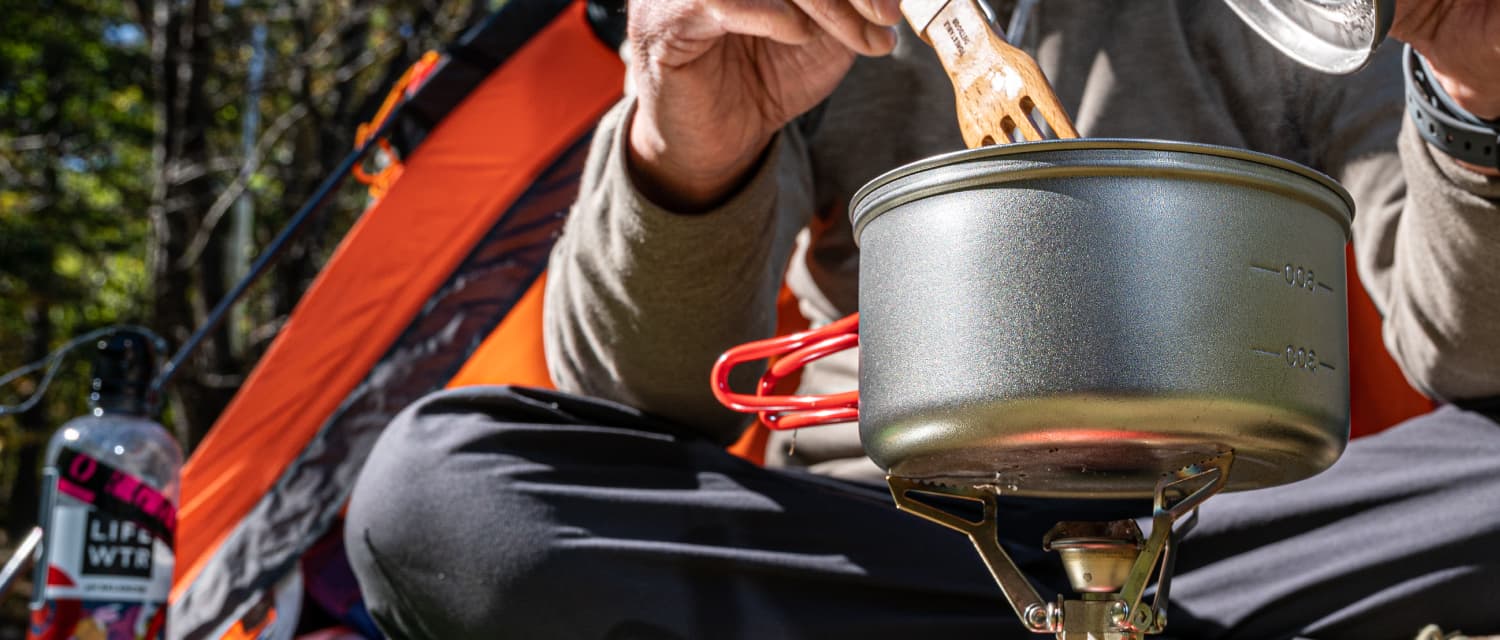 We call "Flat Pot"
referred to as a pot witha wide opening.
I wonder if when you go to the store to start climbing, most of you probably buy a deep pot.
So why are deep pot models chosen? There are many reasons,such as because they were introduced in magazines or books, or because they were recommended by a store owner,but most of them are probably because they can store gas canister.
In fact, my first pot was a deep pot and I stored the gas canister inside. I also thought it was convenient to store the stove head and everything else inside the pot. And I think many people have no complaints about that.
But one day, I suddenly realized. The delicious smells wafting up from the mountains usually came from flat pots!
"Putting the gas canister inside the pot."
I think we are moving toward a richer mountain diet from those who are freed from this kind of common sense.
Advantages of the Flat pot Part 1:

It's wide opening!

Whether you are making ramen or soup, a wide opening is essential when cooking because it allows the ingredients to be spread out flat. Wide horizontal cookware is advantageous for cooking as deep pot do not exist.

It is also advantageous to use a flat pot where the ingredients do not overlap as much as possible to heat the cook well enough and blend in the seasonings.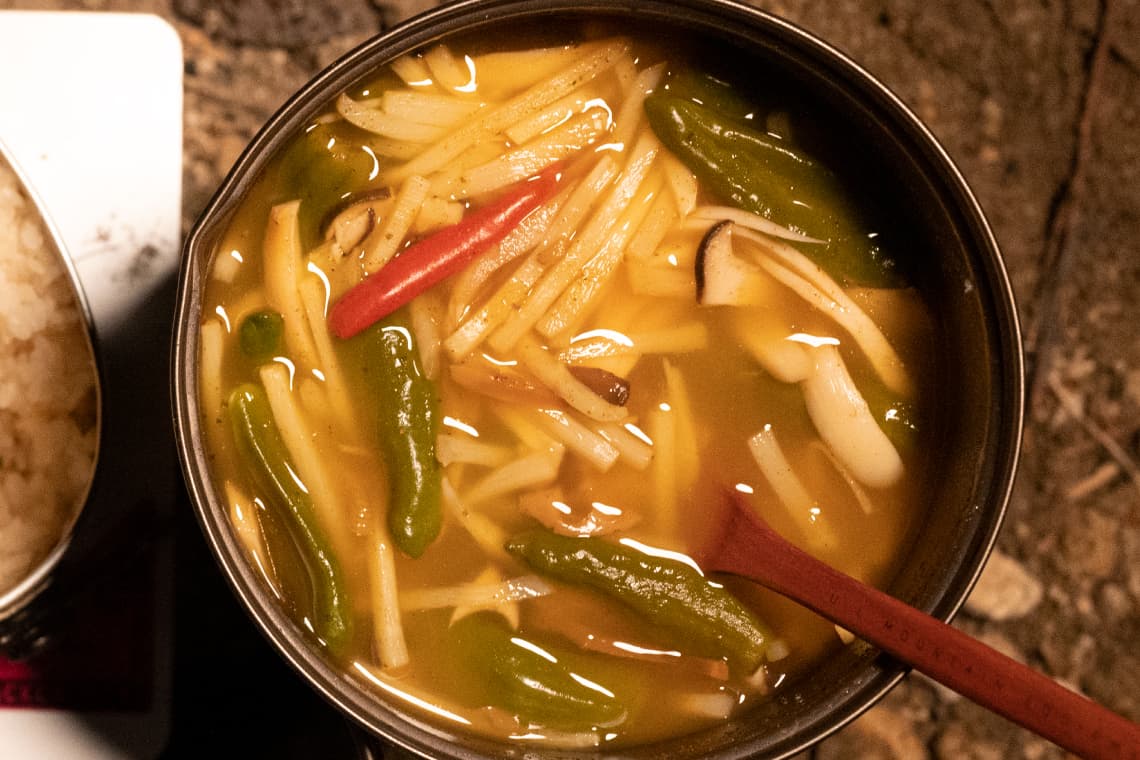 Advantages of the Flat pot Part 2:

Receive passion with all heart!

The point is that the area to receive energy from the heat source is large.

Even flames that would escape to the side in a deep pot can be caught by the bottom of a flat pot.

Isn't the advantage of the flat pot proven by the fact that there is no deep pot type of cookware in general?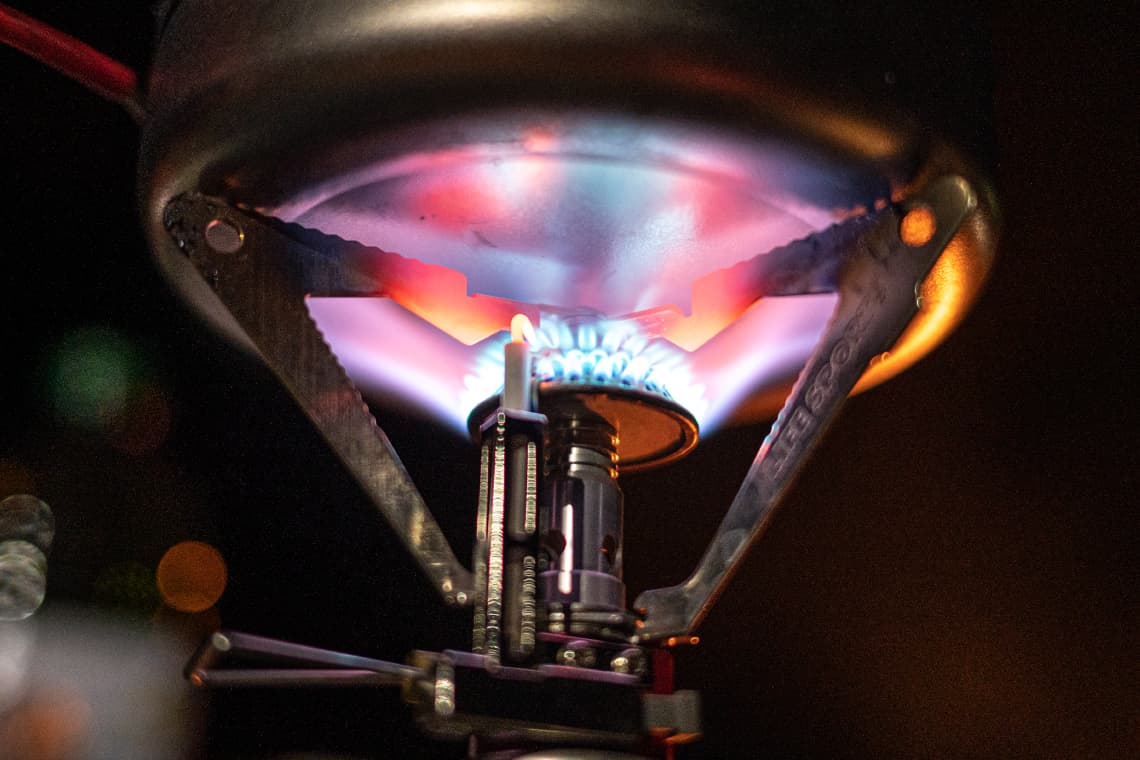 Advantages of the Flat pot Part 3:

Flat Pot is also very useful
for winter water production.

The 0.3mm UL titanium allows for faster heat transfer, so water can be made faster than with other pots.
Advantages of the Flat pot Part 4:

Actually the safest place
in a backpack.

Store gas canisters in the pot.

The pot turns into a sturdy shipping container.

Fragile cutlery, stove heads, eggs, etc. can also be carried, properly while keeping their shape.

You don't have to bite into a flattened rice ball or pick up the shell from the egg.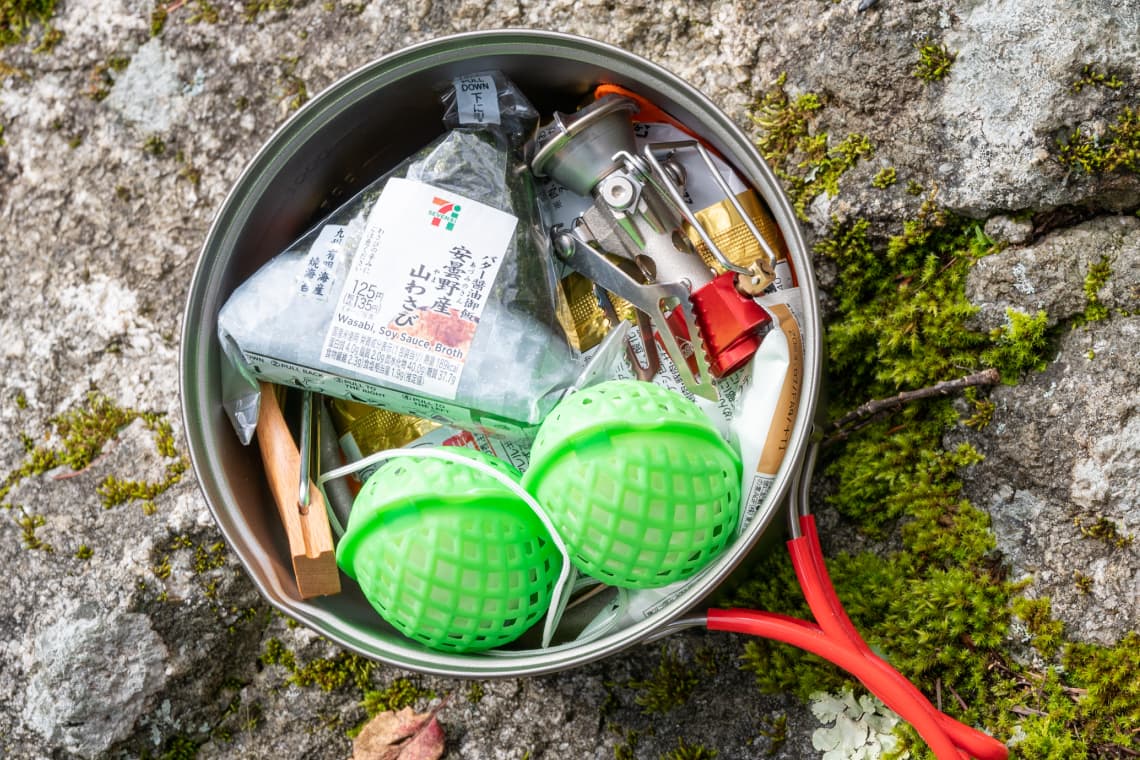 Titanium Cup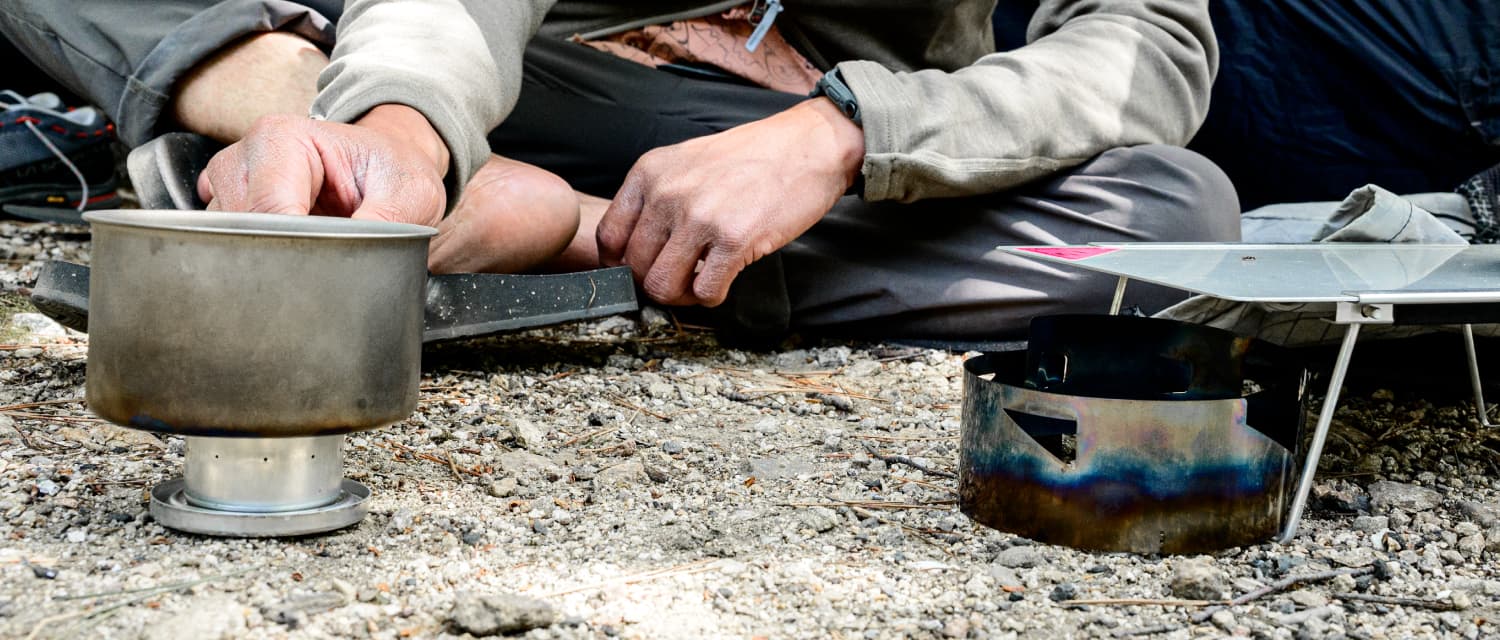 "Ti 400 NH" + "BLUENOTE⁺stove set"

Lightest set using alcohol stoveBLUENOTE+stove set

The lightest heating set using alcohol fuel takes this form.

"BLUENOTE⁺stove set" and "Ti 9G Windshield". The cup is "Ti 400FD Cup" or "Ti 400 NH cup". You can use either "mulTidish" or Flame proof silicon "Circle" for the lid.
Whichever you choose, it will be assembled with Under100g.

Actually, there alcohol fuel bottle of 30 ml with a measuring cup, lighter, and cutlery are the minimum items needed.

Personally, I would be happier using the NP cooker case, but if lightness is important to you, I would say Under 200g in a DCF pouch or similar.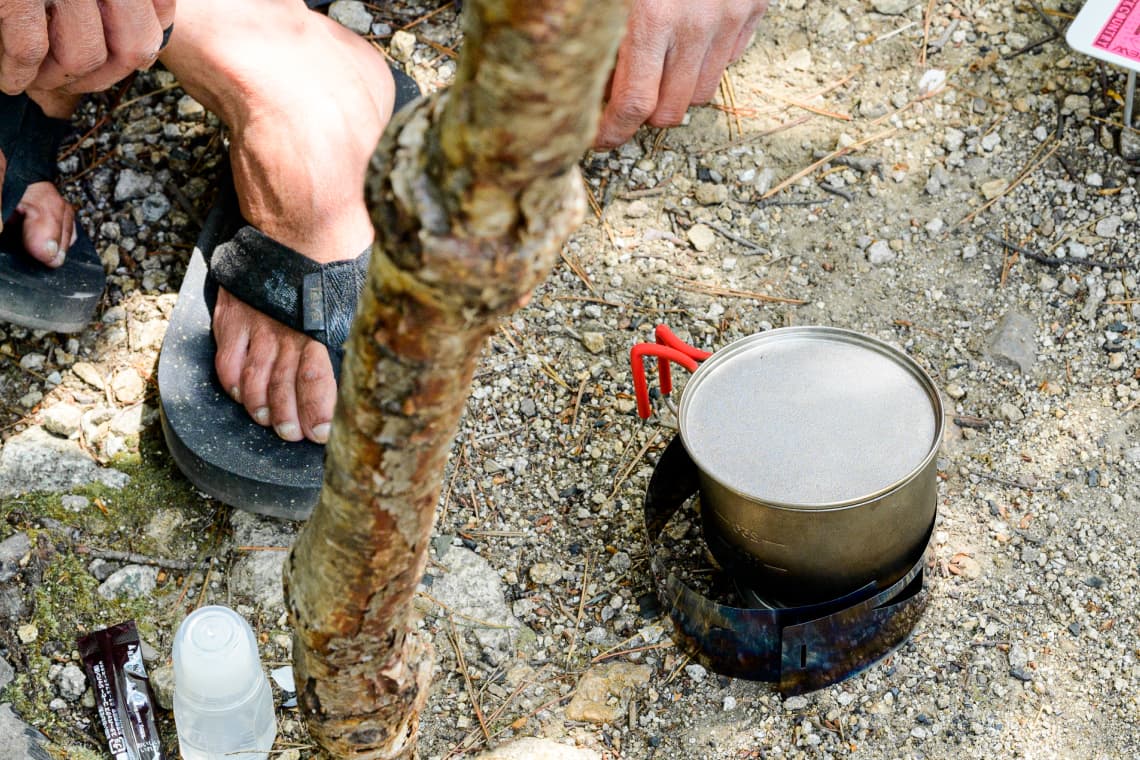 "Ti alchole stove" + "Ti 400FD Cup"

Originally developed as a small cup that could be placed directly on the fire instead of a sierra cup "Ti 400FD Cup"

Although it is a small mug for personal use, its 400ml size has led to people using it as a cooker.
A standard all-purpose cup that has become the default for UL hikers looking to save weight.

The maximum water amount is around 300~350ml when it can boil on the "Ti 400FD".
If you make a noodle that needs 330ml water, it will overflow soon. reduce the amount of water a little.
When you will make Alpha rice, it needs 160~180ml water so you can make twice of water at once.

Powdered coffee sticks are generally 160 to 180 ml, so you can make enough for 2 people at a time.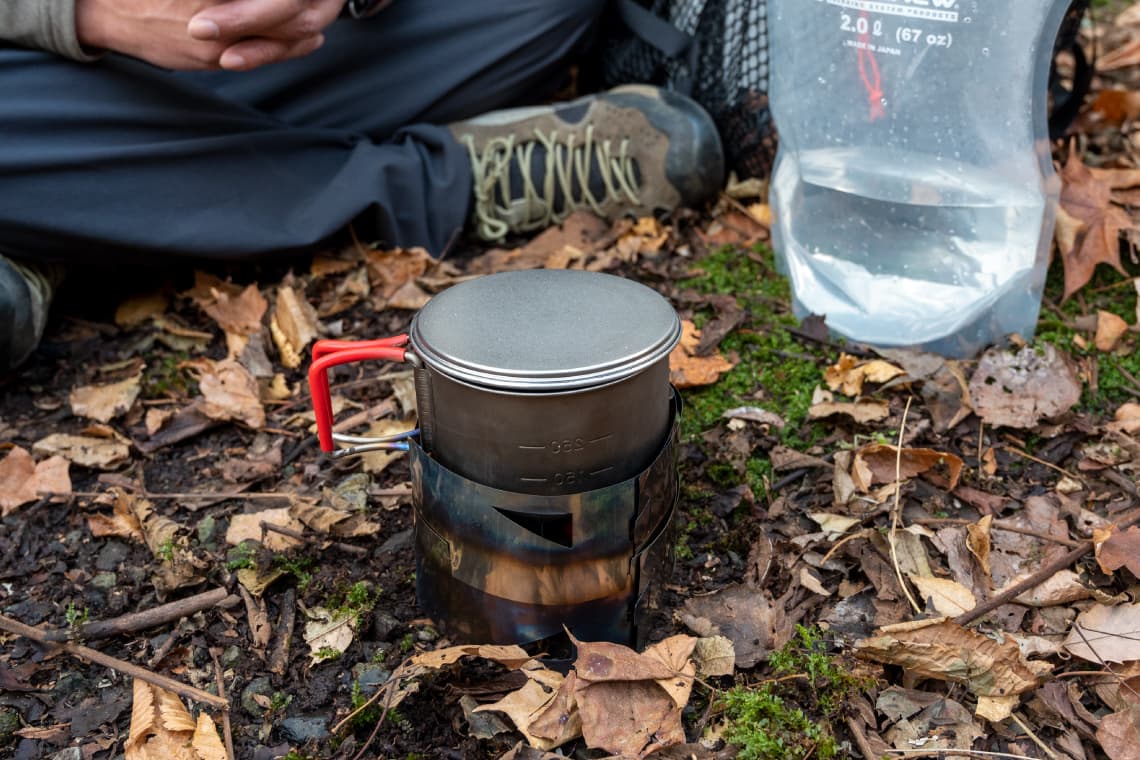 "Ti 570FD Cup" + "BLUENOTE⁺stove set"

Effortless set-up using
BLUENOTE⁺stove set

"BLUENOTE⁺stove set" with "Ti 9G Windshield" and "Ti 570FD Cup".
The lid is "570 Cup Lid".
You can eat an instant noodle without any difficulty in this size.

The 60 ml with a measuring cup alcohol fuel bottle can be stored and it is able to boil 300 ml of water four times.
This is the more practical combination.

The weigh is around 250g with NP cooker case.
+50g reduces stress, so I personally recommend this combination.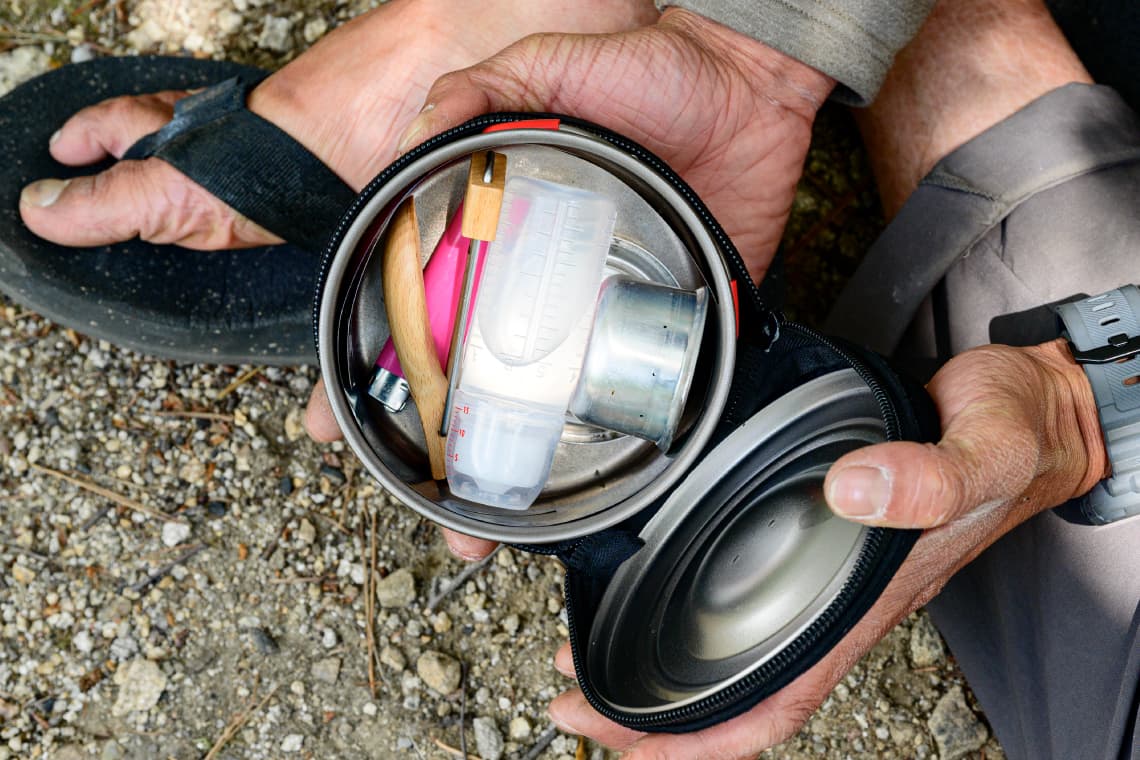 "Ti alcohol stove"+"Ti 570FD Cup"

Ti alcohol stove's most compact set

If you intend to "Ti alcohol stove" based light weight, we recommended this set up.

The minimal items " Ti570FD Cup" and " 570 Cup lid", "Ti alcohol stove ", "Ti windshield " are put into the NP cooker case, Adding more cutlery and a lighter.

Alcohol fuel is carried separately from this set.

It can also be assembled in a 400ml-size cup, in which case it will be even lighter.

What would you choose for lightweighting?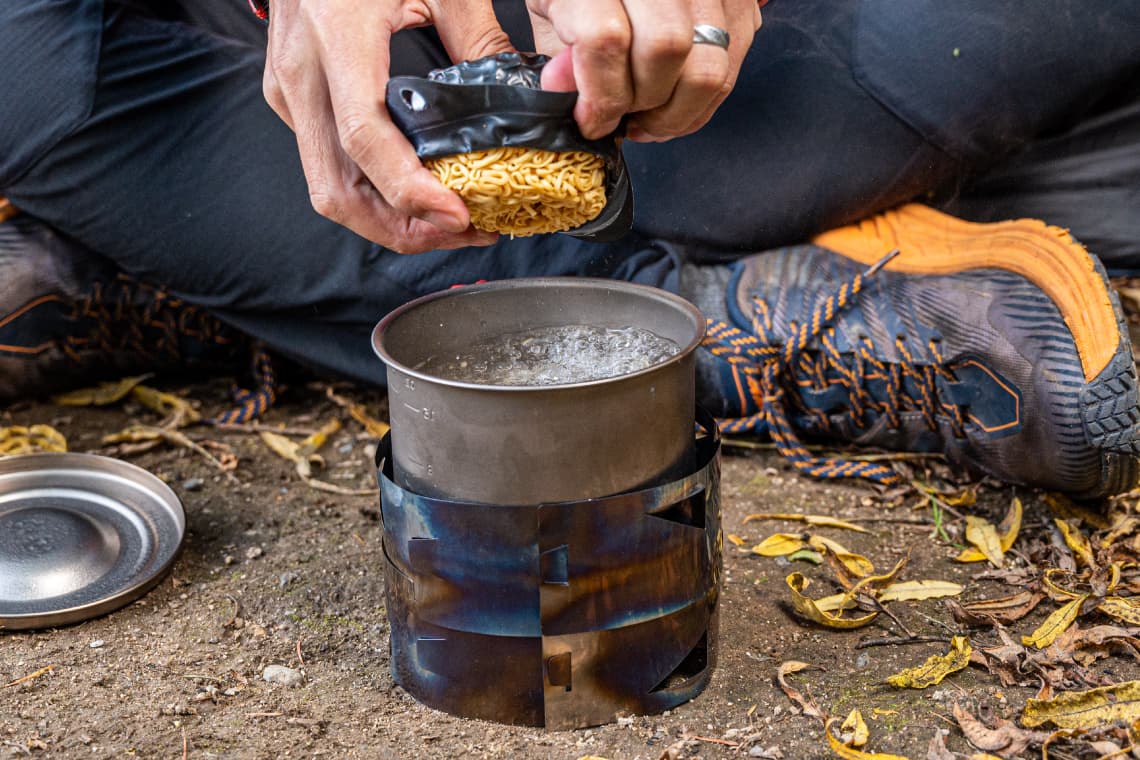 "Ti Storage pot 560"

New proposal for titanium pot

Titanium storage container that can be heated directly over a fire.

Titanium's characteristics (tasteless, odorless, stable, and said to have photo-antimicrobial properties) make it an ideal material for storage containers.

It is also possible to enjoy food cooked at home and warmed up on the mountain.

It can also be used as a cooker in combination with "NABETSUCAM".
(The lid is not made of flame-retardant material, so be careful when putting it directly on the fire.)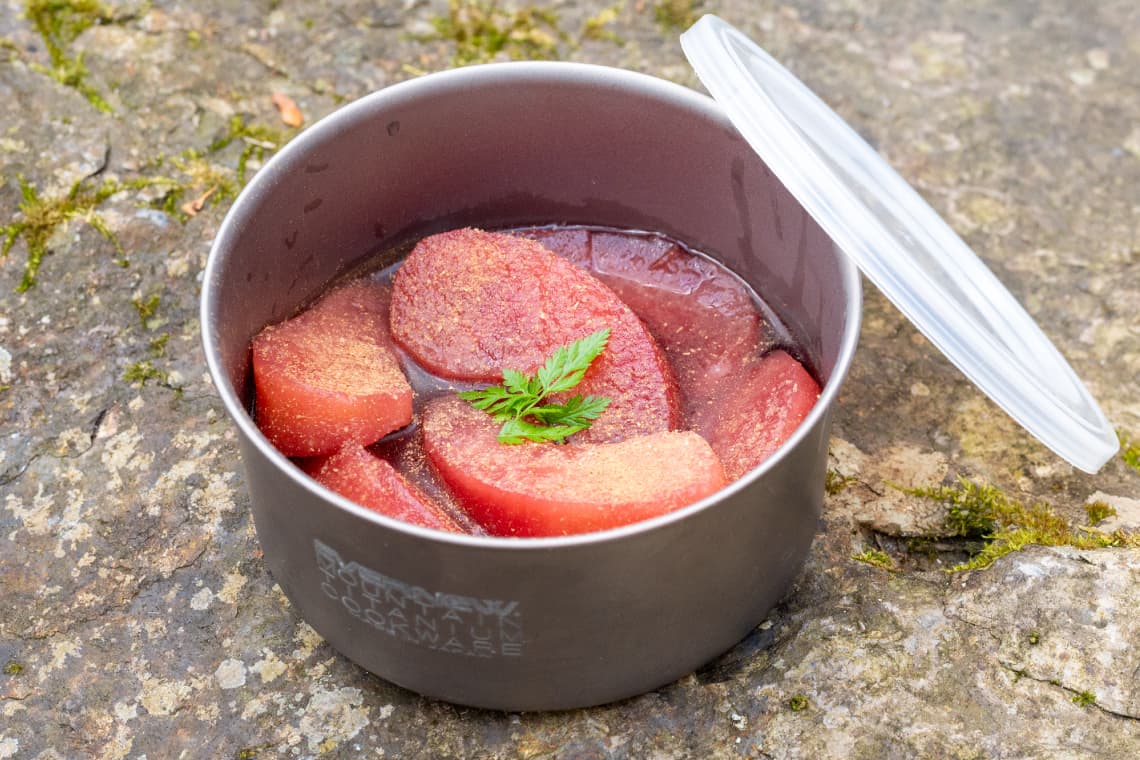 Mug Cup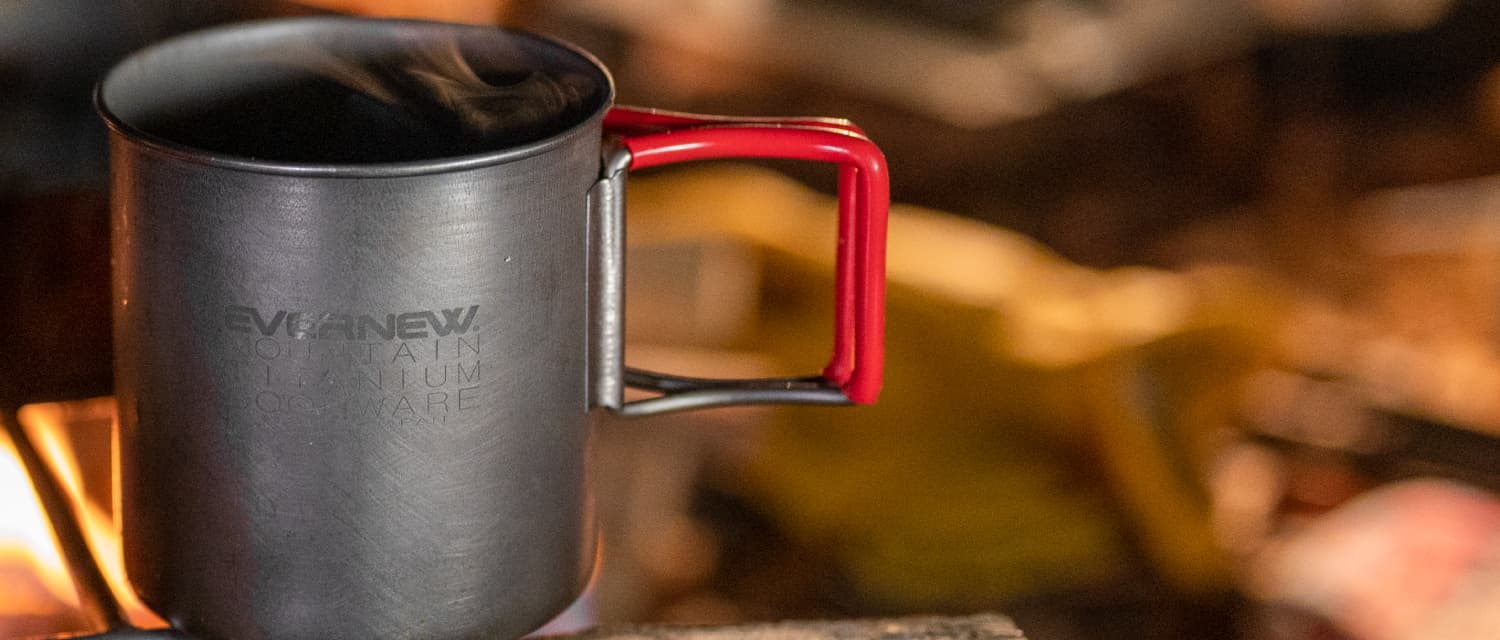 Text:Haruka Natsuyama、Kazutoshi Ota Photo:Ryohei Kawamoto
Choose a mug that you will love.
Sipping coffee in the cool morning air.
Soup at the top of a mountain after a long day of sweating.
Making a warm drink with hot water.
I think this is the original experience of all people who enjoy cooking outdoors.
It has a single wall that can be directly heated.
Titanium mugs, with their low heat conductivity, allowing for a quick sip after removing from the fire.
The handle is convenient for repeatedly putting it over the fire to unload it, and if you keep it by the fire, your drink will not go cold.
The mugs are designed to be used in the field without reducing functionality too much.
It will become your favorite partner for taking a breather.
Comparing sizes for each mug cup
Ti Demitasse 220 FH (Image of right)
Ti FH Mug 300 (Image of center)
Ti FH Mug 400 (Image of left)
In each mug cup, there is same amount of coffee (instant coffee sachet 180ml)
We have a variety of standards to choose, but Demitasse cup is the most useful to store when you carry it with a flat pot with low height.
Individual package of stick coffee needs 160ml to 180ml hot water.
Freeze-dried soup needs around 80ml to 160ml hot water.
If you want to drink two cups of coffee with two stick coffee, bigger mug enough to pour 400ml water is recommended.
"Demitasse" is recommended for stacking with flat cups and pots.
If you plan to stack with smaller and less tall style pots, we recommend "Ti Demitasse 220 FH", and "Ti Demitasse 220 NH".
The amount of hot water needed for stick coffee, tea, and cups of soup is 150-160 ml, so the 220 ml demitasse is just the right size.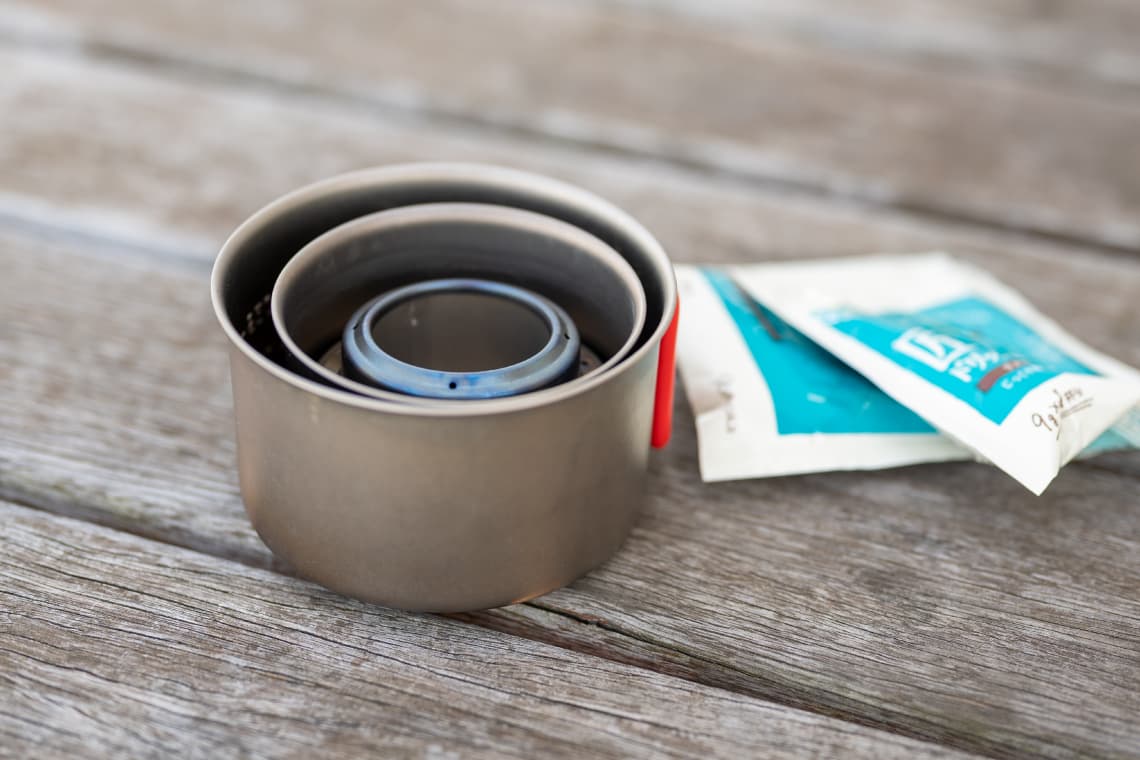 山酒

Text:Satoru Fujinami Photo:Ryohei Kawamoto
The key point is to be able to enjoy drinking Sake.
We make the perfect shape of Tibi Tibi thinking from the ease of hold to the feeling when your lip touches the cup after testing over and over again.Titanium is the safe material enough to be used as a medical equipment and you can taste Japanese sake without losing its sensitive flavor.
Applying the strength of titanium, the thinness pared extremely gives Japanese sake's warmth/coldness to your lip directly and share the happiness different from other materials with you.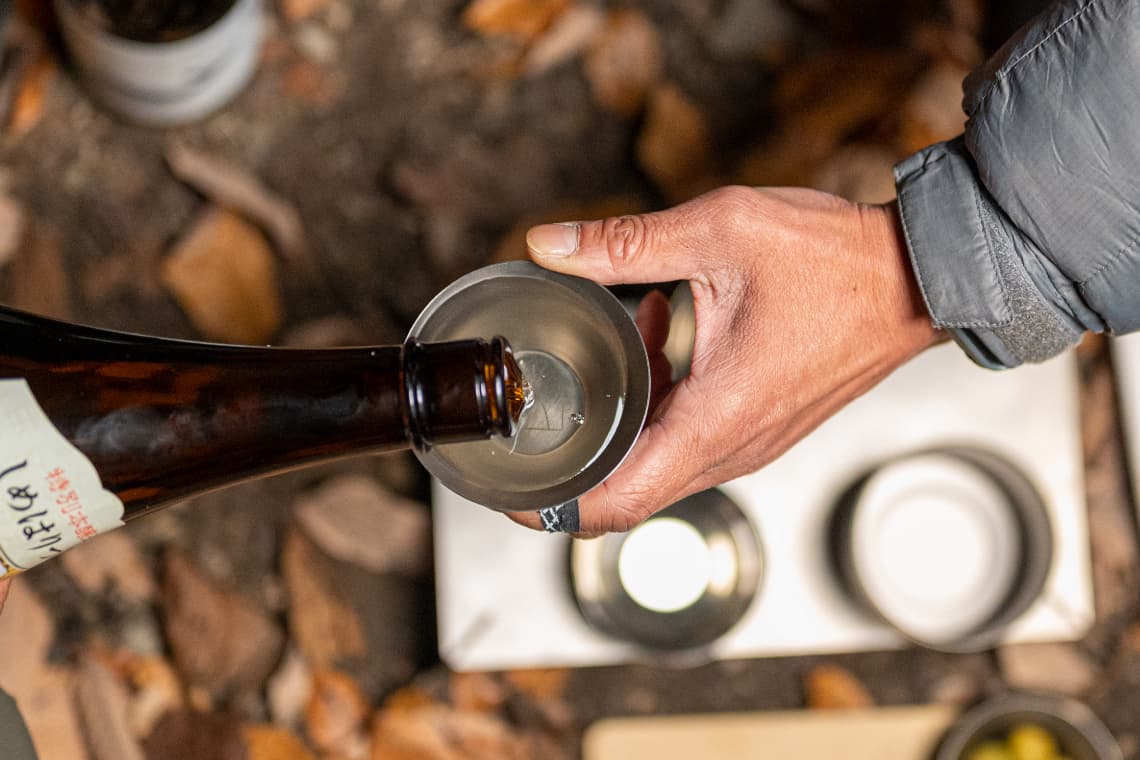 ECA621

GubiGubi
First of all, Is it right to drink
from the metal?
One answer to this question is "TibiTibi".
Mouthfeel, comfort, and Ease of Stacking based on the material's characteristics of no metallic odor, antibacterial properties, and light weight.
Thanks to this, TibiTibi has gained a certain reputation among outdoor drinkers.However, it is a source of various troubles to add a little more many times when drinking outside. It is also true that we wanted a larger size here.
The size of a demitasse is perfect for drinking coffee or tea, but does not look sexy enough for drinking sake. When we were looking for something better, we came across hammered copperware from Tsubame, the hometown of titanium products. I lined up random patterns on the titanium with respect to this hammered surface.
Although not as good as the original, the hammered surface has a life-like quality. We hope you will enjoy Sake with your eyes and sense of touch as you sip the delicious Sake in the mountains without hesitation.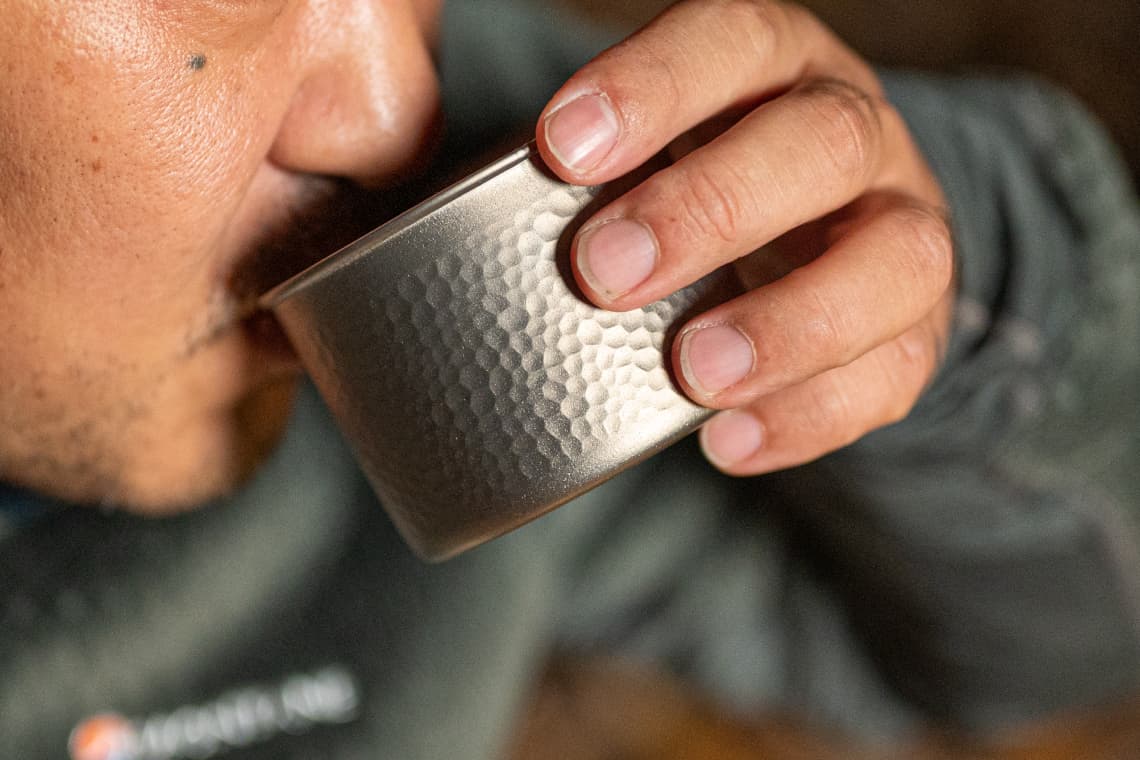 EBY216

鏡面鬼磨 TibiTibi

"鏡面鬼磨 TibiTibi" is the original "TibiTibi" is polished one by one by hand by the best craftsmen.

The original "TibiTibi" weighs only 15g but this special version is further polished by 10%.

Thin material is made even thinner. All of the materials, which are not of uniform thickness, are polished to a mirror surface using only the sense of the craftsman's hands.

But all for the sake of drinking good sake. The world of the ultra-thin mirror surface that your lips have never touched is truly sensual. The ultimate gem, created by the spirit of craftsmanship of EVERNEW and Tsubame, with no regard for profitability, is the "鏡面鬼磨 TibiTibi".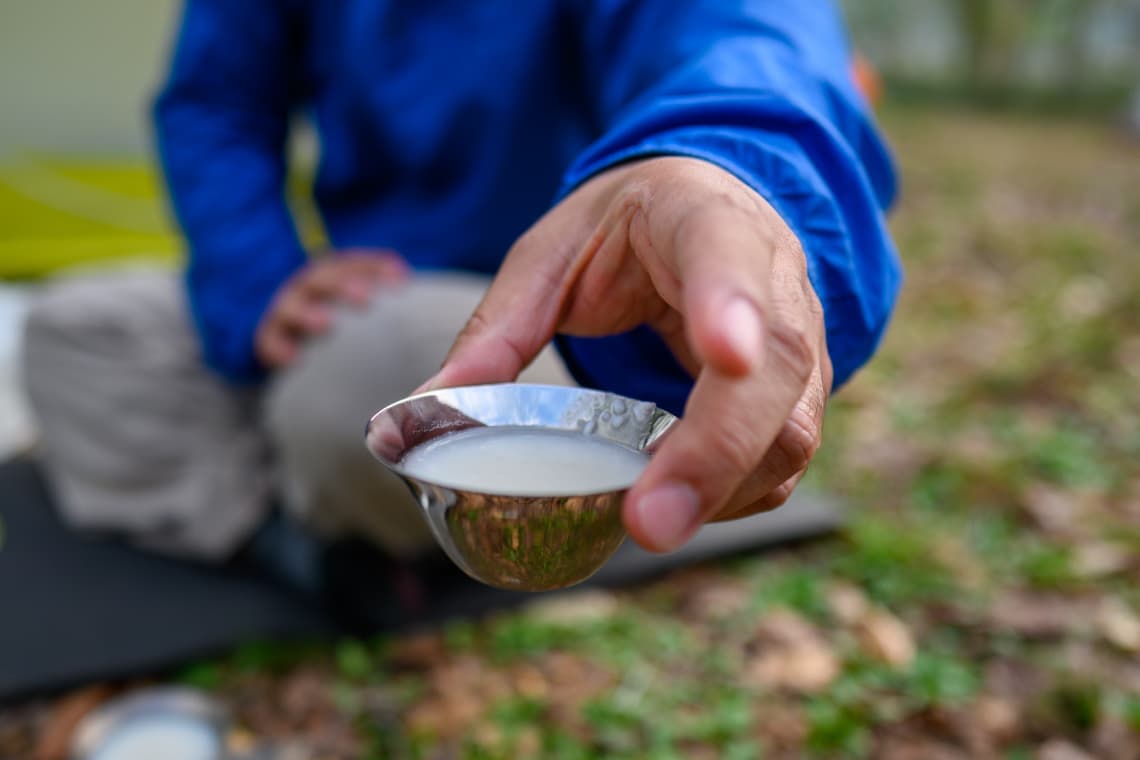 EBY260

TibiTibi

The original TibiTibi
You can feel the characteristics of the material titanium.
We want the whole party to have a good time drinking. Affordable price is one of the features.
You can put snacks inside.
EBY219

TibiTibi 呑山臥酒

The edge that touches the lips is lightly polished.
This makes the mouth feel lighter and different from the "TibiTibi".
Not only is the mountain lettering fun, but it is also such an ingenious idea.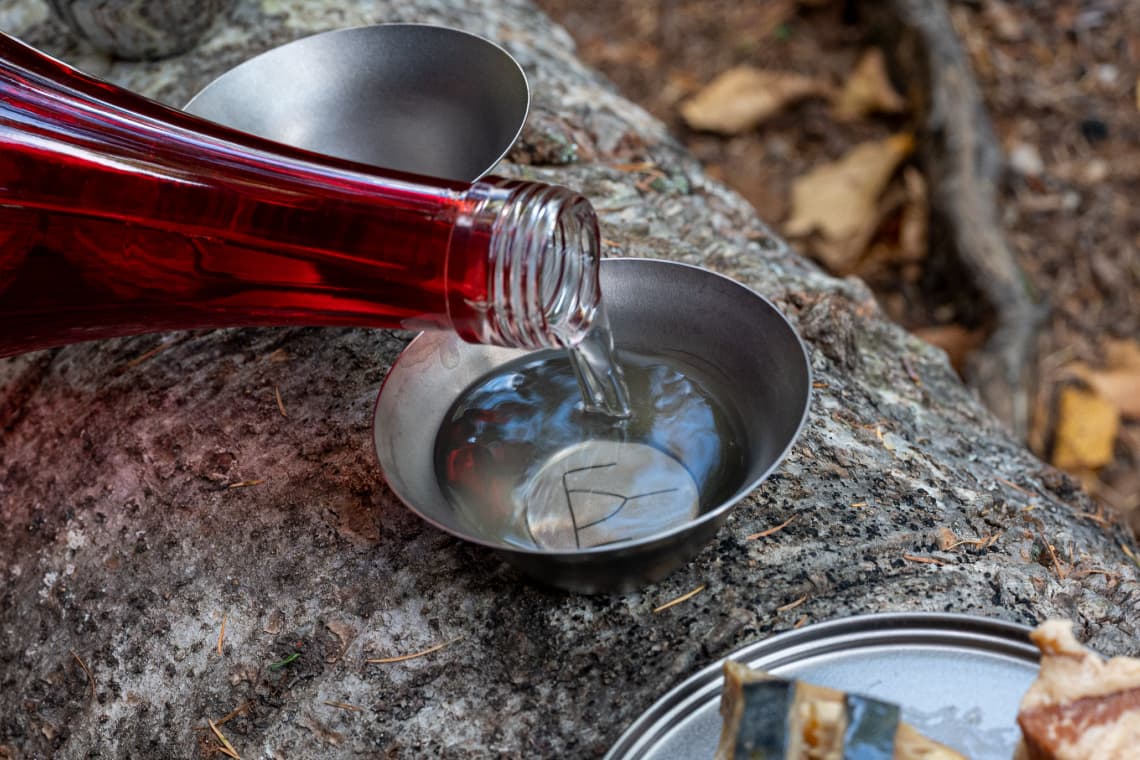 Tea pot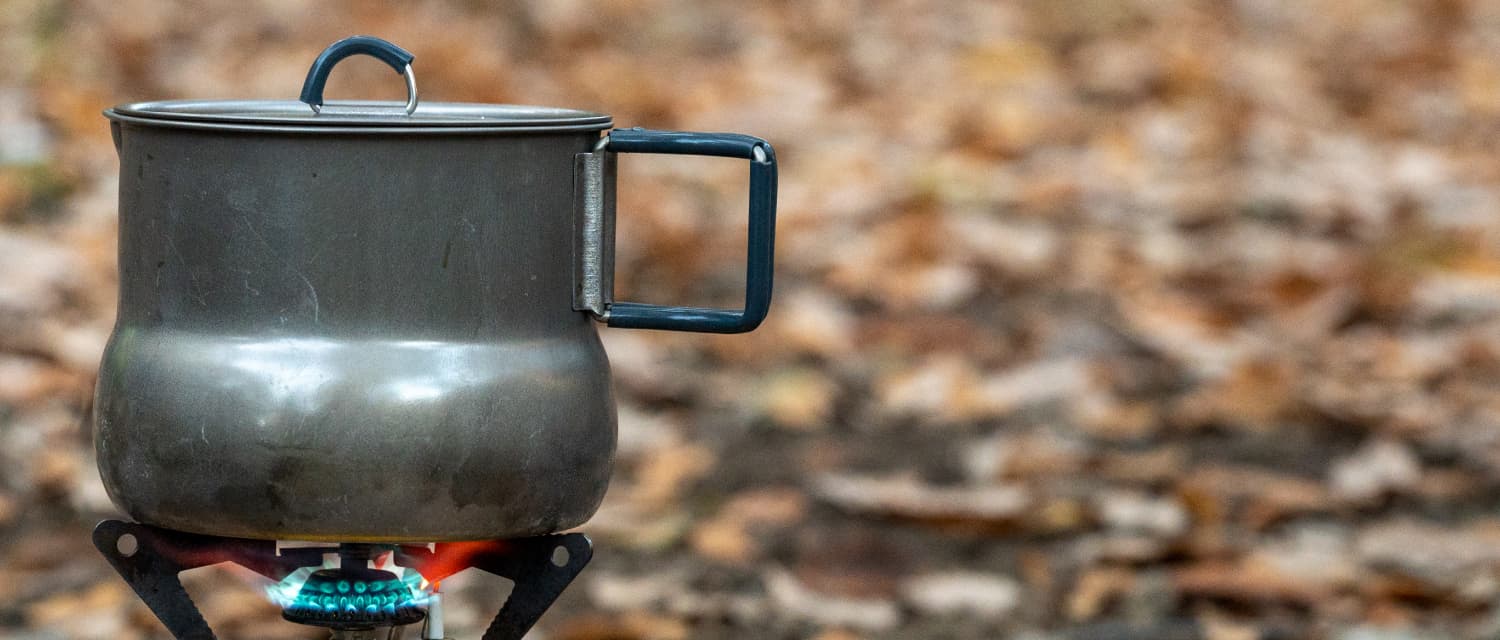 Well thought out shape

for boiling water

The stable lower bulge concaves the bottom to provide firm stability on the stove head.

It also plays a role in making it easy to pour and control the amount of hot water.
Ceramic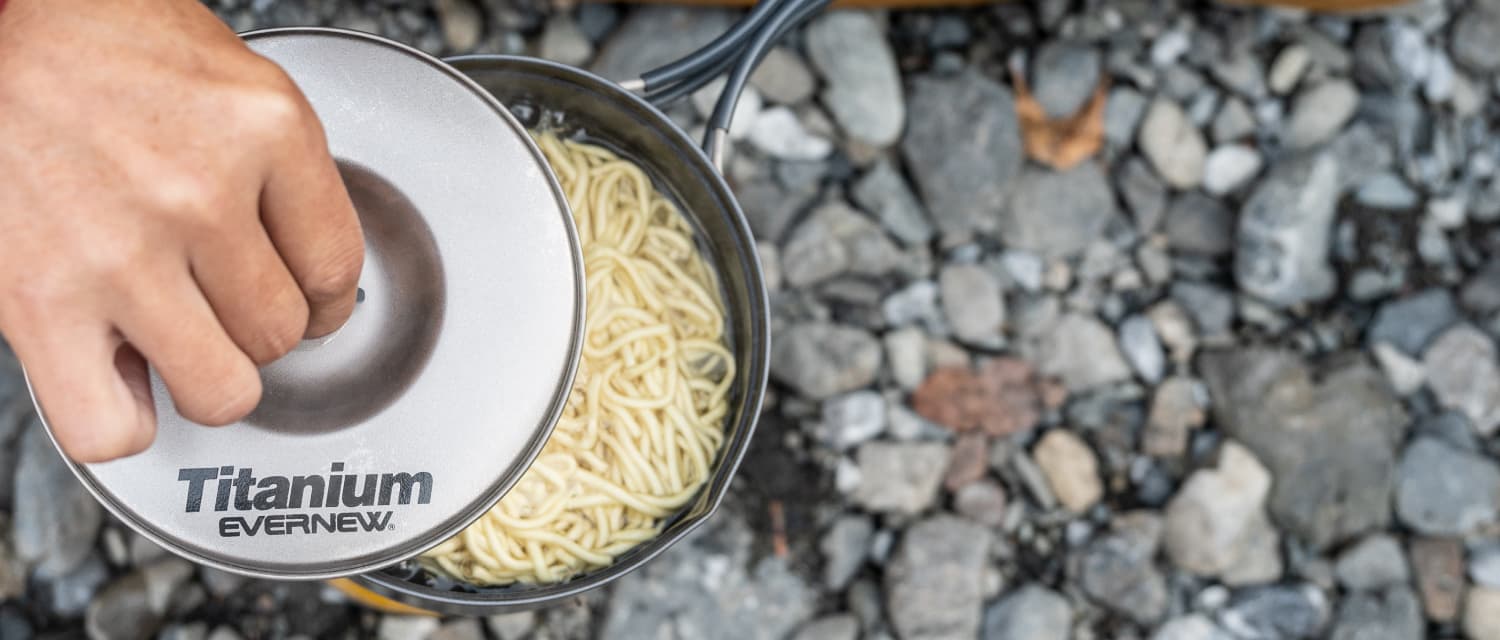 Text:Satoru Fujinami Photo:Ryohei Kawamoto
"The ORIGIN"

The origin of EVERNEW Titanium Pot
Reliability of 0.4mm
Space in the backpack.
The more you are conscious of UL, the less space there should be.
The super-thin pots screamed every time it was pushed from above, distorting the body, distorting the lid….
If you store the cooker with the lid on properly, you can prevent a large part of the problem, but there are many things you want to put inside the cooker, so having the lid half open is an everyday occurrence. If the "Ti U.L. Pot" is a bit of a sharp genius, this ceramic is a versatile all rounder. If you use a bit roughly or have other cooking options besides boiling water, the ceramic cooker will be a good buddy.
The difference in weight between the "Ti U.L. Pot 900 (115g)" and the "TITANIUM NS POT 0.9L (140g) " is 25g.
Moreover, you can combine them in a series.
Adding one ceramic to your existing set will surely expand the range of your cooking.
Advantages of Ceramic Coating

Easy Cleanup

Ceramic coatings are not designed in order to be non-stick like typical frying pans. Think of it as a coating to make cleanup after cooking easier.

Even with a plate thickness of 0.4 mm, the direct injection of today's small gas burners is severe.
It is not good at stir-frying. But it is the best partner for one-pot dishes, a staple of winter mountain cooking.
The coating makes wiping up after pots. easy and clean, which is a big advantage on the mountain where there is no water.

Compared to uncoated, it is more efficient because dirt does not directly penetrate the metal surface, preventing the next time you cook a dish from tasting like the previous one, and it prevents the use of extra water and gas for cleaning.

Ceramic cookers can be wiped clean after cooking basmati rice. Of course,
curry can also be cleaned by wiping it up with a little water.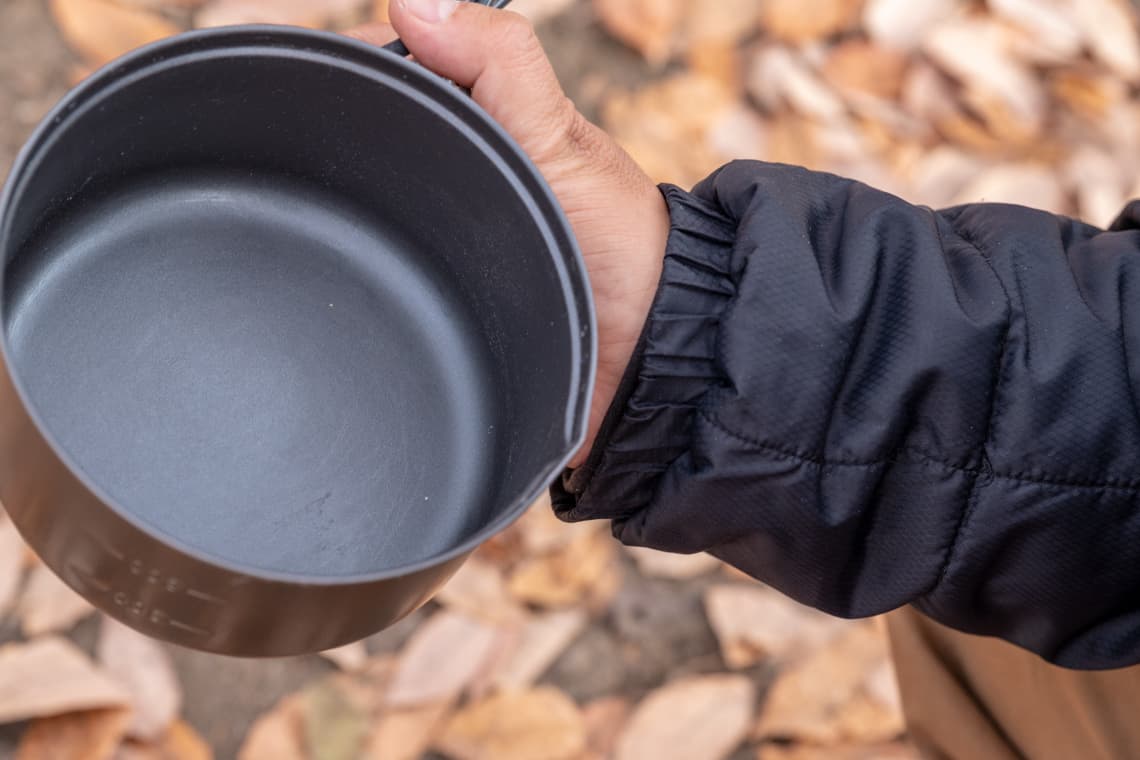 Cook with a ceramic cooker!

Basmati Rice!
Lightly rinse rice.
Soak in water (about 20 minutes, cut if there is no time!)
Boil rice in about x3 the amount of water as the rice.
Boil for 5 to 10 minutes, stirring without a lid.
Taste and check the rice while boiling. Drain the water when the core of rice remains slightly remain level.
After draining the water, stir the rice, cover with a lid,and let stand for about 10 minutes (we recommend keeping the rice warm in a NP case, etc.).
Stir and your delicious basmati rice is ready!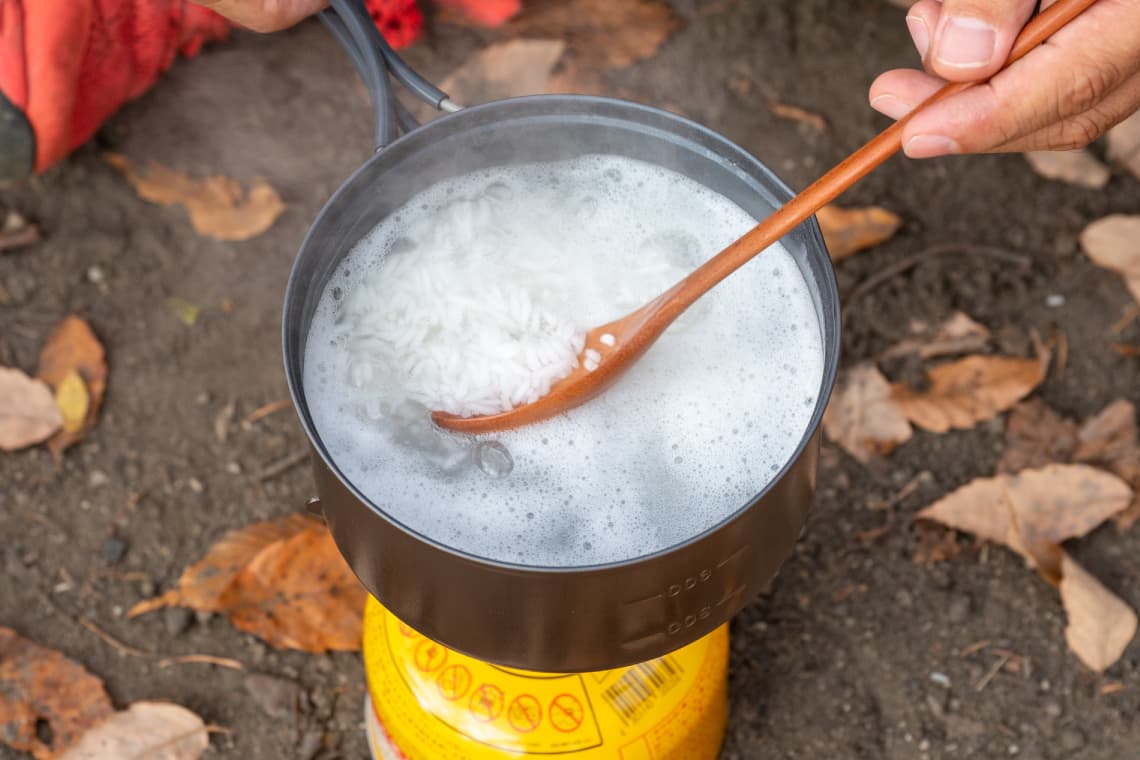 Cooking basmati rice is easy to do in the mountains.
The boiling method allows even a titanium pot to cook tasty rice.
You can make your own spiced curry! You can heat up a retort curry.
It is a recent standard to make spice curry while using boiled rice.