Case

Fascinating cooker case

that overturns the mind that
you don't need it because of
the case that comes with it.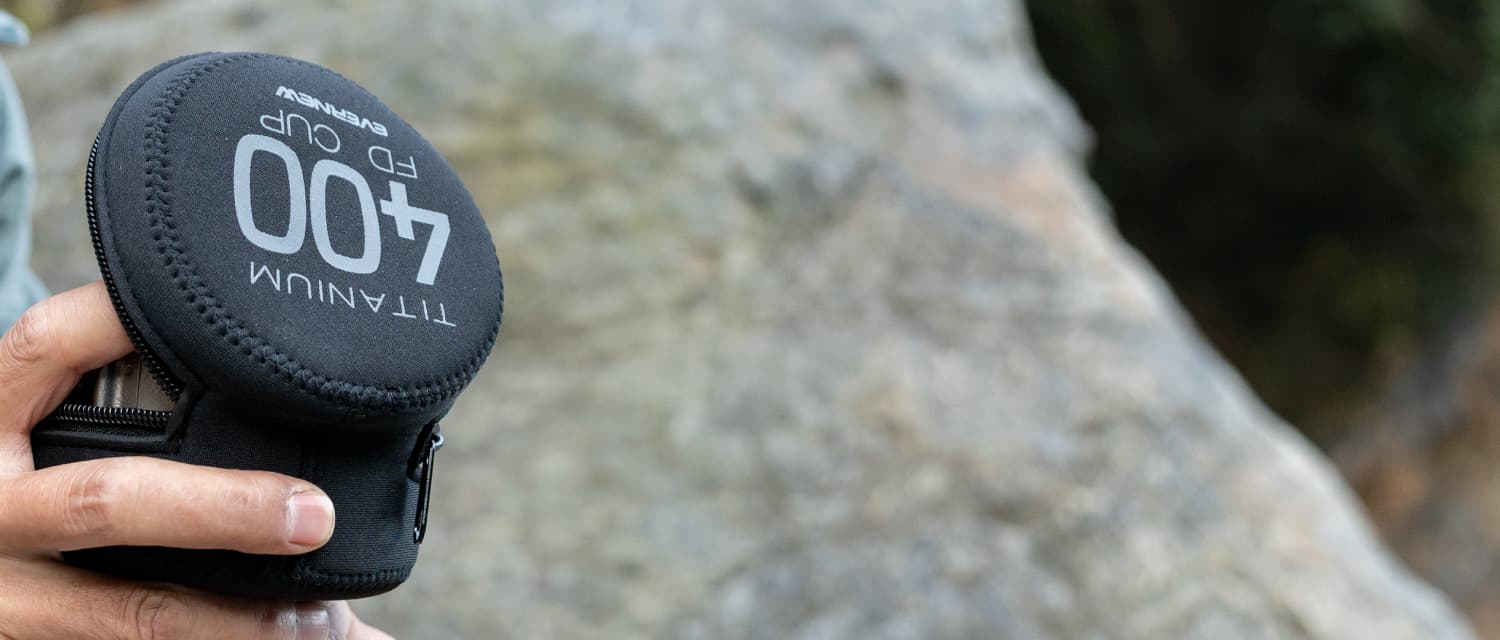 Made to fit snugly to the pot so it
won't get in the way when packing.
Moreover, it can cover up and accommodate a slight error by elasticity.
For example, you want to put the gas canister and stove head together in the pot.
Aren't there times when the lid of the pot does not close inside the case provided?
The phenomenon of the clattering sound that occurs inside the case every time you walk will be reduced by holding the case firmly in place.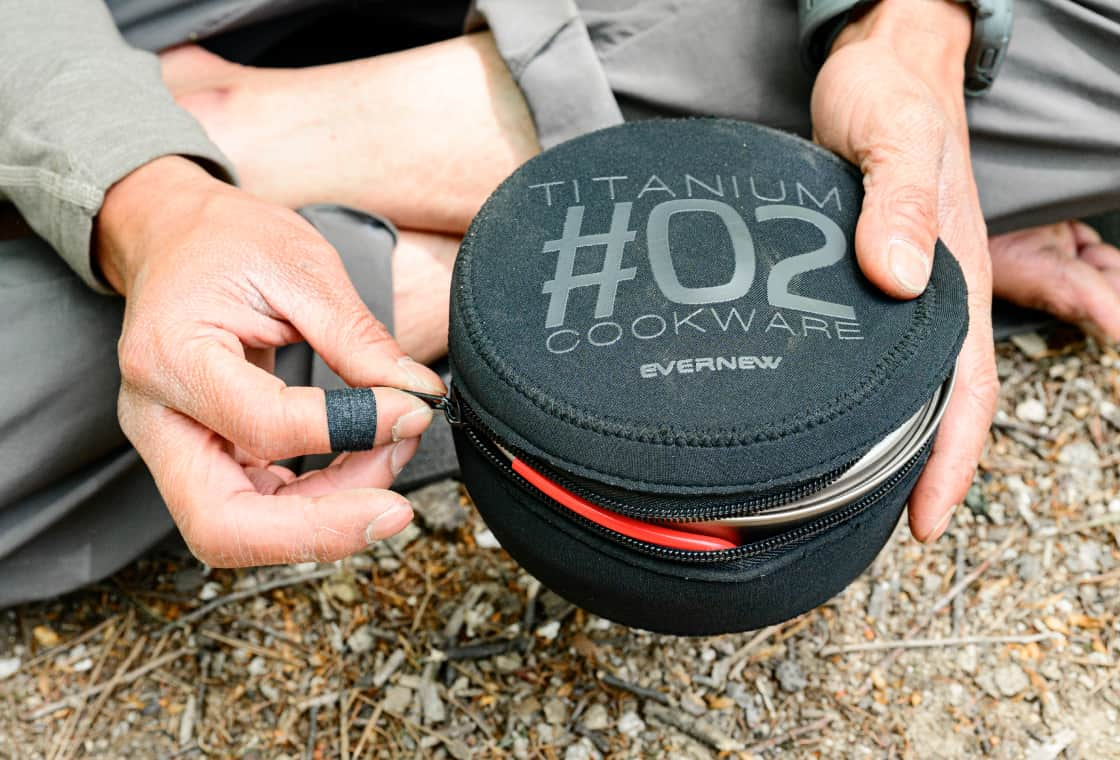 Another feature is
"heat retention".
You can enjoy fluffy rice using this case that be keeping warm.
In cold weather, the warm drink inside can be kept warm to some extent like a double-wall mug.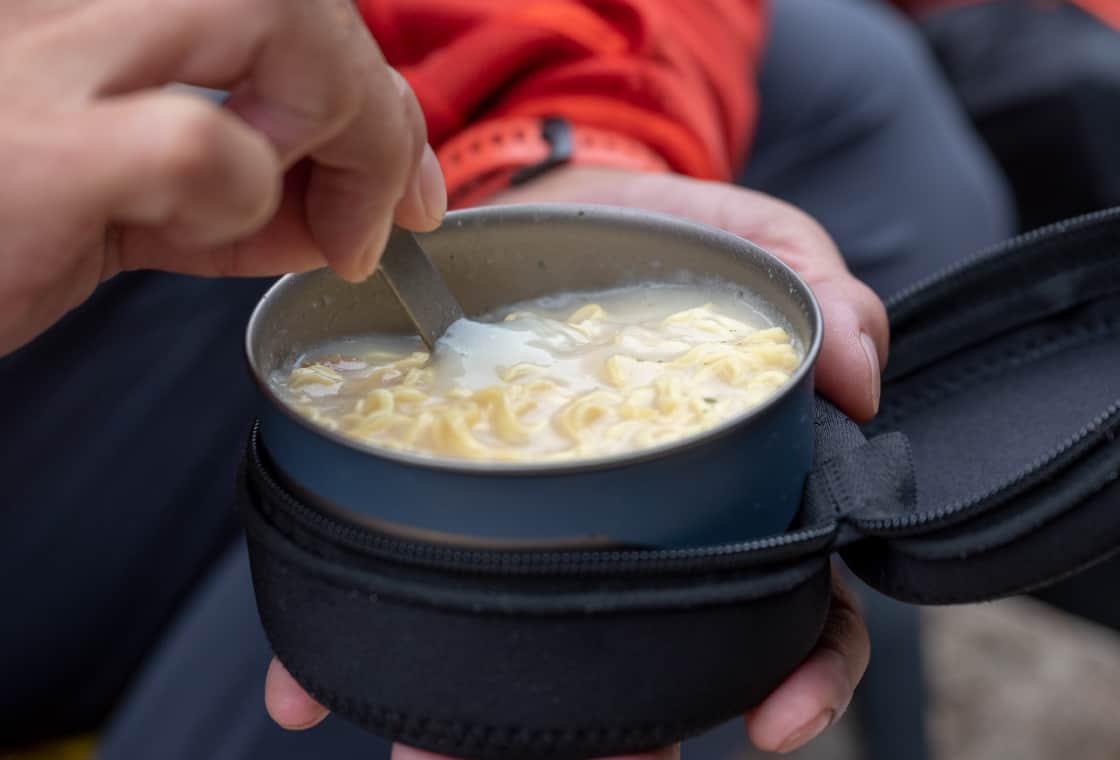 EBY231

Two-pack Egg case
The long-seller product
Probably continue to be sold unchanged since the Showa era.
Also known as "NIKOTAMA."
As a valuable source of protein, eggs have been valued for a long time.
The white string is used to pull the egg out of the hot water.
How long will NIKOTAMA live on after going through turbulent times?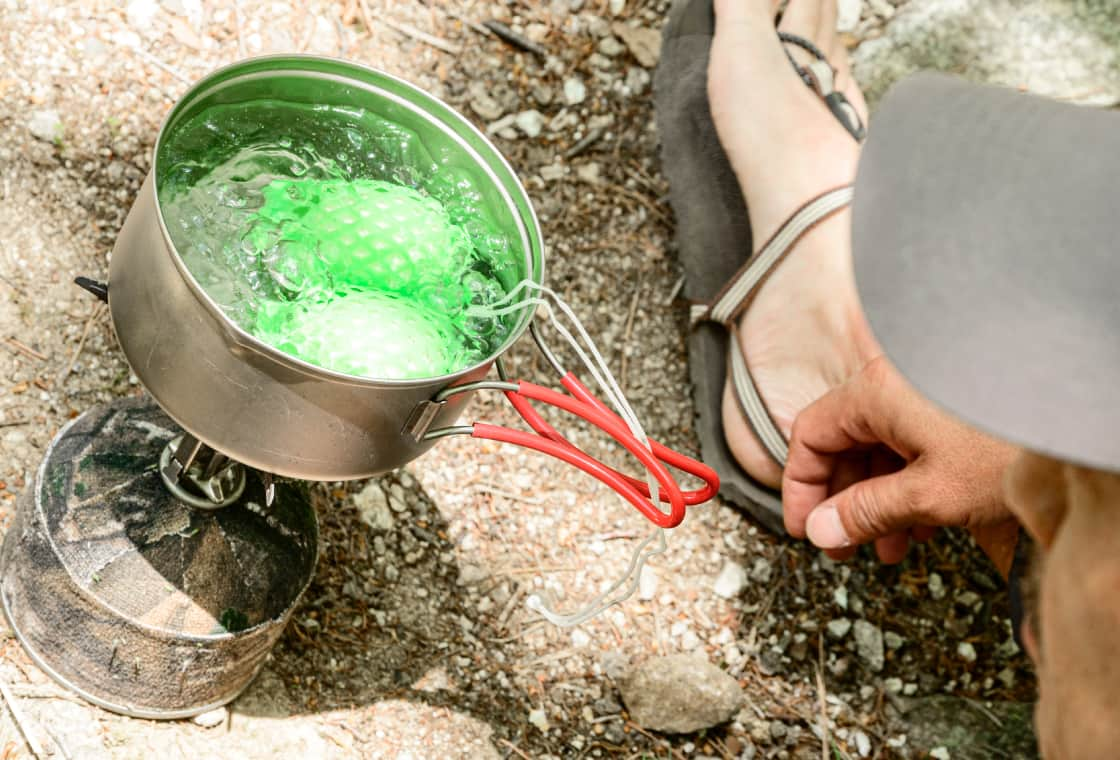 Flame
proof
Sil.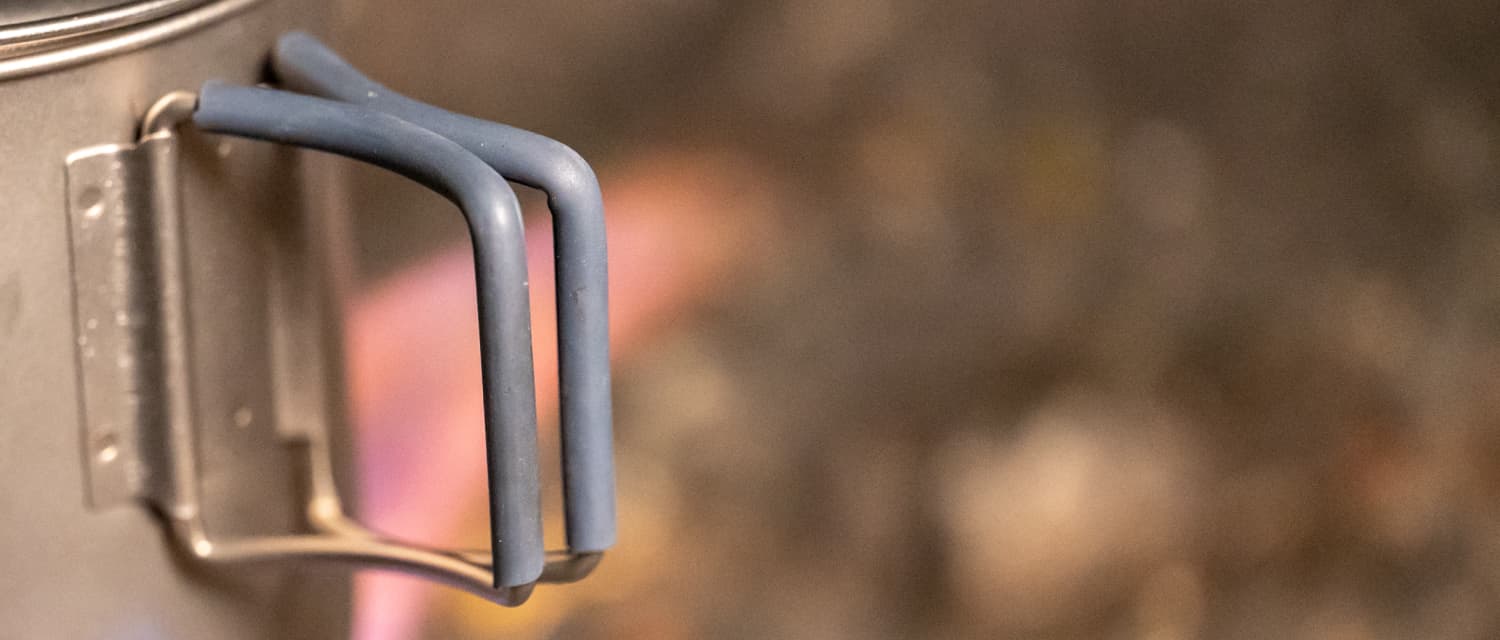 Characteristics of
"Flame-proof silicon" materials
There is an option not to use silicone itself for weight reduction, but for convenience, EVERNEW uses it for POT handles, lid knobs, and so on.
However, the huge flames of the "Ti Alcohol Stove" mercilessly attack silicon, and I imagine that there are many gray and red silicon that has been cruelly left to burn up in white.
The solution to this problem is this "Flame-proof silicon"
It is by no means unburnable, but it does not melt even if it is exposed to flames for several seconds.
When the temperature reaches a certain level, white smoke rises and burns, but the flame does not spread as it does with ordinary silicone.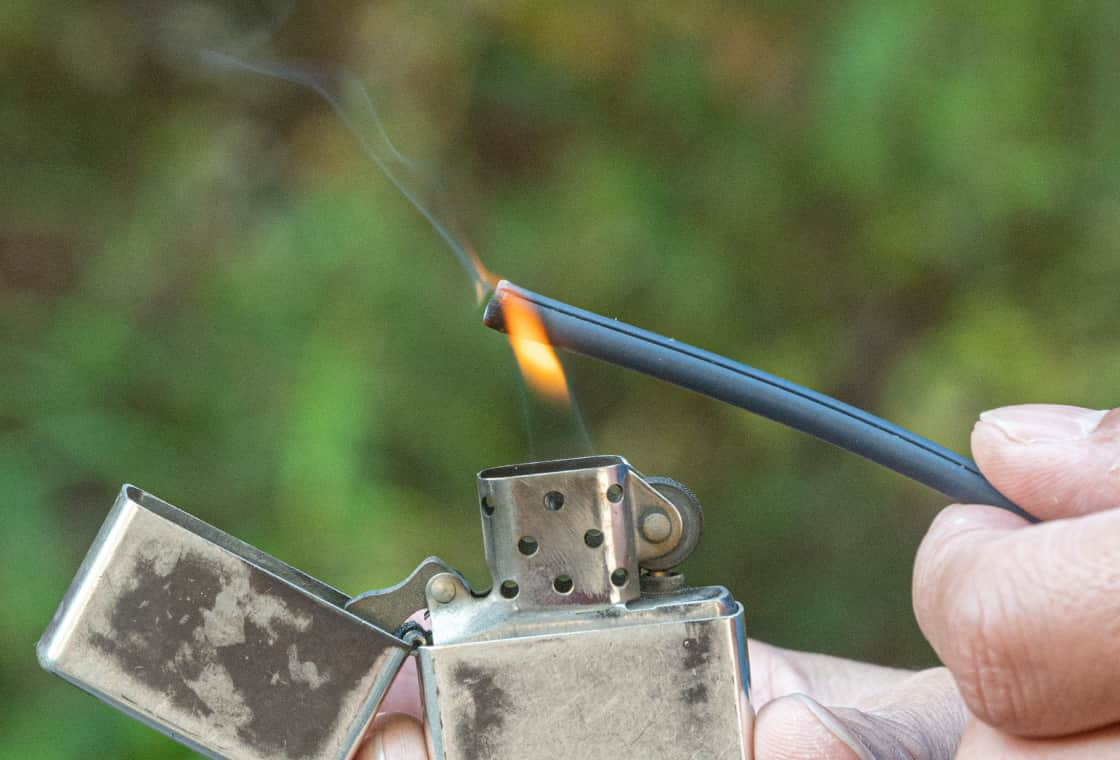 EBY684

Flame proof Sil. TUBE / 50cm
Flame-proof silicone tube developed

for pot and cup handle covers

The tube itself does not have a notch, so it can be removed from the handle to cover any desired area.
If the handle cannot be removed, make a cut along the guide on the tube.

In this case, the cut will open at the curve, so please use tape or something similar.

Before removing the handle and fitting the tube, a squirt of silicone lubricant spray or the like on the inside will ensure a smooth mounting.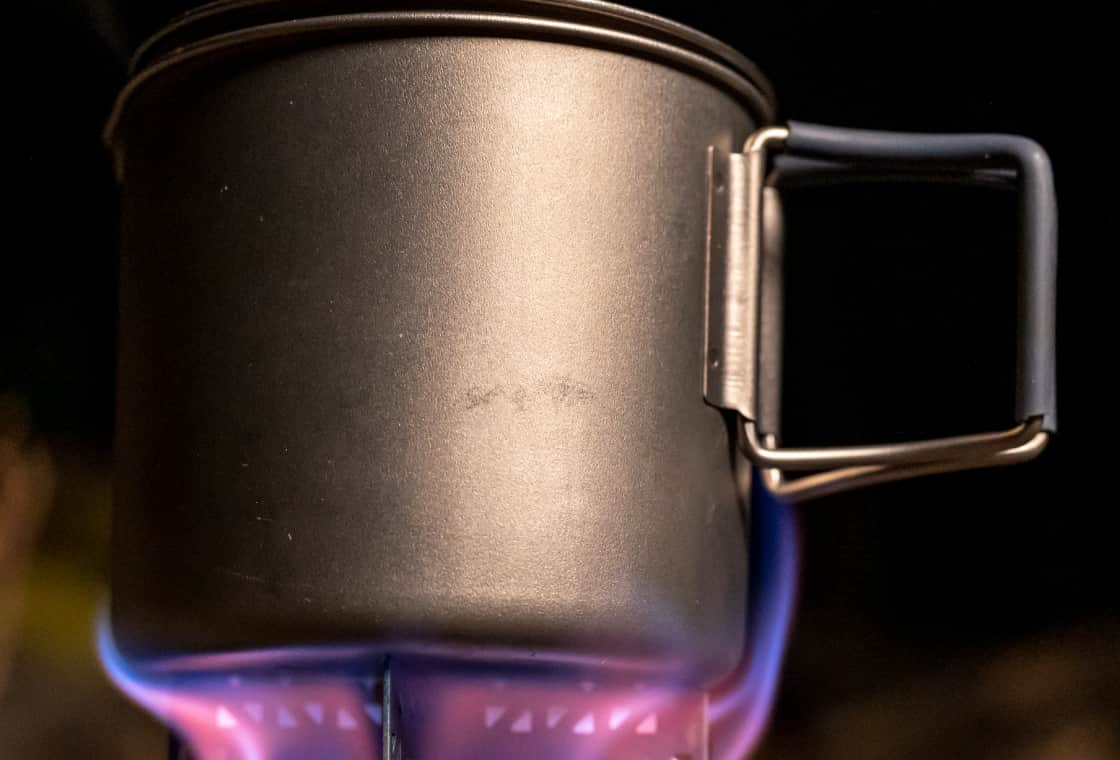 Tips

"Flame-proof Sil.Tube" has a half-slit. Cutting the slit allows the tube to be attached to the handle without removing it from the body.
For complete installation, remove the handle from the fulcrum and install without cutting the slit.
*Reattaching the handle may cause the handle to become loose in its fixation. Please do so carefully.
It is available
in three different sizes.
Diameter:75mm「Ti Demitasse 220 NH」
Diameter: 95mm「Ti 400 NH」
Diameter:120mm「Ti Storage pot 560」
The actual gripping area is wider, while other parts are as narrow as possible, designed to be both lightweight and easy to use, so that even women with small hands can grip it.
It will be even easier to hold if you cut the separately sold "Flame Proof Sil. TUBE" to an appropriate length and insert it between the fingers at the gripping area.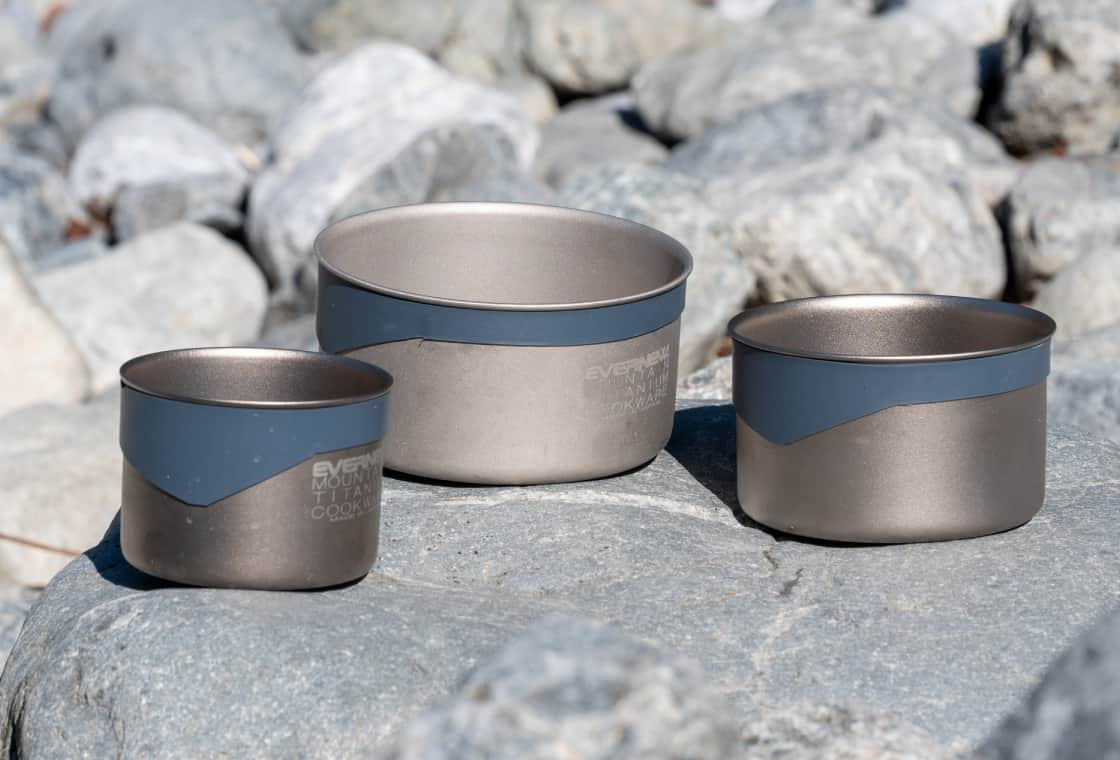 Handle-less = Lightweight
The introduction of "Flame-ploof silicon," which does not melt even when exposed to flames, has made POTs handle-less in earnest.
In the case of conventional silicone, a handle less POT with a silicone band would eventually burn the band, making it unusable, so the plan for a handle less POT has not gone forward before.
By removing the handle, its fulcrum, and the silicone tube, the weight can be reduced, even with the silicone band.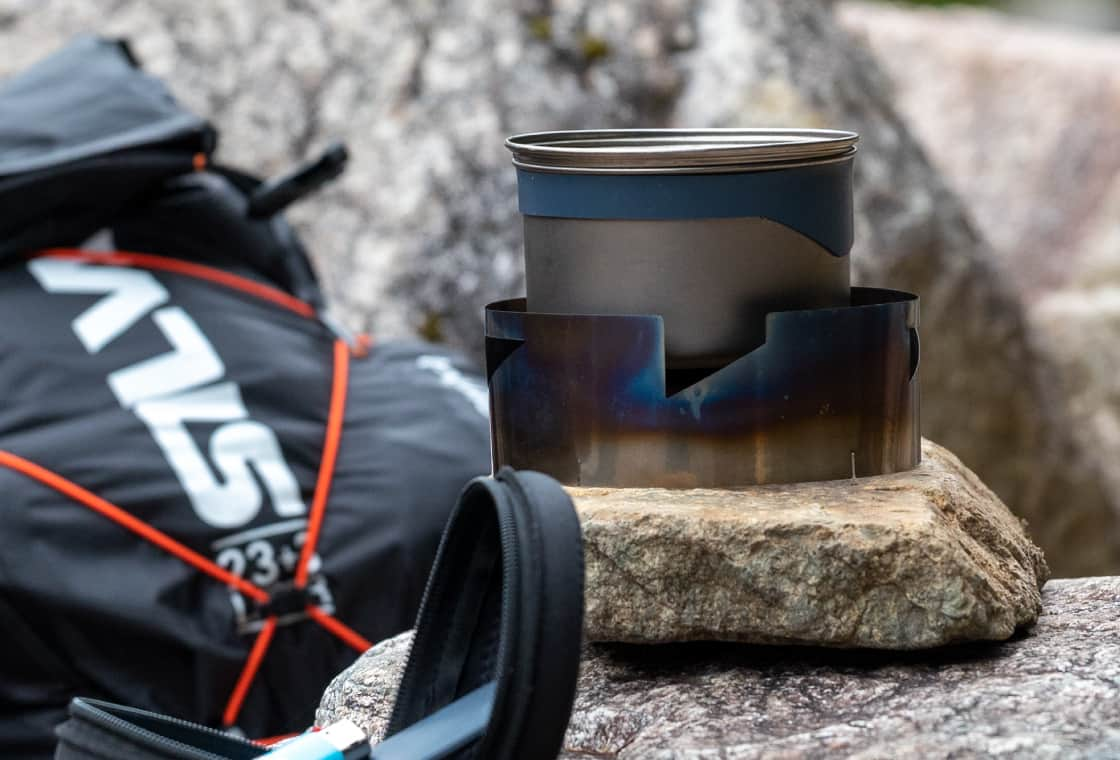 Lids for the "Ti 400FD Cup "and "Ti 400NH".

Flame-proof Silicon Circle

It can also be used as a carpet pad for an alcohol stove on slippery rocks.
A circle that can be used for multiple purposes, such as a potholder.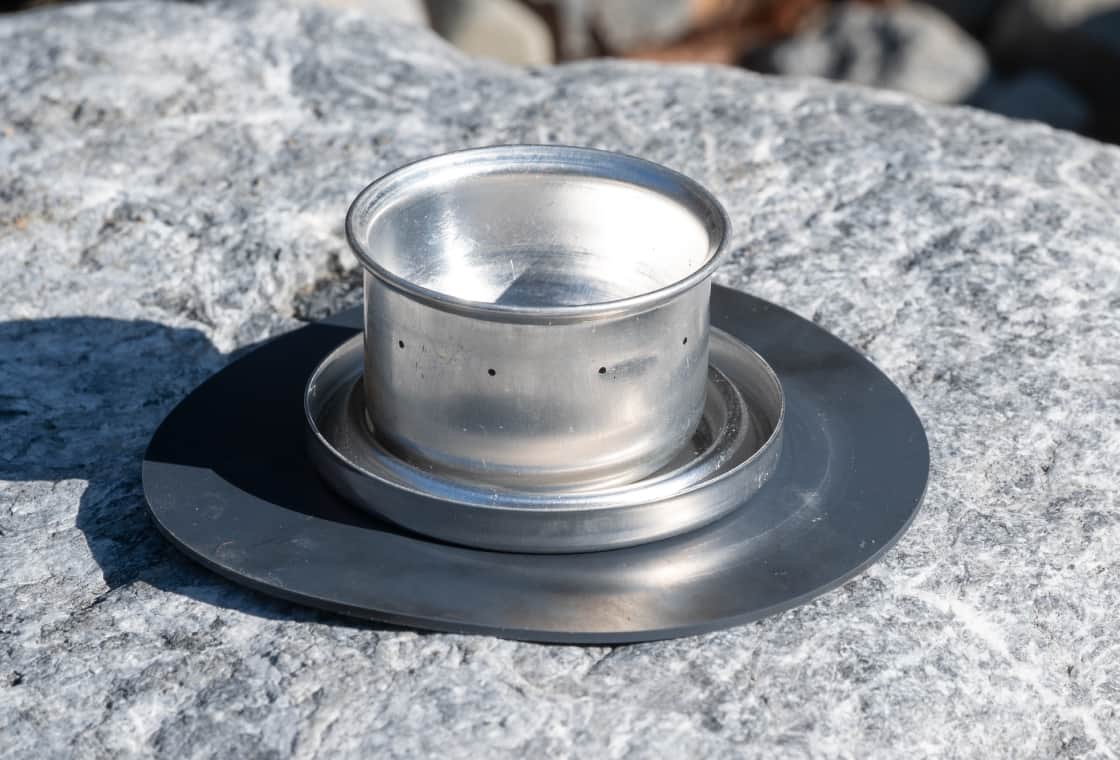 Knife
EBY642

Miyama Kogatana
Small but superior
Good sharpness.
It made by Seki where Japanese famous cutting tool town.
So-called pocket knife. It can be stored in a small POT and is small enough to take with you without hesitation and has a solid cutting edge.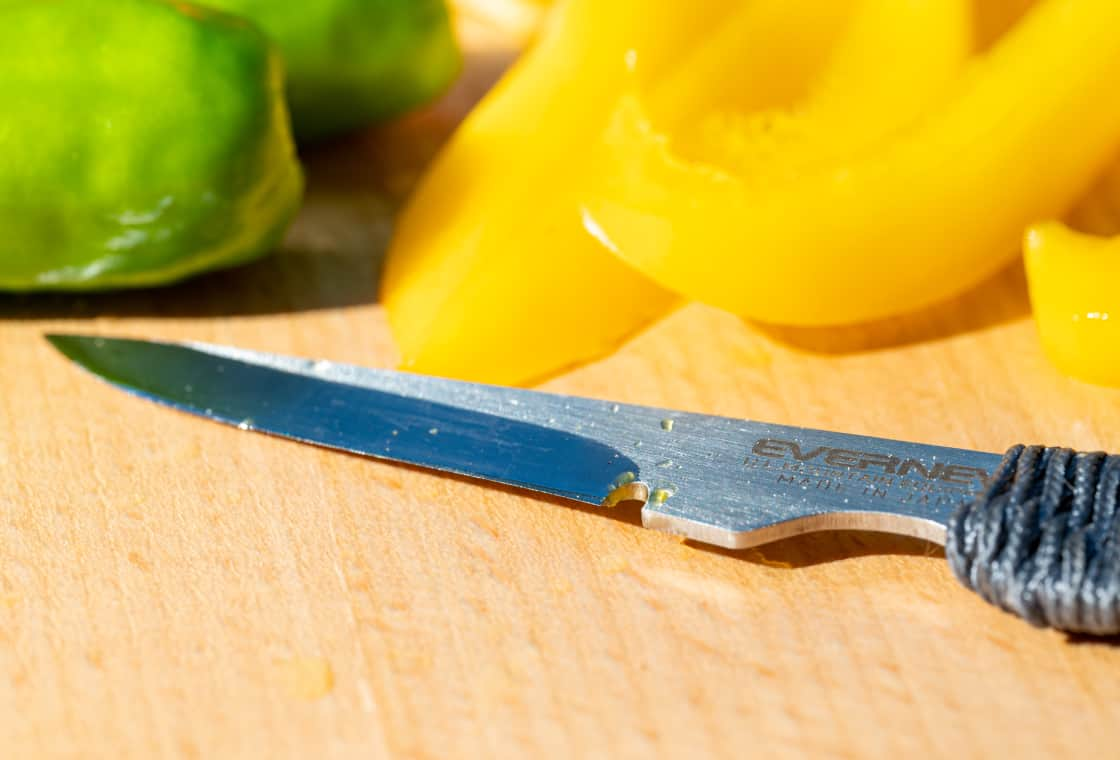 Plank

ECA622

Ti Plank B5
Hygienic due to oxide film formed by light
0.6mm thick 100% pure titanium cutting board
Titanium is more suitable for outdoor use than other materials because its photocatalytic effect inhibits the growth of bacteria.
Pure titanium is also softer than stainless steel blades, so there is less concern about spills.
It can be used as both a table and a plate.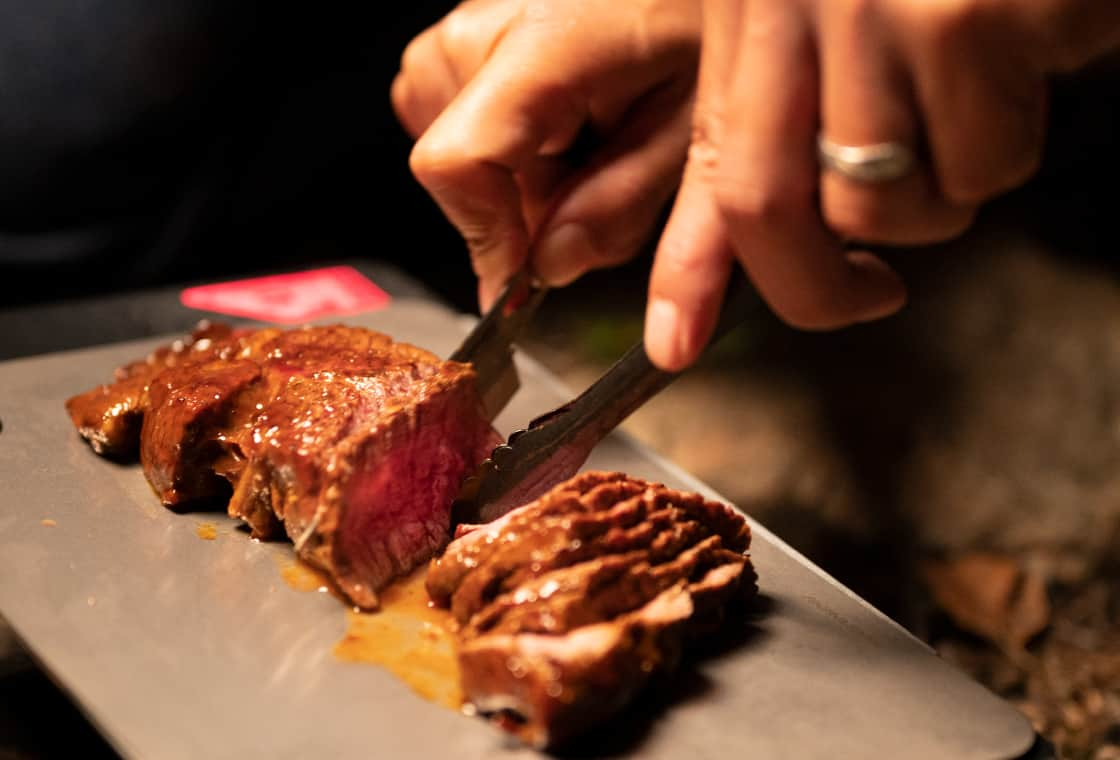 EBY690 / 691

Gingko Cooking board
Ginkgo Cutting Boards in Japanese restaurant kitchens.
Thinly finished for mountain use, Japanese restaurant cutting board.
Cutting board made of ginkgo wood used by chefs.
The best feature is its good edge contact. Because of its softness and elasticity, it does not easily damage the blade of a kitchen knife, and it is comfortable to use with a "thump" rhythm as if it were absorbed by the blade.
Because the material contains moderate oil, it does not contain water and dries quickly.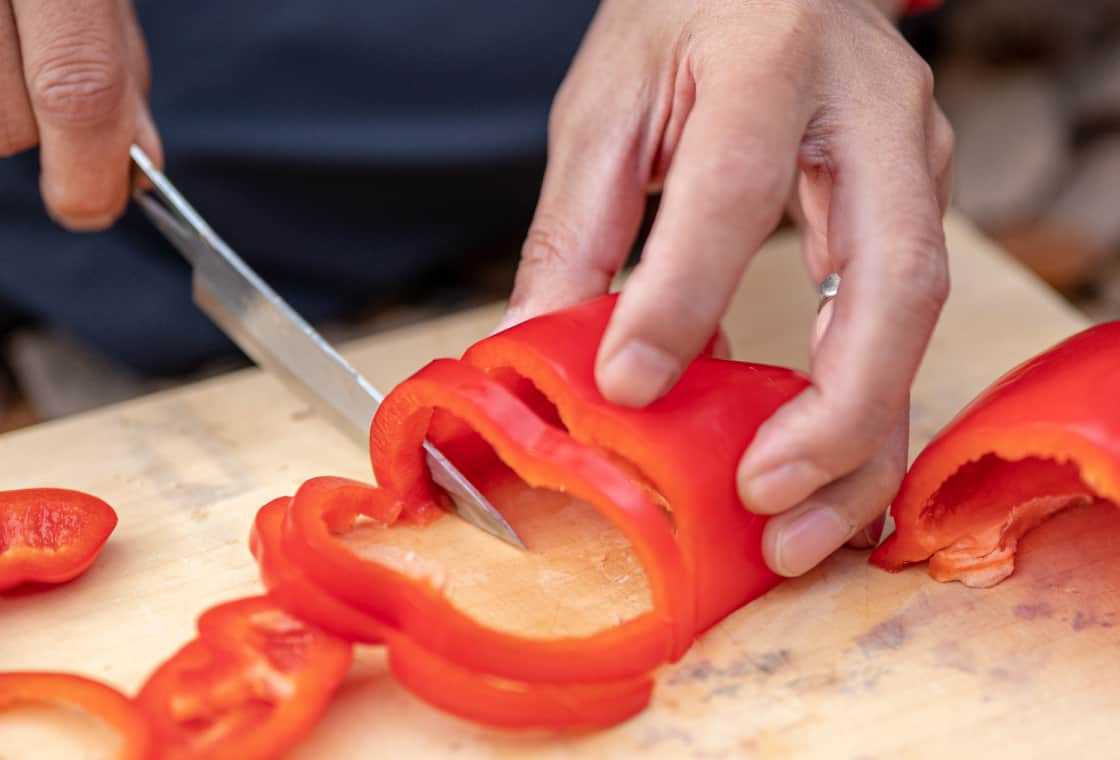 TSUCAM

Which TSUCAM are you choose as a partner?
EBY656

NANITSUCAM?
Size derived from numerous field tests
For base camp easy to use for cooking
After using "NICKTSUCAM" for a long time, the staff felt that they wanted larger tongs, and this size is the result of trying various sizes.
The common sizes on the market are too big, "NICKTSUCAM" is not enough.

It is made to be just size to be able to turn around on a grill or griddle, but not too small.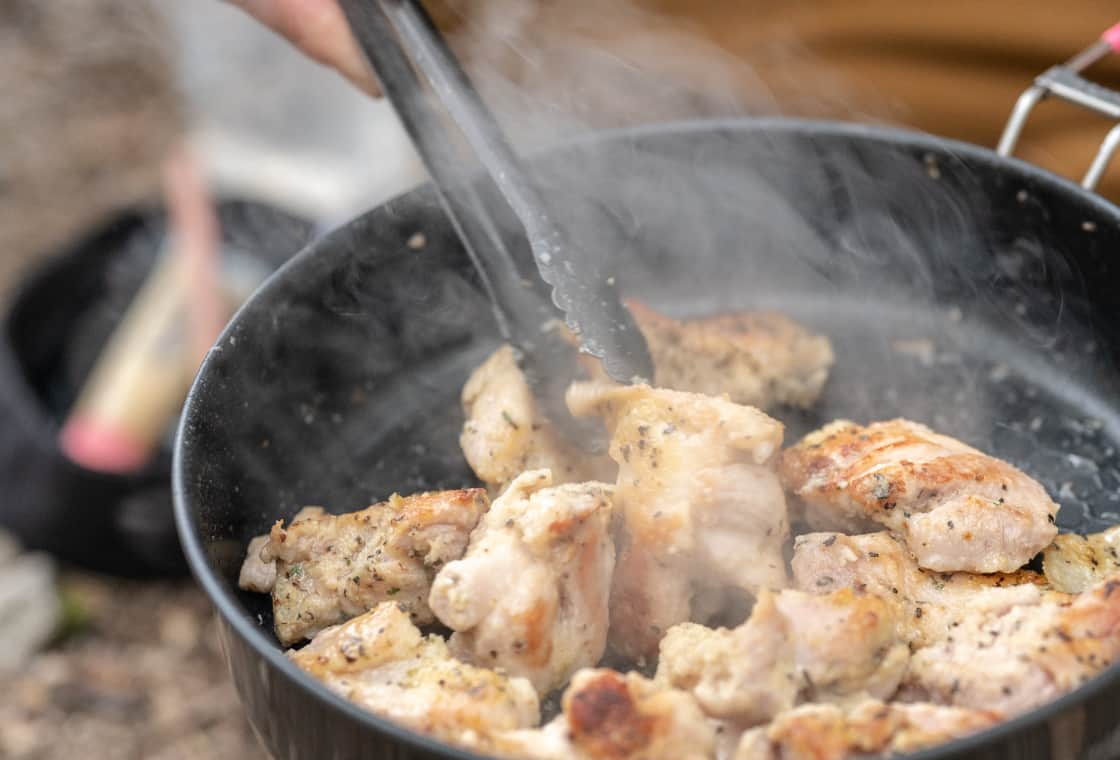 EBY167

NICKTSUCAM
Ideal for grilling meat, potato chips, olives, and grabbing lids for small cups
Suitable for hikers as it can be used for a variety of purposes
Metal cutlery is a great choice for use when handling hot items without hesitation.
Small tongs that can be grabbed like chopsticks,
They are very useful when moving stoves.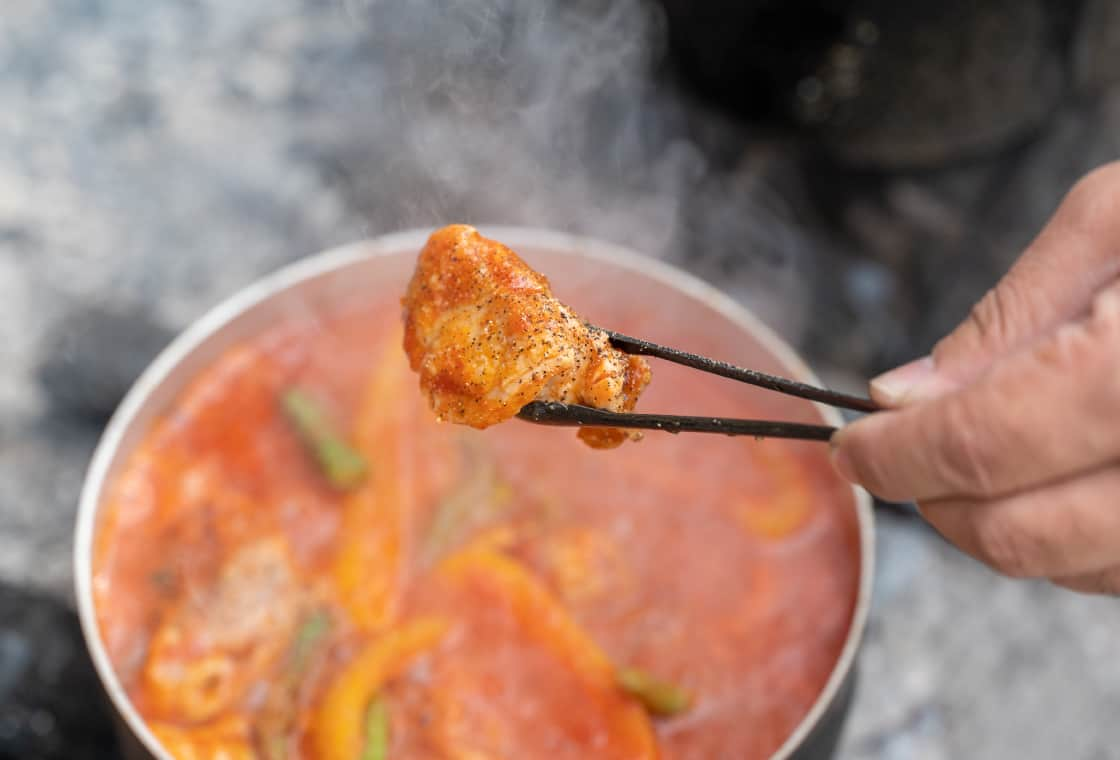 EBY168

NABETSUCAM
I have a feeling that the appearance of the handle less cup will increase the number of appearances.
If you have multiple handle less cups on hand all with silicone bands, you can save total weight by carrying one of these "NABETSUCAM".
For convenience, it could be a silicon band, but I think everyone should be happy to make their own decision in this area based on their own ideas.
There is no single right answer, so it is a matter of trial and error.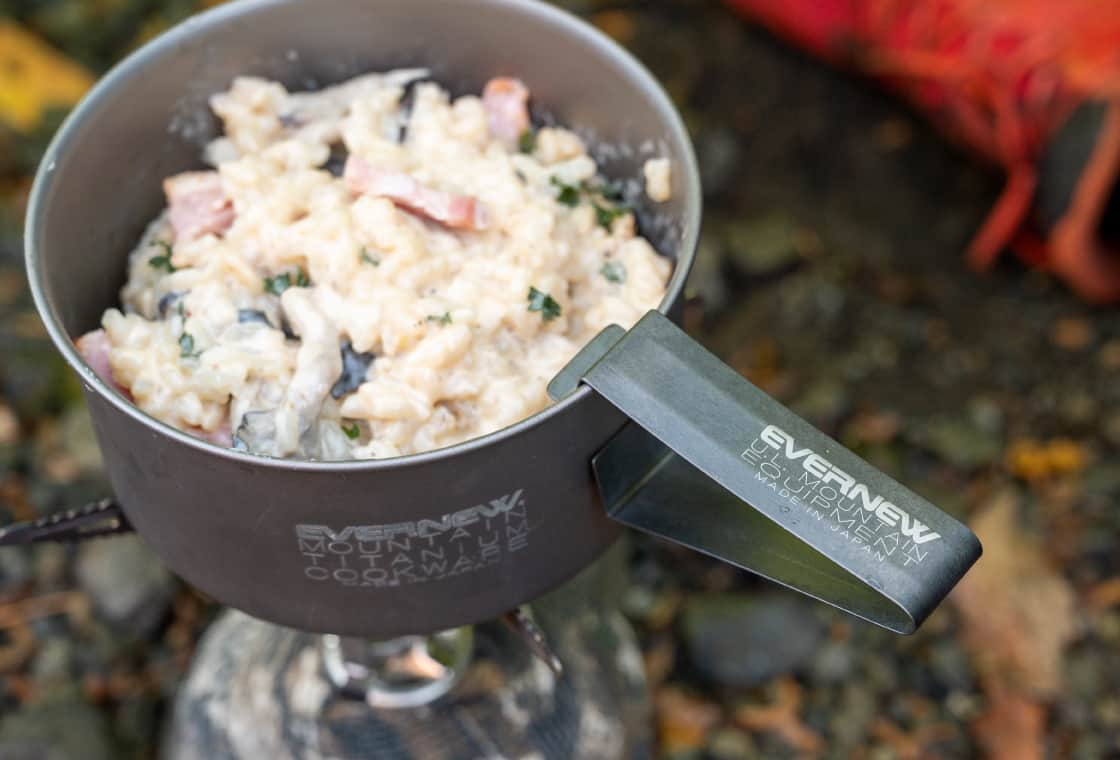 Cutlery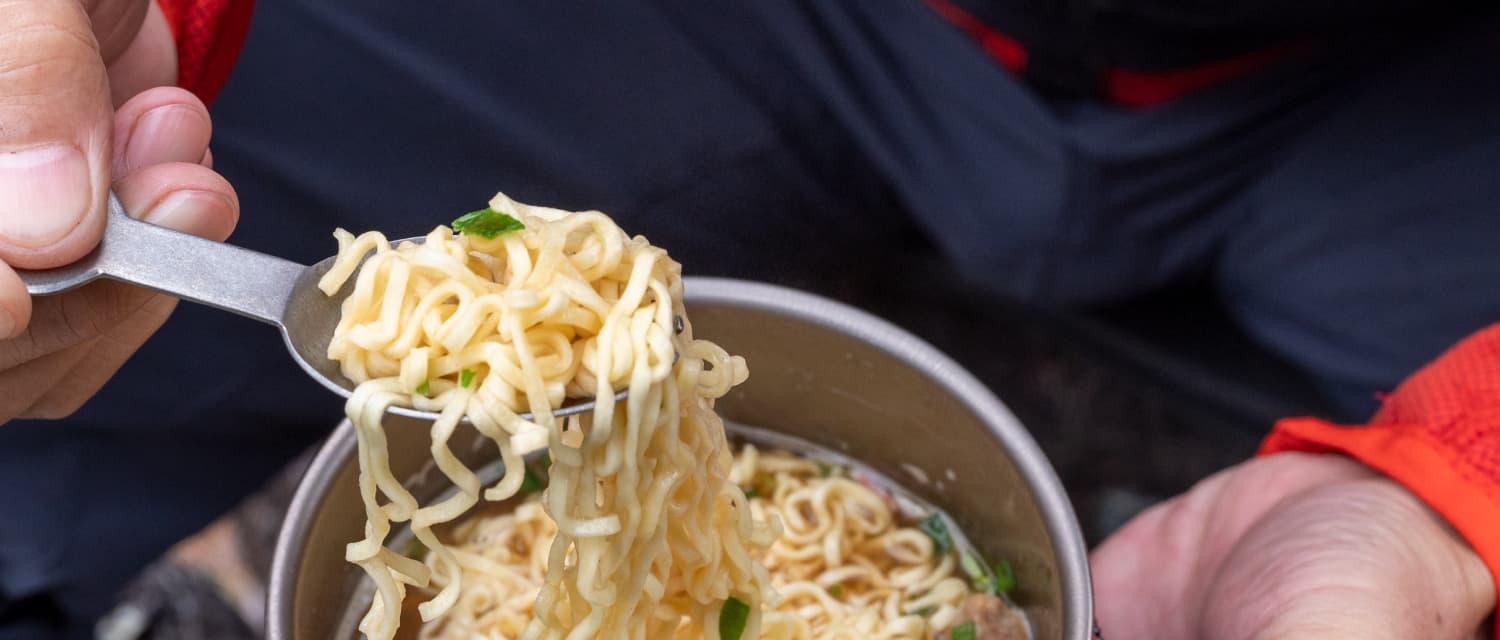 ECA626

Tim²
Fits in Ti 400FD Cup」「Ti 400 NH」

Mini size cutlery

With the creation of the BLUENOTEStove, the perfect cooking system is now complete in a 400-size cup.
The only choice was the wooden petit series.

We developed Tim2 to solve the dilemma of eating only a little at a time.
The spoon part was shaved off the handle part without losing functionality.

The heart-shaped tip of the handle provides firm support for the fingers.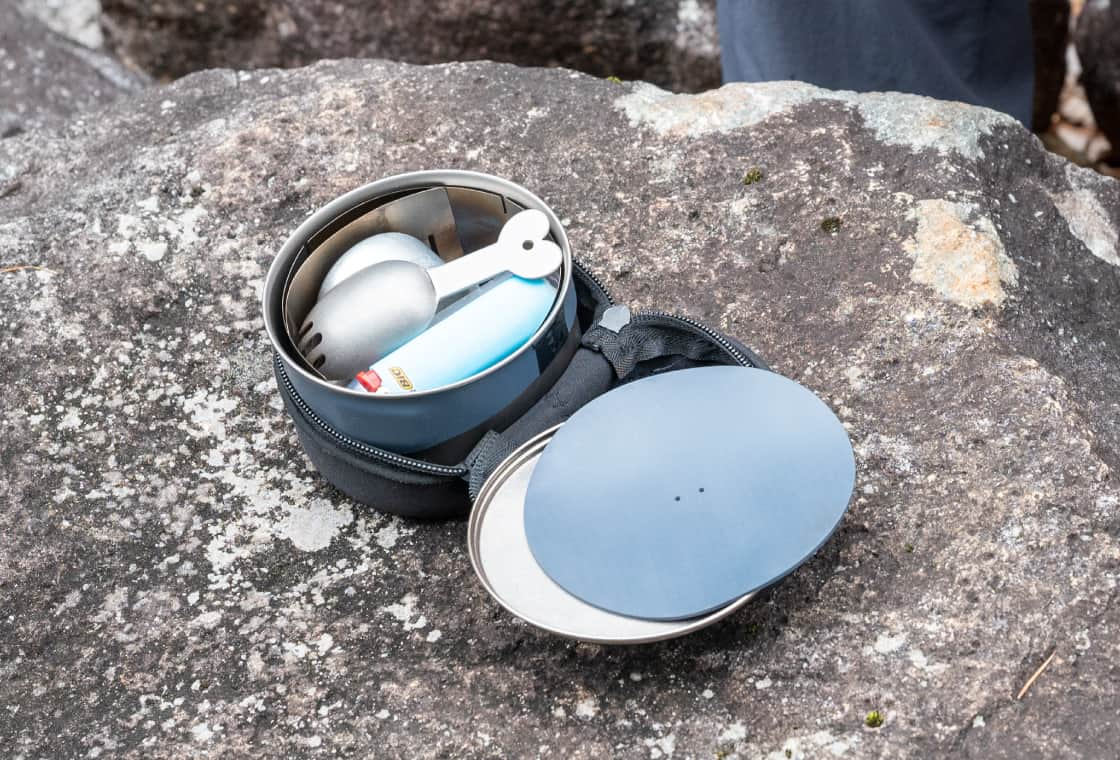 EBY726

Sputura
Convenient size for cooking
When cooking in a flat pot or frying pan, climbers don't take ladles and turners all the way up the mountain, do they?
However, I could not deny that it was still difficult to cook with the usual cutlery.
There was a strong request from overseas, so we made a trial product, a spatula.
As a mountaineer, an item with only one function is lonely, so we added the function of a spoon as well.
I tried it, it is easy and good to use.
Recently All of EVERNEW staff using it to cook outdoors.
The only problem is how to transport it. If anyone has a better idea,
can you please let me know?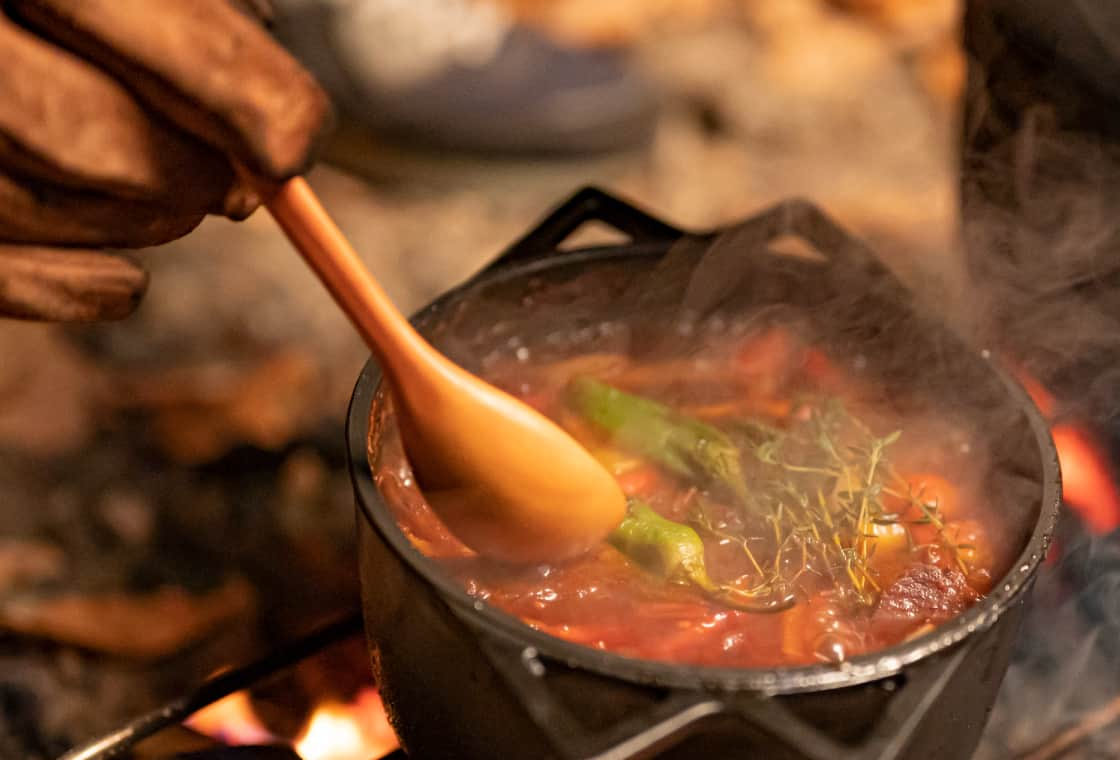 EBY723

FO-COOP
This shape focuses
on ease of scooping
In a world of metal cups and pots, wouldn't it be nice to have something warm to put in your mouth?
"FO-COOP" was born with this in mind.
At first glance, it may appear to be no different from other cutlery, but here too, there is EVERNEW's own special attention to detail.
Did you notice that the shape of the spoon is a little different from other spoons?
In the mountains, where you cannot use a lot of water, you want to clean your pot as much as possible.
For such a mountain hiker, the pot is shaped to follow the R of the corner of the pot.
It scoops up food left on the corners cleanly.
Please eat up the cooker as clean as possible with this "FO-COOP".
It should reduce the consumption of wiping paper a little.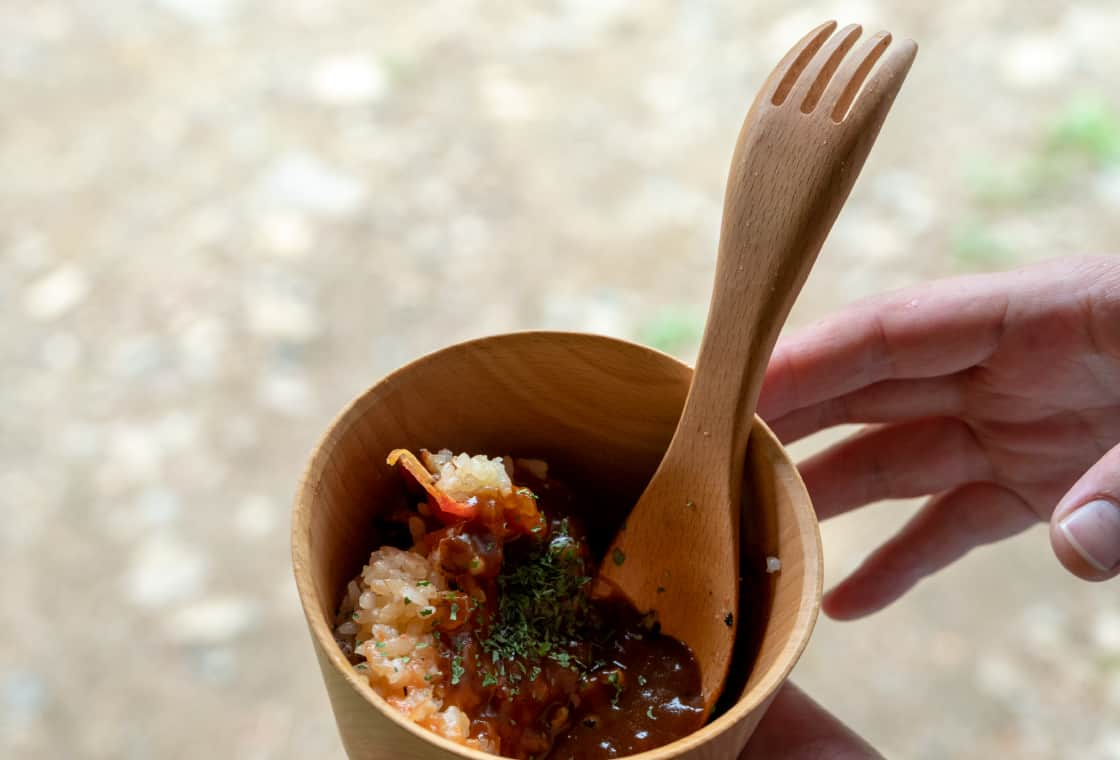 EBY711/712

SAWO SPOON S / SAWO SPORK S
Fits in a cup!
Ultra compact!
If we were to complete the "Ti 400FD Cup",
we would want to include cutlery inside as well.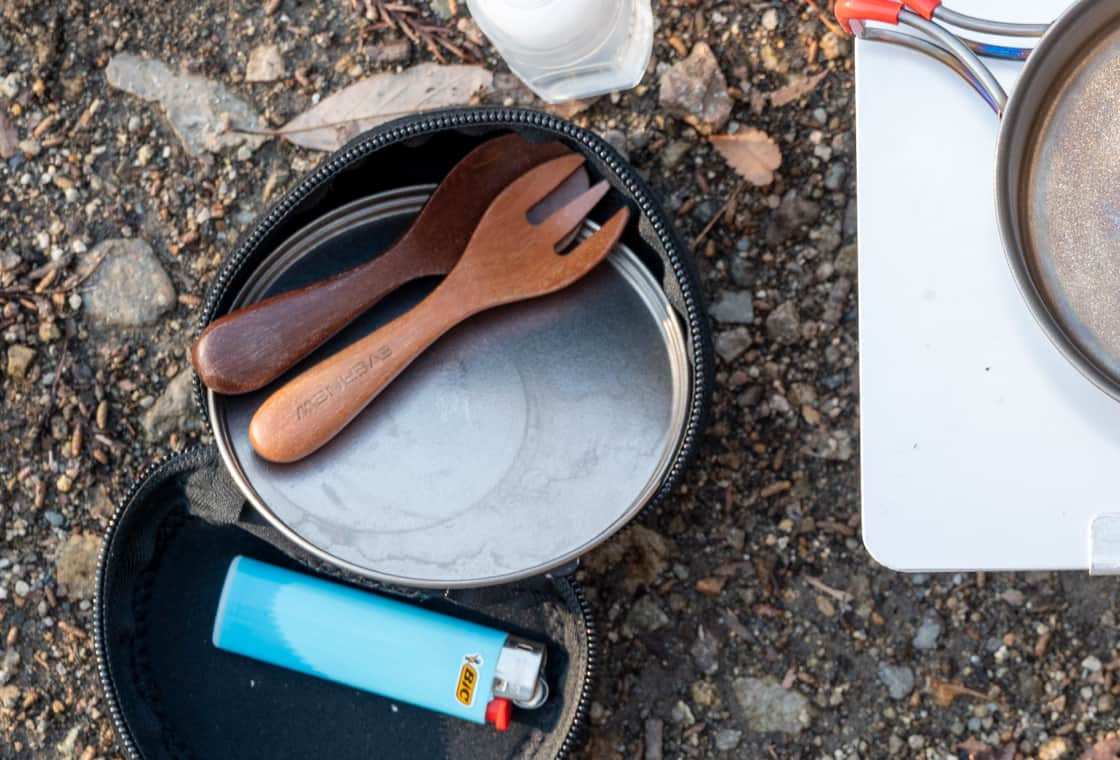 Cooker
Cleaner

If you want to wash the without coating pot

it's Mr. Brush's turn!

I am suggesting an uncoated and anodized-only aluminum pot for years of use.
It has the possibility fail to cook and getting burned.

In such a situation, Mr.Brush can wash without hesitation that is one of my favorite points.

Any uncoated material, including UL Titanium, can be used with the "metal scourer", but I have encountered a "Mr.Brush" that does not hard to scratch even coated pots.

Produced on a vintage machine, of which only two exist in Japan,
Mr.Brush is made of ultra-fine stainless steel wire material pressed and coiled.

Instead of scraping off dirt in "dots", it removes dirt in "lines" as if it were scraped off with fine coils.
As a result, it is by far smoother and more scratch-resistant than ordinary metal scourer.
In my house, it is active in the kitchen every day!
I'm counting on you, Mr. Brush!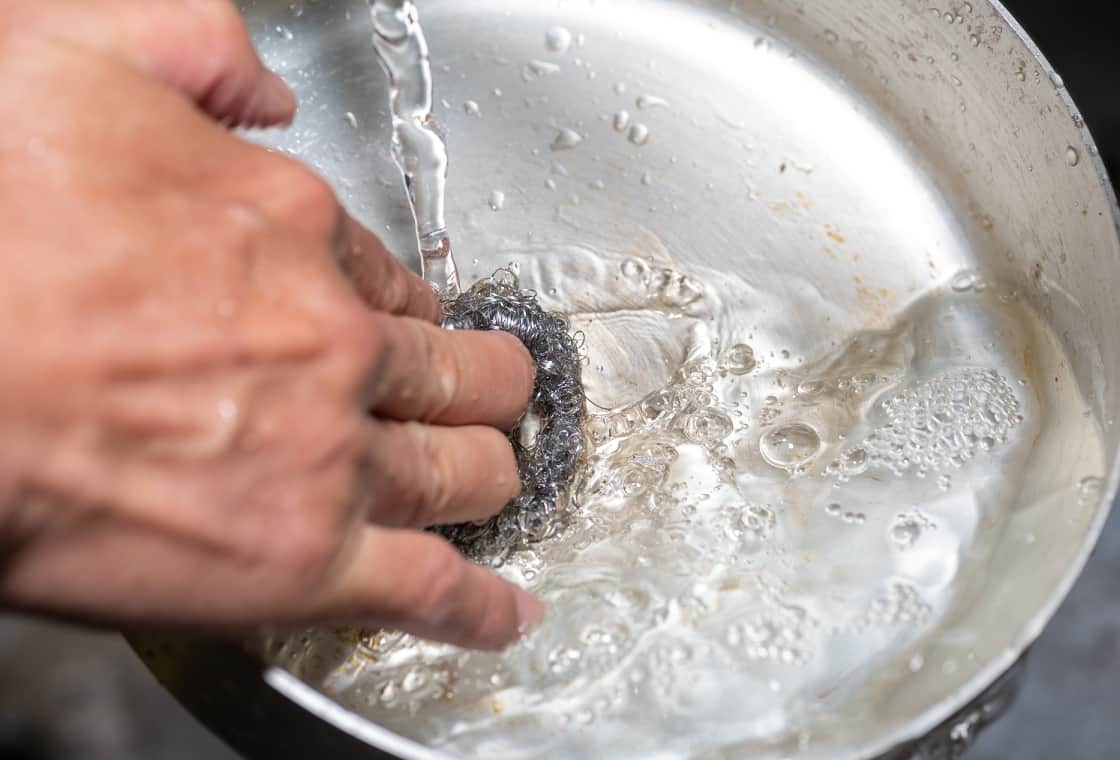 EBY645

U.L. Cleaner
Nickname is Pero-tang.
Clean dishes and pots. In the kitchen, this may seem like a trivial task, but on the mountain, it can be a challenge.
Water is scarce, detergents are not available, and it's all good until you have something tasty to eat.... Since we use the same pot over and over again, to keep it as clean as possible, this year we propose the " ultra compact sponge."
It is made of nylon with a special woven structure that cleans quite well without detergent, and one side is woven with hard, firm fibers for stubborn stains.
One sponge is provided for greasy stains and one for other stains, and each sponge is color-coded for easy identification. A storage bag is also provided so that dirty sponges do not have to be put away.