Frying Pan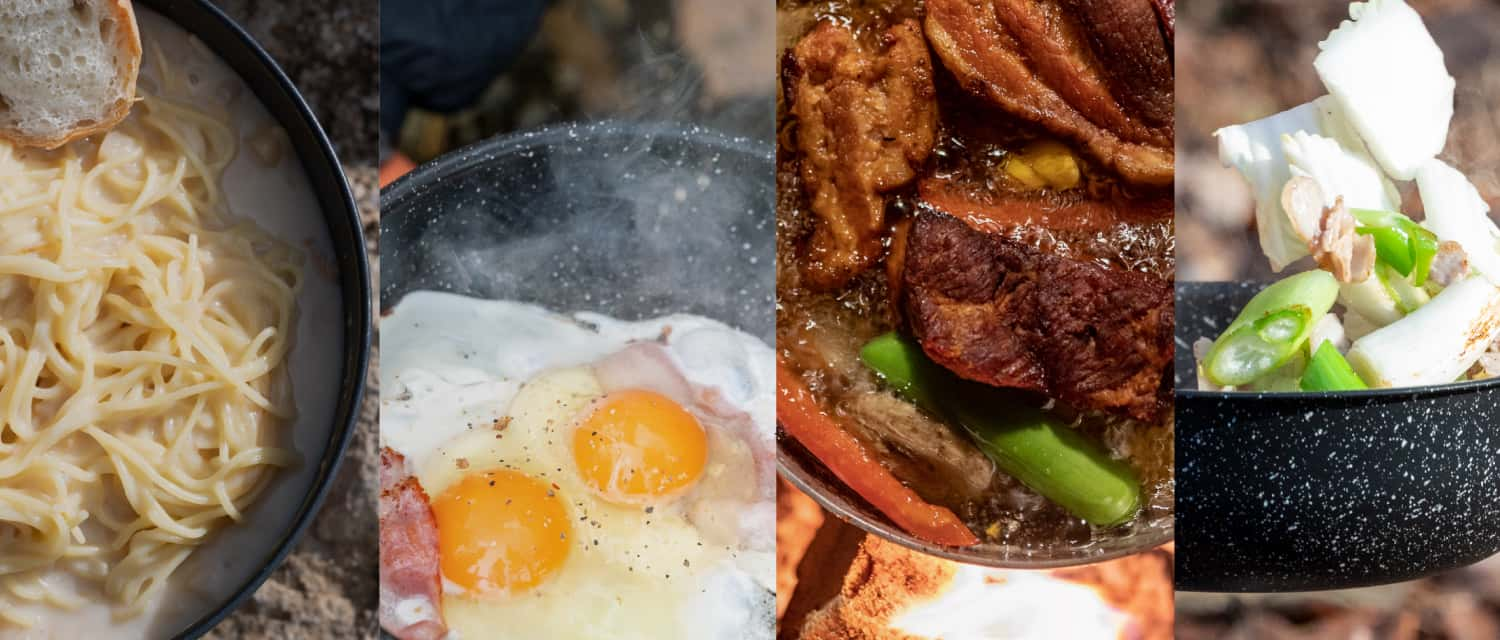 Since we started selling "Ultra Light Pan"
which is lightweight similar to titanium in 2018, Evernew continues to recommend
the use of frying pans for cooking in the mountains.
The lineup is further enhanced with the addition of HD ALU PAN in 2022.
Then again, Evernew continues to recommend
the use of frying pans for cooking in the mountains.

The addition of HD ALU PAN in 2022 further expands the options.
U.L. Alu Pan
The desire to cook delicious meals on the mountain.

This lightweight aluminum frying pan gives shape to that idea.

This frying pan has the same weight as a titanium frying pan, but with the characteristics of aluminum: high thermal conductivity.

Since we are assuming that we will be taking it on the mountain,
lightweight is our top priority anyway.

Enhanced coating for quick and clean cleanup in environments where water is not freely available.(Titanium plasma coating)

Be careful with the heat level as it is a very hard and thin material.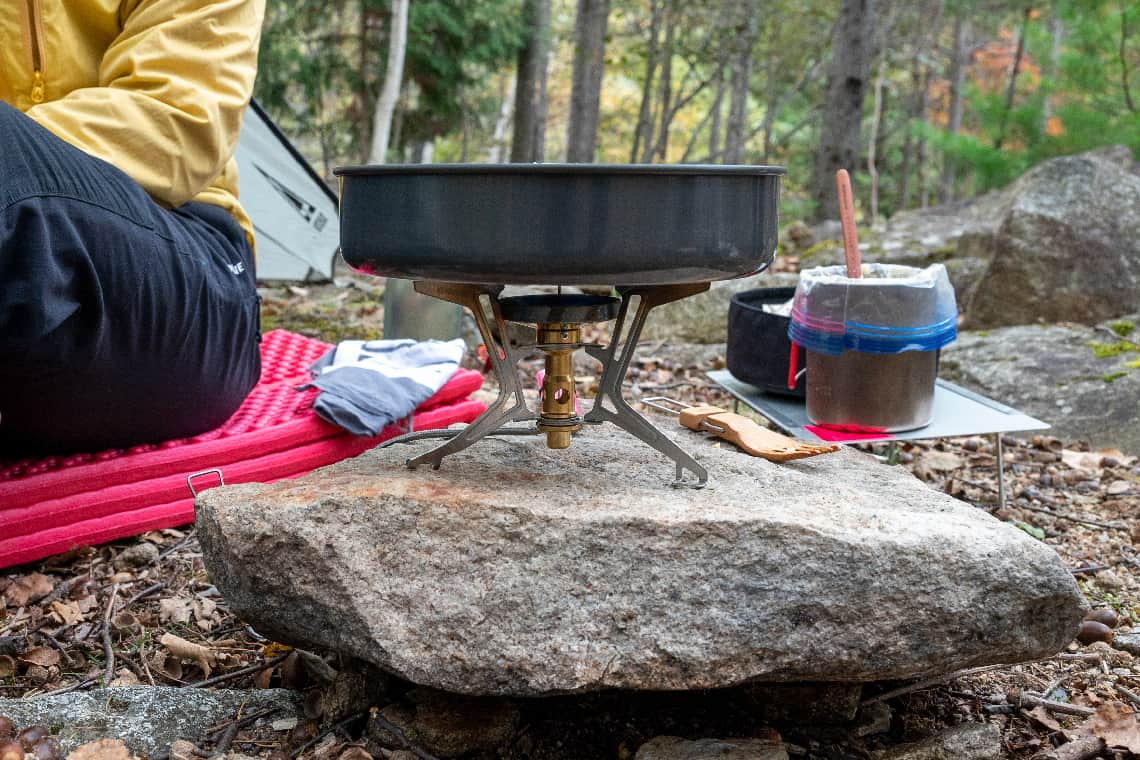 HD.ALU Pan
Cooking delicious food outdoors.

This aluminum frying pan
focuses on these points.

The use of 2mm-thick solid aluminum material provides both high thermal conductivity and uniform bottom surface temperature.

By daring not to use a coating, this tough frying pan can be used for campfires because it can be scoured even if it gets burnt.

The curved line, which makes it easy to stir and prevents dirt from accumulating, and other features of the craftsmanship make this a frying pan that will last a lifetime.

They say it's heavy, but don't mistake!
the comparison is to the U.L. Alu Pan! They are too light!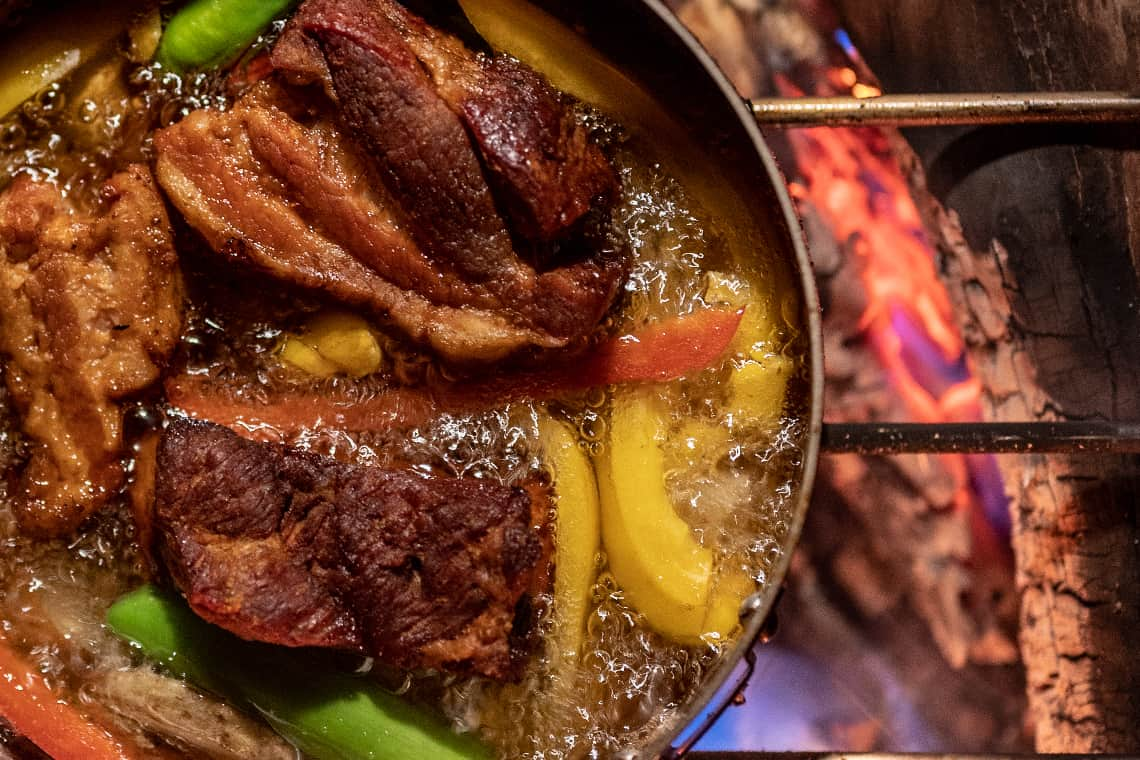 Marble
EVERNEW's standard frying pan for over a decade since its release.
Not many people know its actual debut year.
The feature is that you can fold the handle to bring to the mountain and nest with other cookers easily.
Great to buy as a first frying pan for mountains for customs with high cost performance.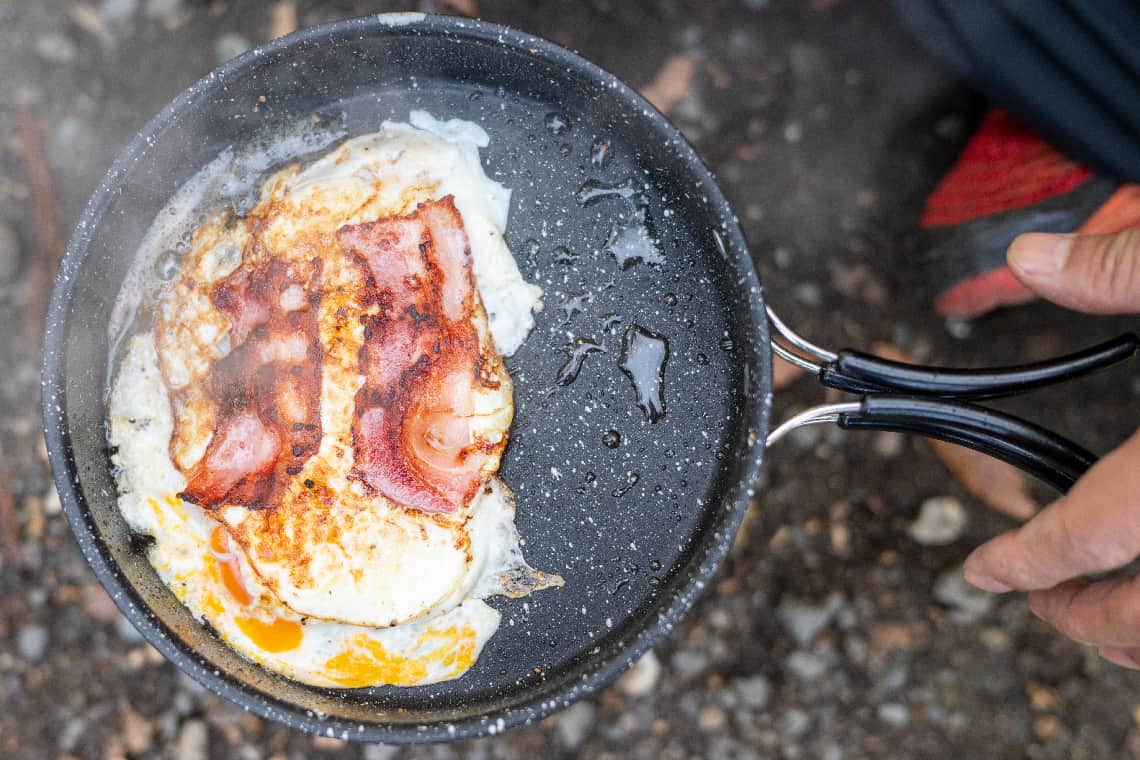 Round
You can use this frying pan as if you are cooking at home because of the shape of rounded side.
Available to boil and stew with 6cm depth.
Very popular for customers to use in the mountain.
The most useful frying pan to cook, especially for people who doesn't care the weight.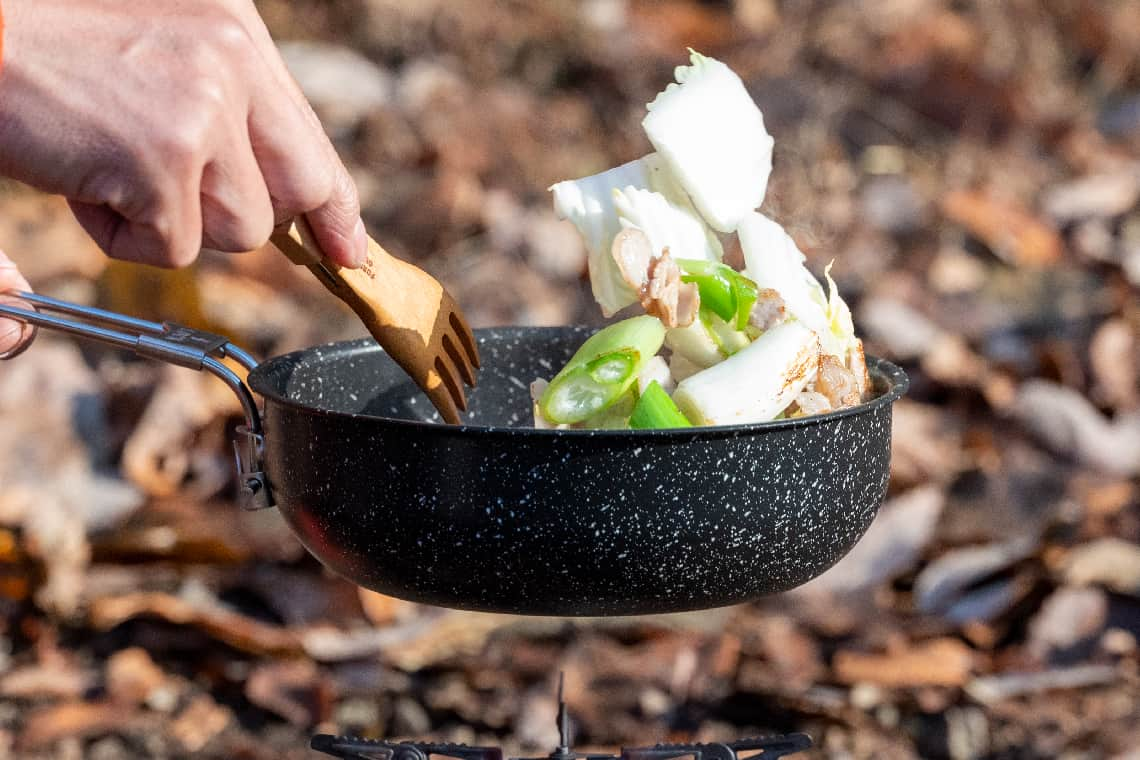 U.L.Alu Pan

Text:Kazutoshi Ota Photo:Ryohei Kawamoto
Why not enjoy a delicious meal at the top of the mountain?
2 hours climbing, arrived at the tent sight at 2 PM, a summit that makes you want to stay longer.
Why don't you use the more than enough time for cooking?
The first "Ultra Light Pan" was launched in 2018. At that time, people who brought frying pans for mountaineering were still in the minority.
In order to solve the negative factors of being heavy, bulky, and hard topack, and to enjoy good food on the mountain,
we introduced the first "Ultra Light Pan" and have been enhancing the accessories at the same time.
The number of frying pan users has been increasing little by little but surely,
and we often meet frying pan users who are sprinkling delicious smells in the tent site.
If you want to cook a wide variety, use an aluminum pot.

We recommend that frying pan
with a large surface area!

Eat good food with a great view.Enjoying a delicious meal.
Just imagining it makes you drool.
Why don't you take a step into the fascinating world of frying pans?
EVERNEW will do its best to support you!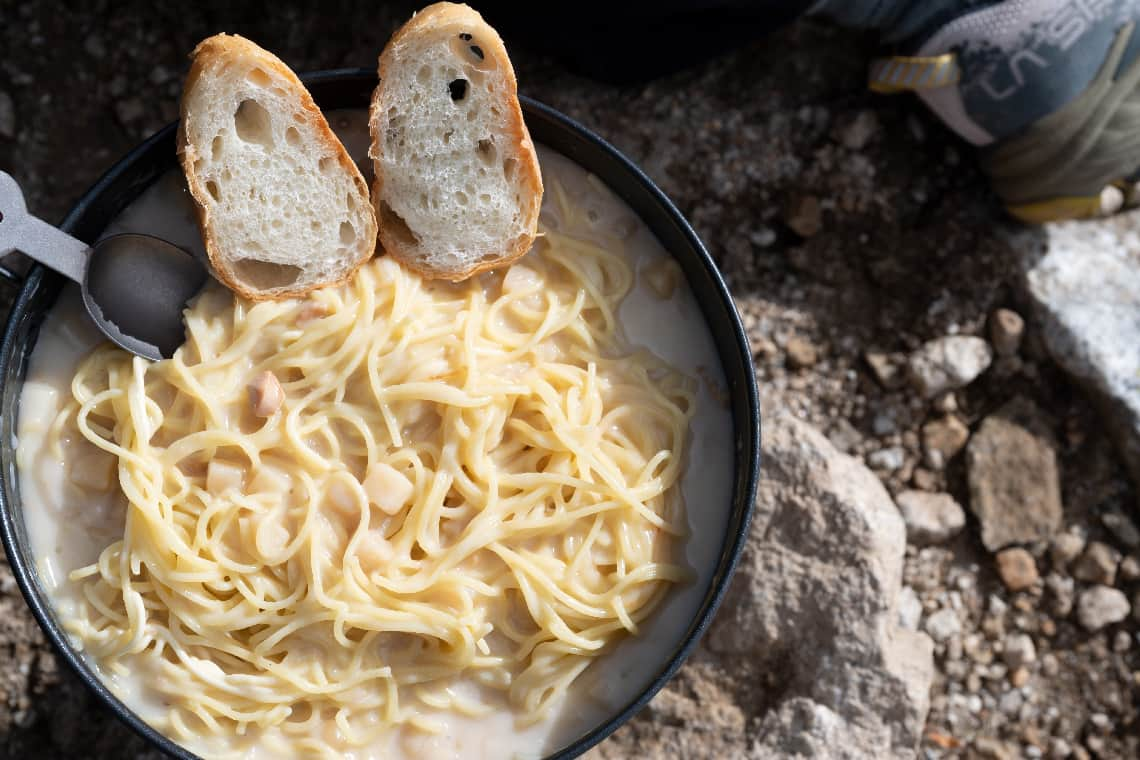 U.L. Alu Pan 2.0
The basic material specifications are the same as the previous model,
using lightweight Duralite, and the coating is titanium plasma coating.
Duralite is hard and strong in spite of general aluminum material,
so it can be made thinner, making it as lightweight as titanium.
The titanium plasma coating makes wiping off dirt overwhelmingly quick and easy.
These two points are the most important for a "mountaineering" frying pan, and also the reasons for its popularity.
This single frying pan offers a rich variety for your mountain meals.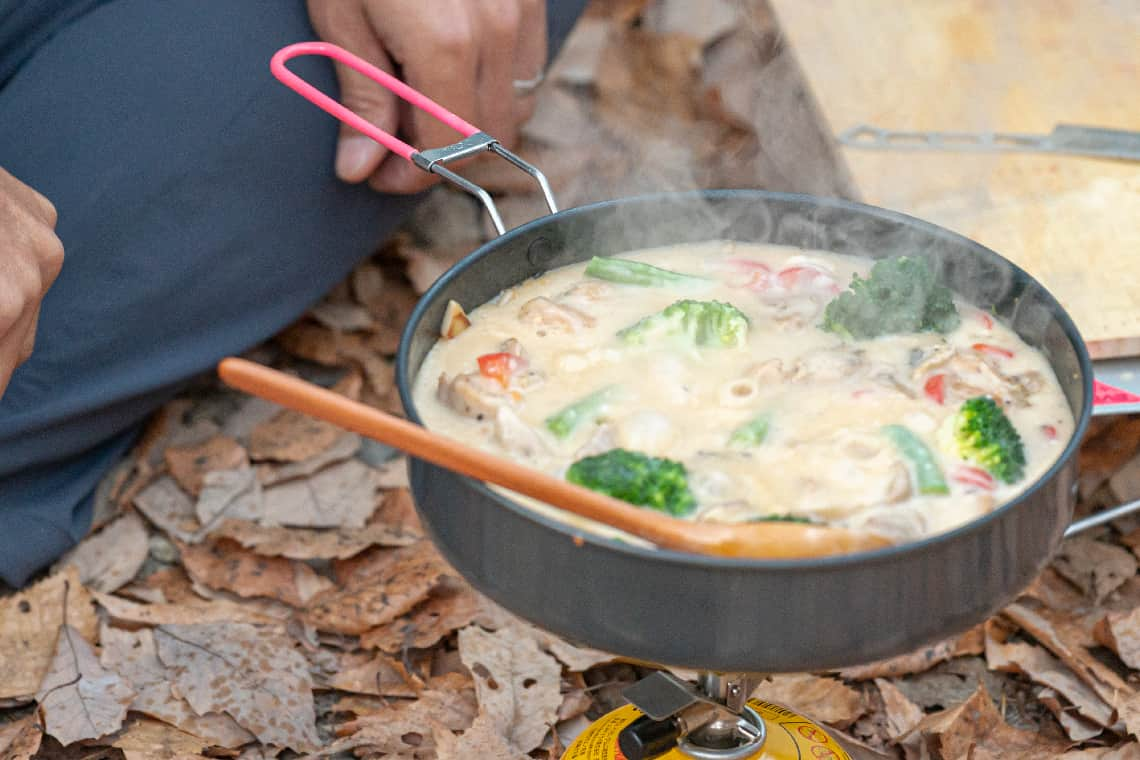 Be careful with the heat
It is a strong special aluminum sheet so it is processed thinner than usual.
Aluminum is a good heat conductor and it is thin so that is easily heated locally. It is easy to extremely hot where the fire is touched point.
If you are as it is, it will be easy to burn.
The important thing is to control the heat and move it.
Due to the thinness and high thermal conductivity, low to medium heat are sufficient to transfer heat to the food.
Basically, the heat is a medium-high heat that allows the flame to gently caress the bottom of the pan. Do not use a high flame that will cause the flame to bounce back. (Do not burn the fire on empty at any heat)
Moving food around while cooking is also important to prevent burning.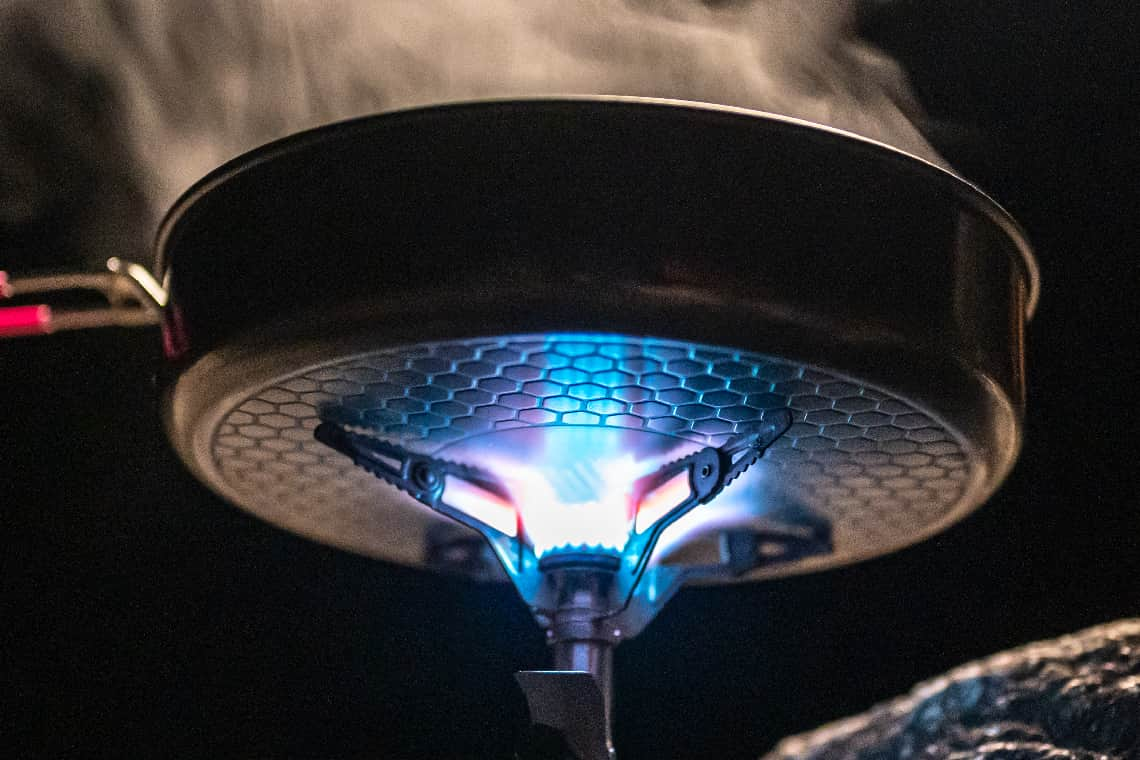 HD.ALU Pan
BACKCOUNTRY Cuisine

Text:Kazutoshi Ota Photo:Ryohei Kawamoto
Frying pan that stimulates appetite and imagination
Non-stick coatings are attractive, but they always come off.
"HD Alu pan" is the answer as a manufacturer of mountain frying pans.
As long as there is no coating, the pan can be used until it has a hole in it.
Solid aluminum pans are often used in hotels, restaurants, and other professional kitchens.
・ Excellent heat conductivity heats food evenly and quickly.
・ Good response for fine heat control.
・ Low fuel consumption, even with a low heat source.
・ Easy maintenance.
・ Easy to check the color of sauces and the degree of browning.
With these advantages, it is the mission of EVERNEW
to commercialize the product for outdoor cooking.
The handle is detachable in a classic way, and the thickness is 2 mm to balance weight, durability, and heat storage.
In order to achieve a uniform thickness, we chose to use a spatula drawing method by skilled craftsmen.
Although the appearance is extremely simple, the angle of elevation of the sides, height, aluminum material, angle of the handle, length, etc., are all considered and were all designed in the pursuit of eating delicious food in the open air.
As long as they are used outdoors, they are placed randomly in a blazing fire or heated by a raging fire. The environment in which they are used is harsh.
What is required for such wild backcountry cooking is toughness.
This is made possible by the uncoated, ground-thick aluminum and detachable handle.
You can concentrate on the delicious food without worrying about the little things.
The excellent heat response that only aluminum can provide will show the user a different boundary from steel frying pans.
Another important point is that it is truly a lifetime product, as it can be used until it has a hole in it without worrying about the coating peeling off.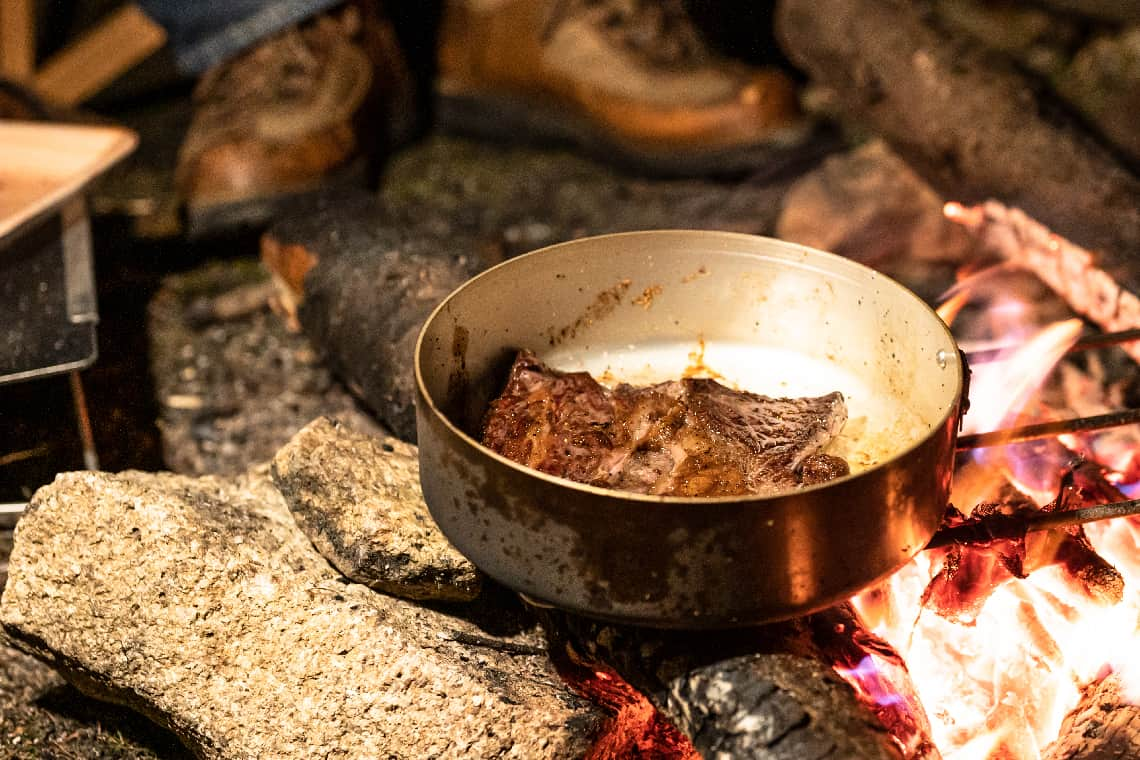 The best shape we have found through our experience as an outdoor frying pan manufacturer
What I would like to draw your attention to is the curl of the side rise of this frying pan.
The outdoor cookware manufacturer EVERNEW does not raise this corner vertically.
The design of the curves and the height of the sides, which are the result of our experience, can be used for various cooking methods, such as baking, simmering, and frying.
The greatest selling point of this series, which is 2 mm thick, is the greatest selling point of this series is the uniformity of the bottom temperature.
This series is most suitable for baking and frying, which are the most important functions when using a frying pan.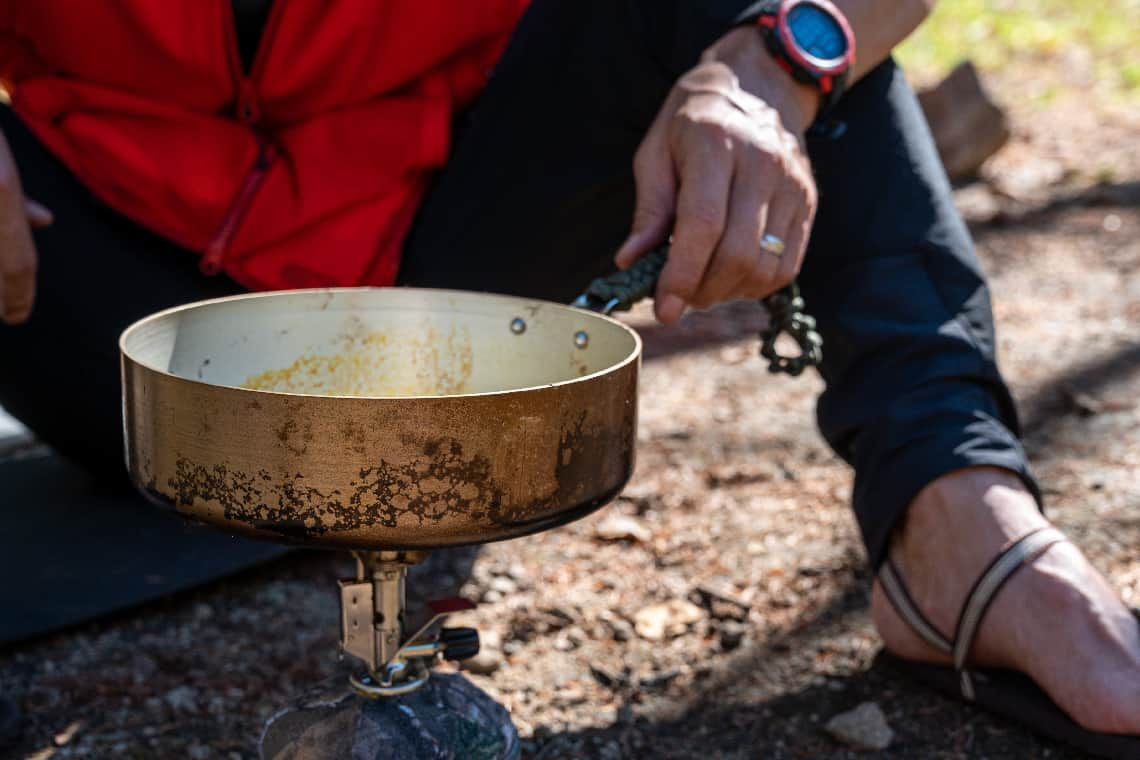 Wrap paracord around it for originality.
Or you can use it as it is.
EBY168 NABETSUCAM, EBY169 Handle Short, or EBY170 Handle (sold separately), These handles can be used.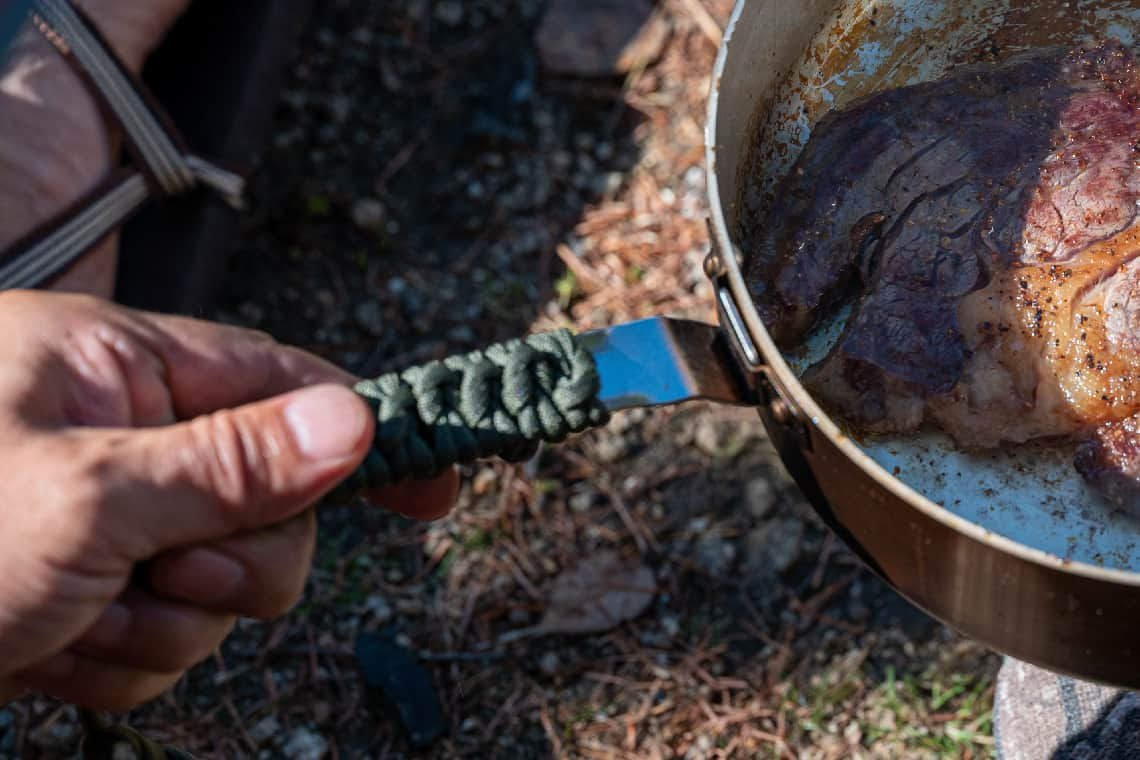 ECA632

HD. ALU Pan #14

For a quick side dish to serve next to the main dish.
This size is most suitable.
Fill this pan with olive oil and spices, you can keep eating Ajillo until the end of the night.
ECA633

HD. ALU Pan #16

In short, it is the size for a cozy dish.
The dish I made the most of in the test was the Poêler Beef Fillet in Rossini style.
The meat was crispy on the surface and medium rare in the center, which is a feat in itself.
The foie gras is browned all over and placed on top of the meat.
The charred bits at the bottom of the frying pan are used as a sauce, And voila!
ECA634

HD. ALU Pan #18

This size is good for acqua pazza with fish fillets.
The aluminum heats evenly, Olive oil to its maximum potential,
and produces an incredibly tasty broth.
In other words, this is the size for when you want to cook a variety of foods at once.
ECA635

HD. ALU Pan #20

The most freedom size.
500g steaks, roast beef, and sukiyaki!
The big size makes big happiness.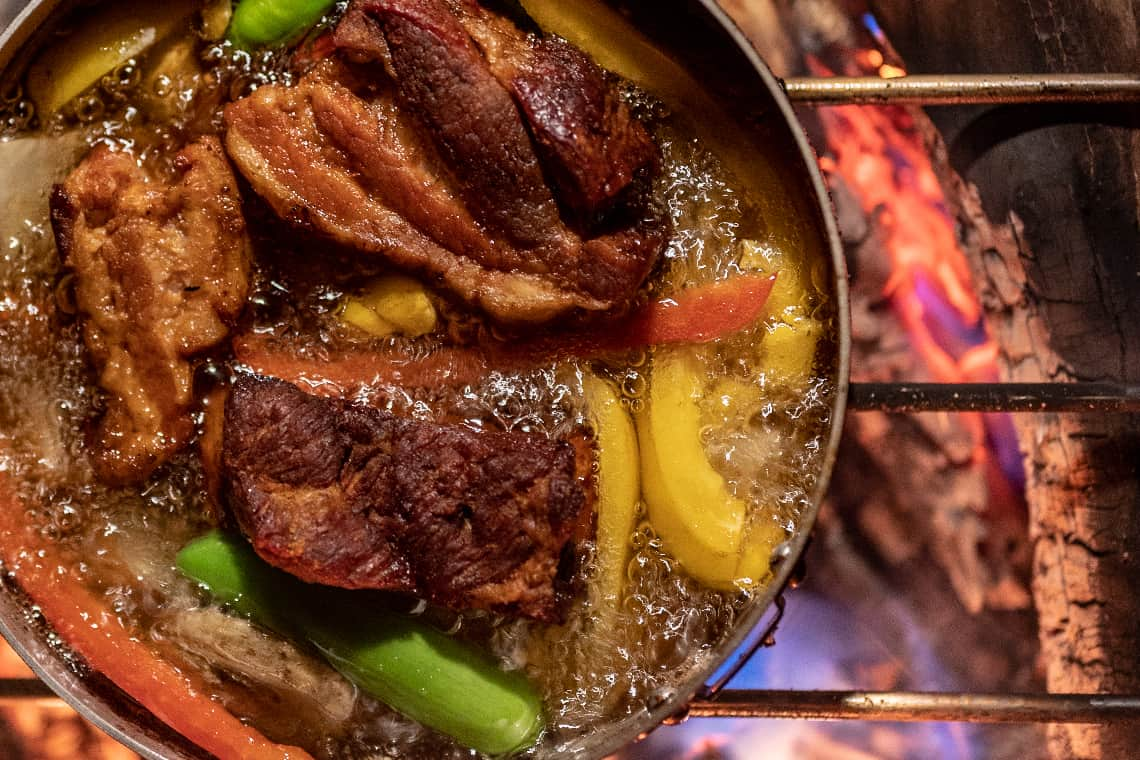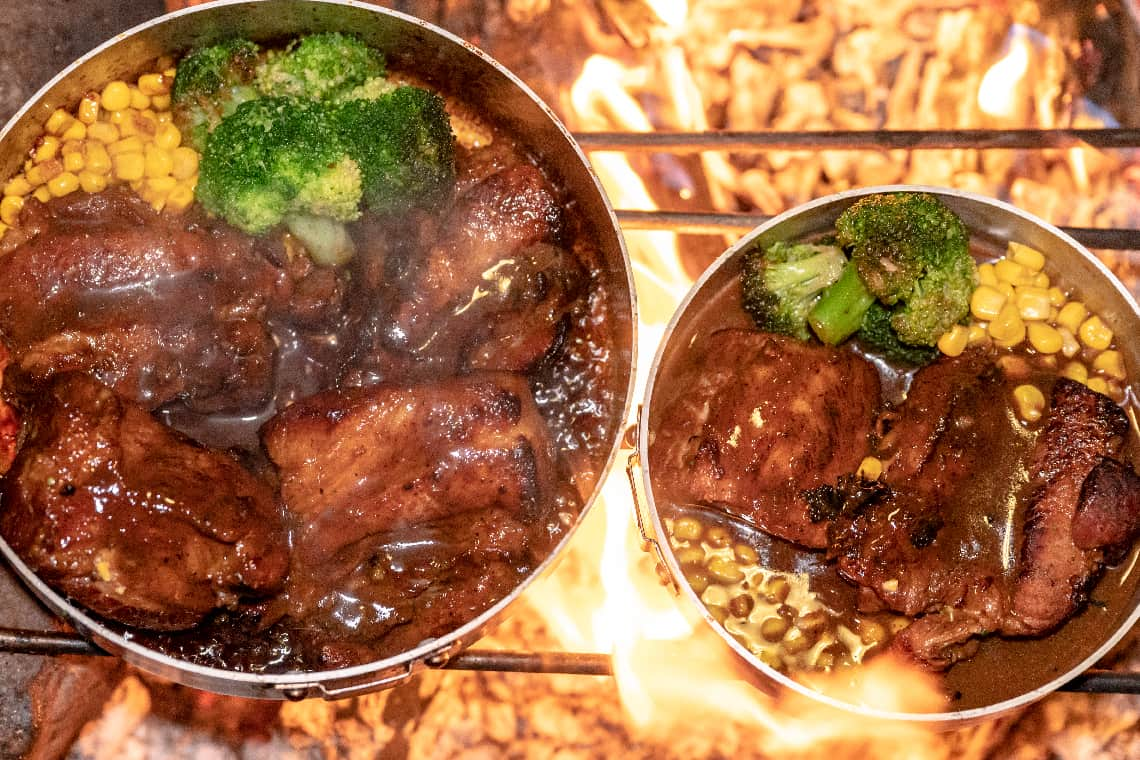 MAYU Cup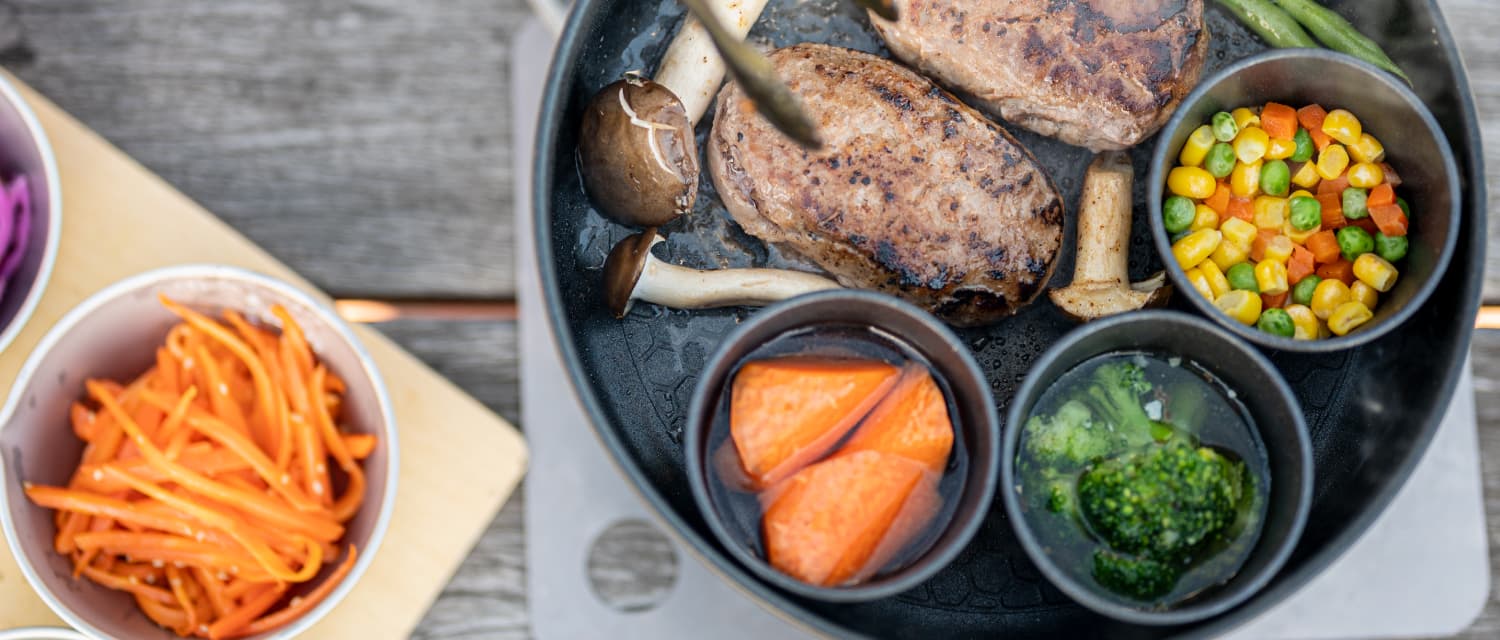 Text:Mayumi Kurokawa Photo:Ryohei Kawamoto
Bake, Boil, Steam!
"Saving the time" and "cooking different kinds of food at the same time" are both attractive words.
By using the "Mayu Cup," inside the frying pan, different types of simultaneous cooking are possible. The ability to cook multiple dishes such as baking, simmering, steaming, and boiling at the same time is truly a time-saving. It is sure to be a very convenient item not only for camp cooking but also for housewives who make lunch boxes every morning.
From the main course to dessert dishes, you can enjoy a wide variety of dishes served hot.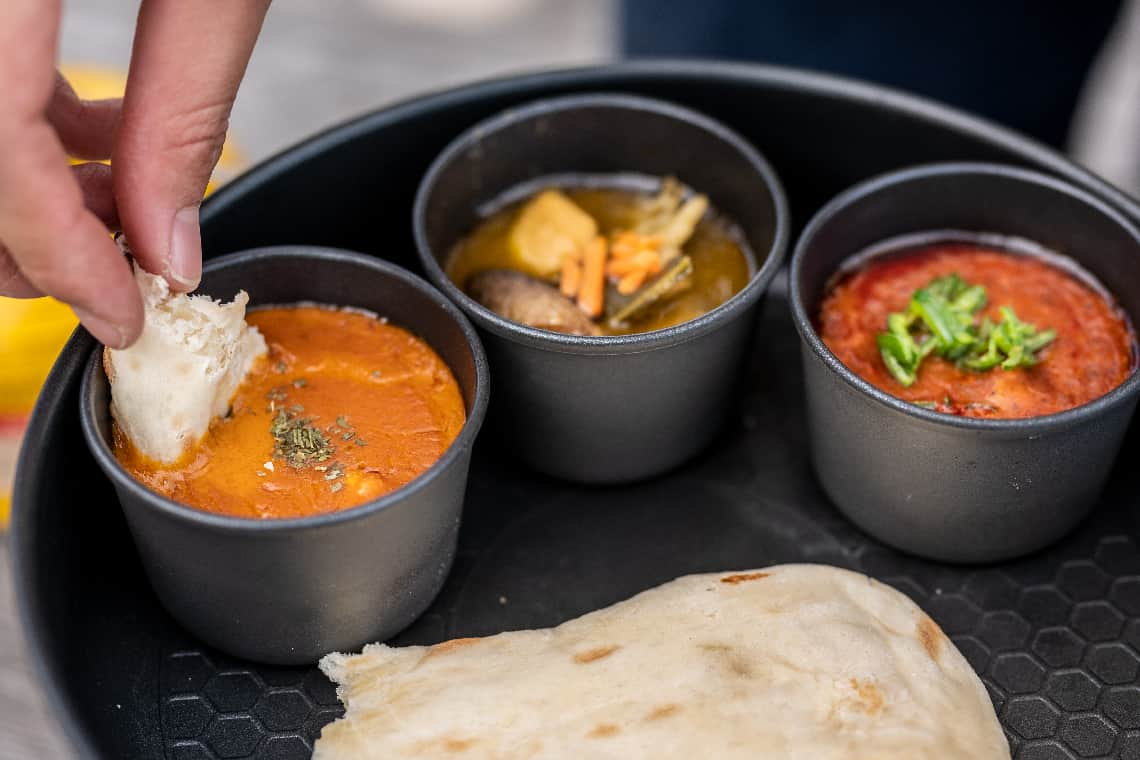 sounds delightful.

"Lightweight" and "compact"

Lightweight and even more compact, the ability to stack and store is essential for mountaineering cookware. The non-stick coating on the inside allows for clean-up with a small amount of water, saving water.

In addition, cooking at the same time saves gas and alcohol,
killing three or four birds with one stone.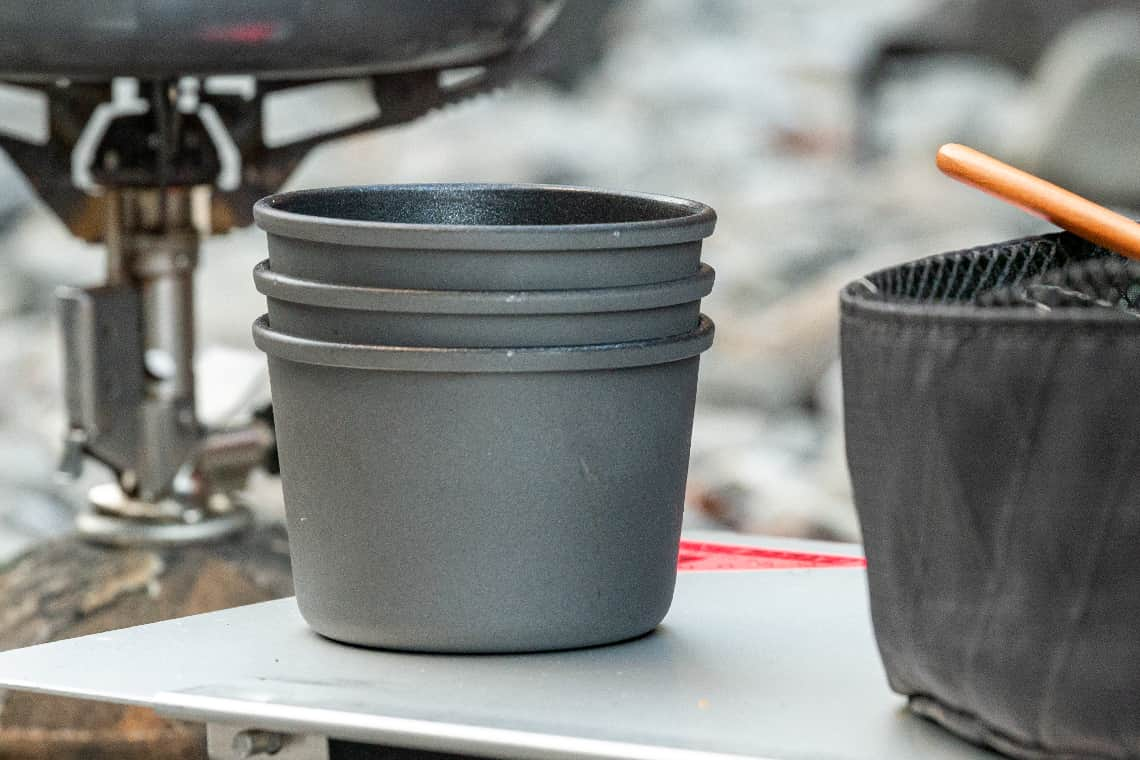 U.L. Alu Pot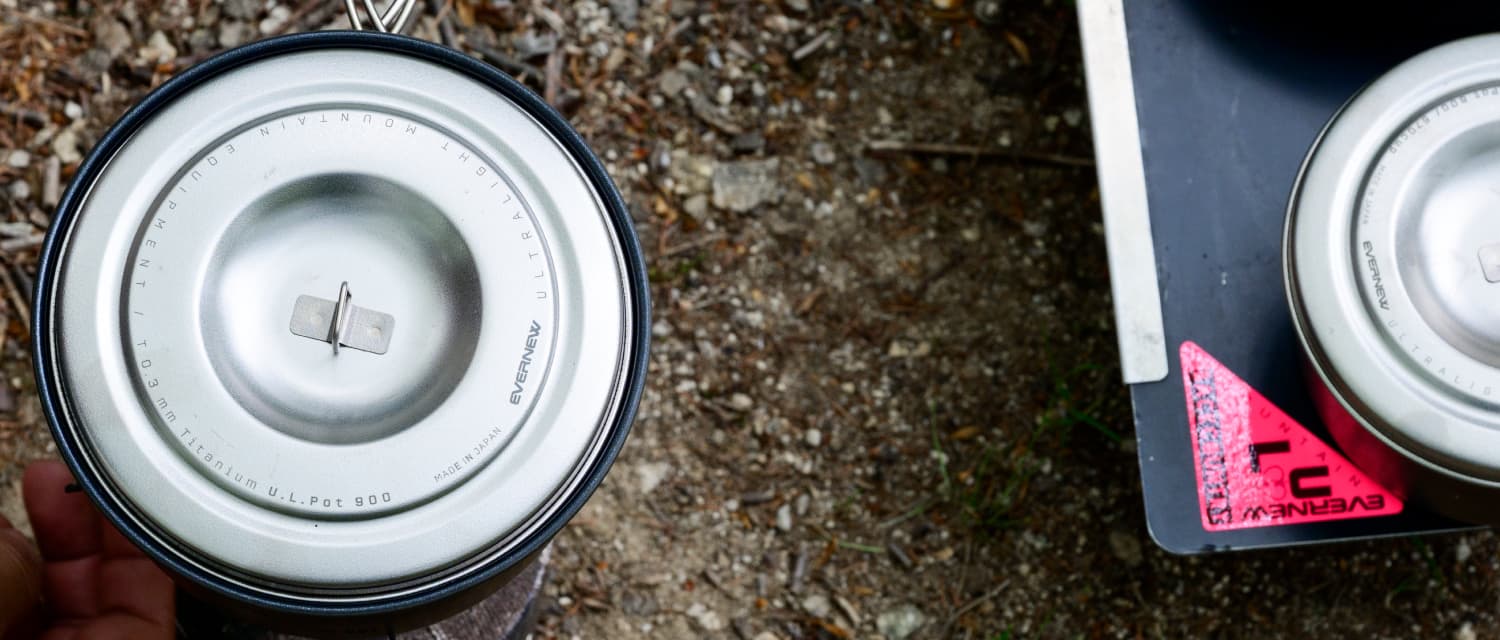 Text:Kazutoshi Ota Photo:Ryohei Kawamoto
ECA385

U.L. Alu Pot 700
Since the advent of this guy my mountain diet has shifted to raw rice.
The titanium-class lightweight aluminum material is coated with a tough, body-friendly.
It excels at cooking rice, of course, but can also simmer and bake, of course.
As the top choice of standard set that ranks in the Ti 570FD Cup along with.
And as long as you don't handle it the wrong way, cleanup is very easy.
If you have rice cooked in a U.L. Alu Pot 700, Everything is a treat!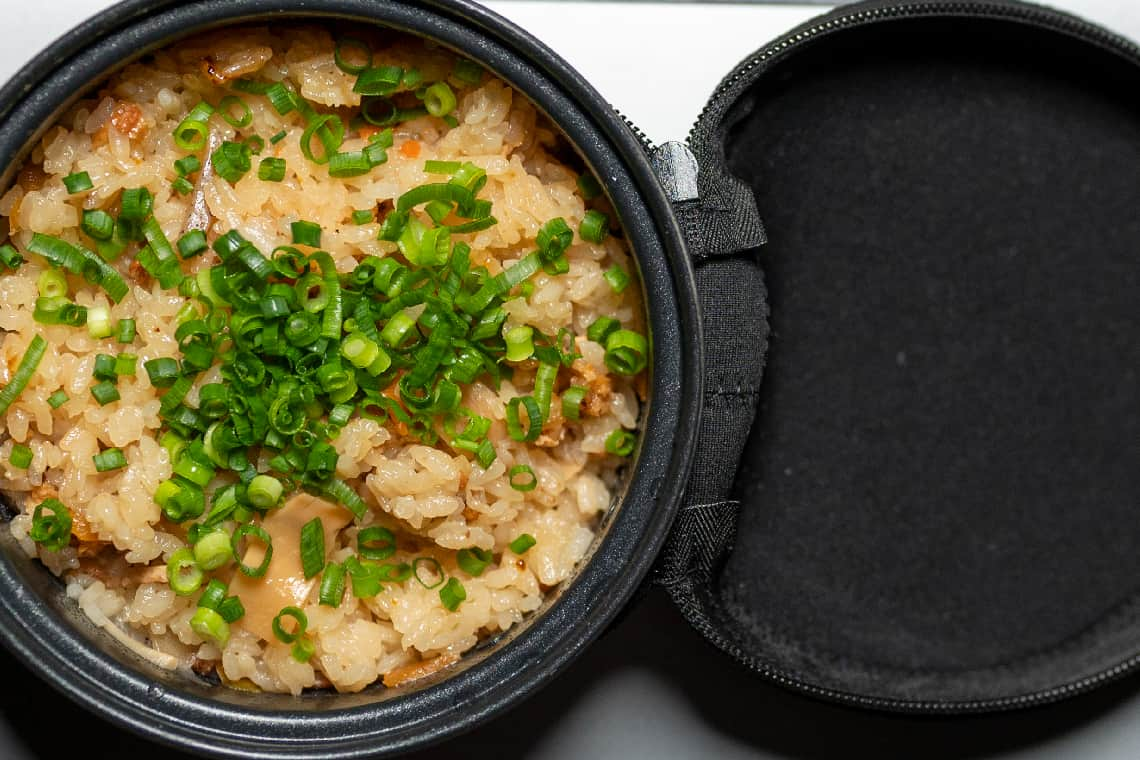 Non-stick and non-burn
plasma coating
Titanium Plasma Coating is a plasma-ionized titanium coating that provides superior durability, nonstick resistance and safety.
It cooks rice fluffy without sticking.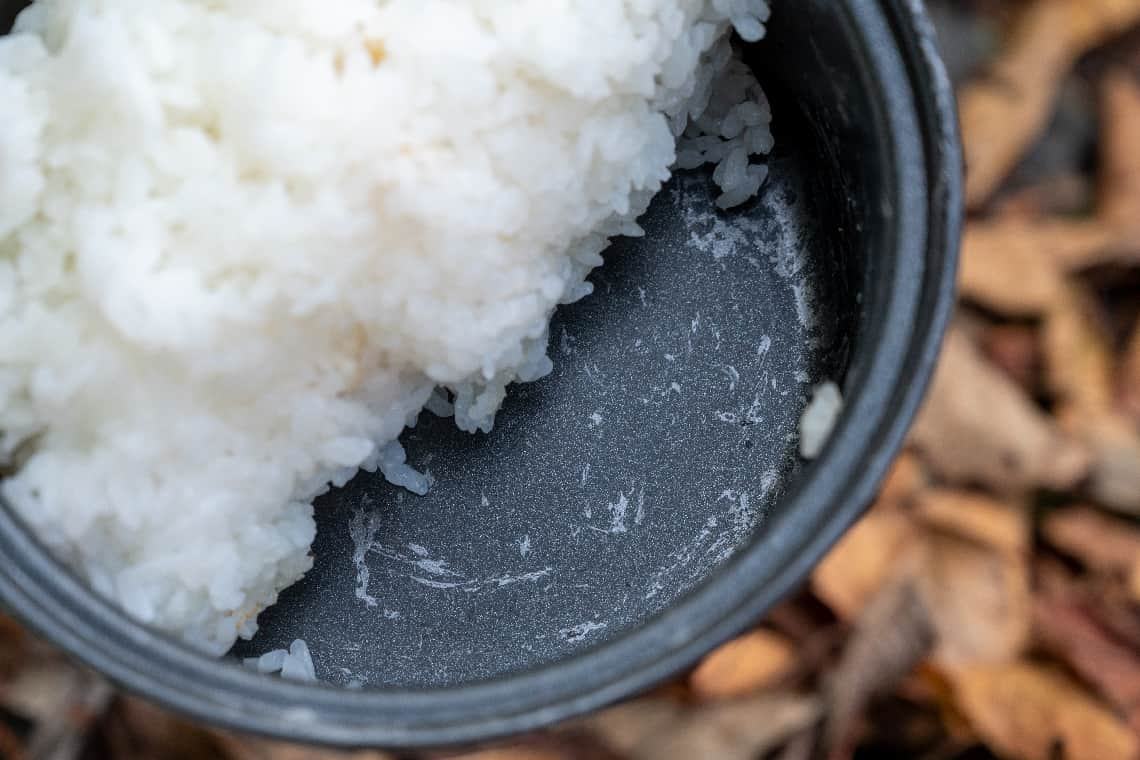 炊飯の作法

1. Water absorption

The most important point is
this water absorption.

You can cook delicious rice for a short time by absorbing water to rice enough.

If you start to cook rice right after the arrival at the tent area,
prepare rice and water together into the plastic bag during a short break.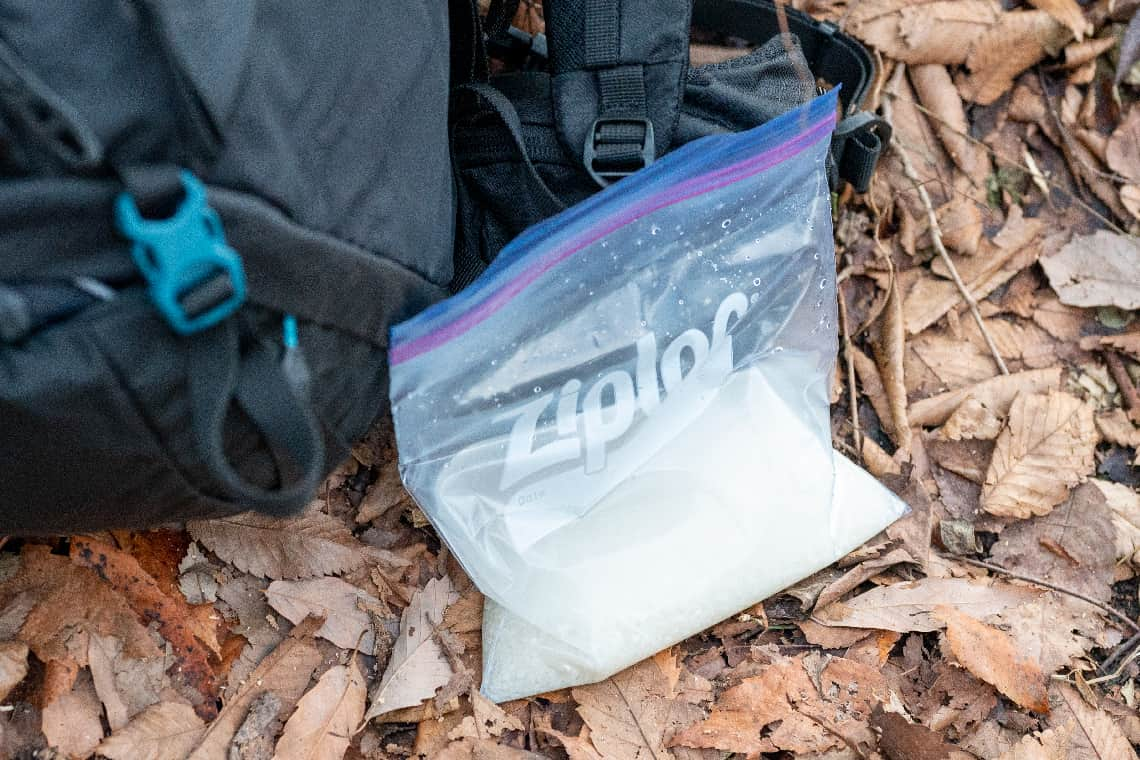 2. Adjustment for the amount of water

Adjust amount of water
absorbed with rice.

Basic ratio is Rice vs Water: 1:1~1:1.1

It depends on your preference so try and test to find your favorite amount.

In my case, I pour water until it is reached 2mm upper from rice in the cooker (I love hard-cooked rice!)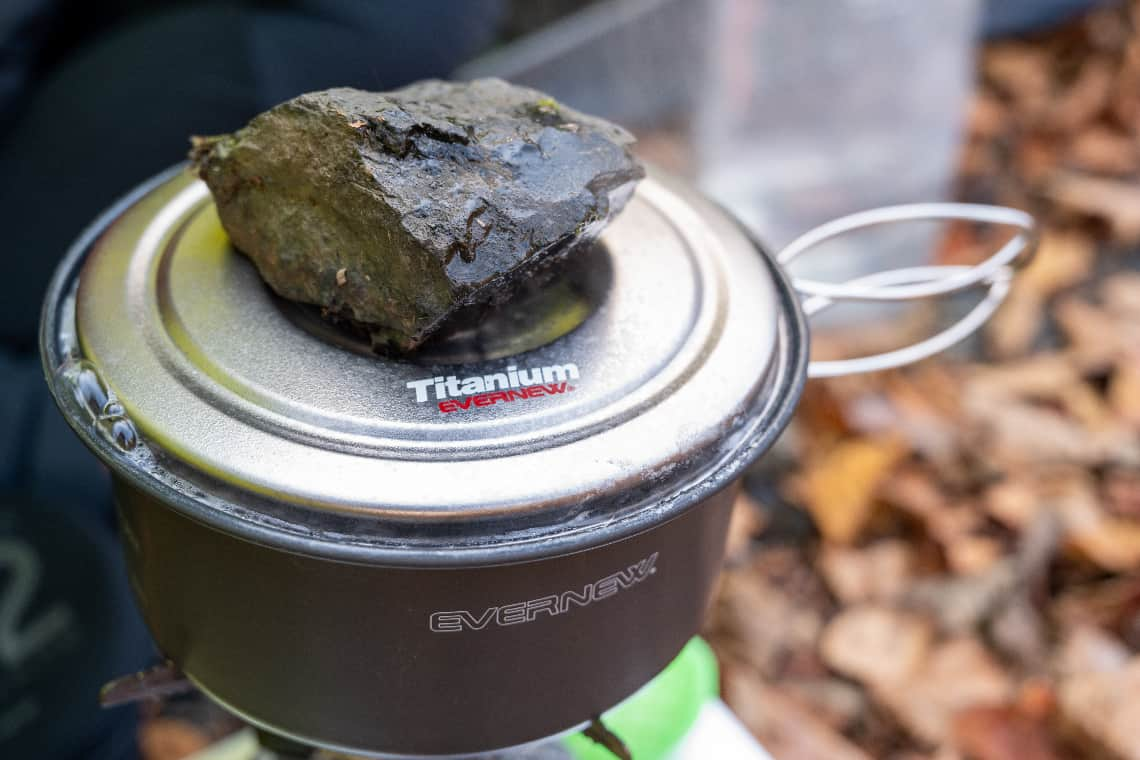 3. Heat control

Low heat when it starts
boiling with steam.

Start with high heat from the beginning and keep it until the water with rice is boiling. Turn to low heat when it starts boiling with steam.

Stay the rice with low heat while water is bubbly and rice is dancing in the cooker. When water in the cooker is disappeared and rice is tired of dancing with scorched smell, stop the heat.

If you want to eat scorched rice, then take a little longer time before stopping the heat. Then and steam.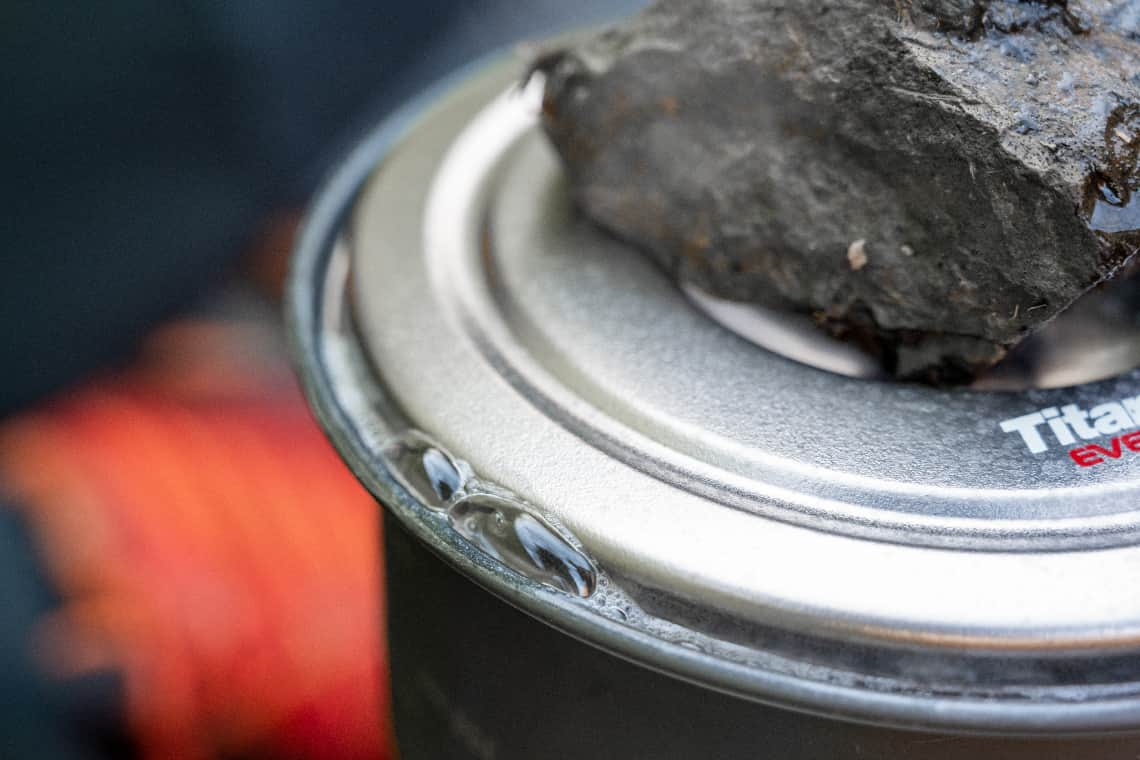 4. Steam

Just wait.

If you put the pot into "NP cooker case", you can eat with hot cooked rice.
Steaming time is different depending on preference so please try by yourself to find your favorite.

In my case, I make another meal for rice while steaming.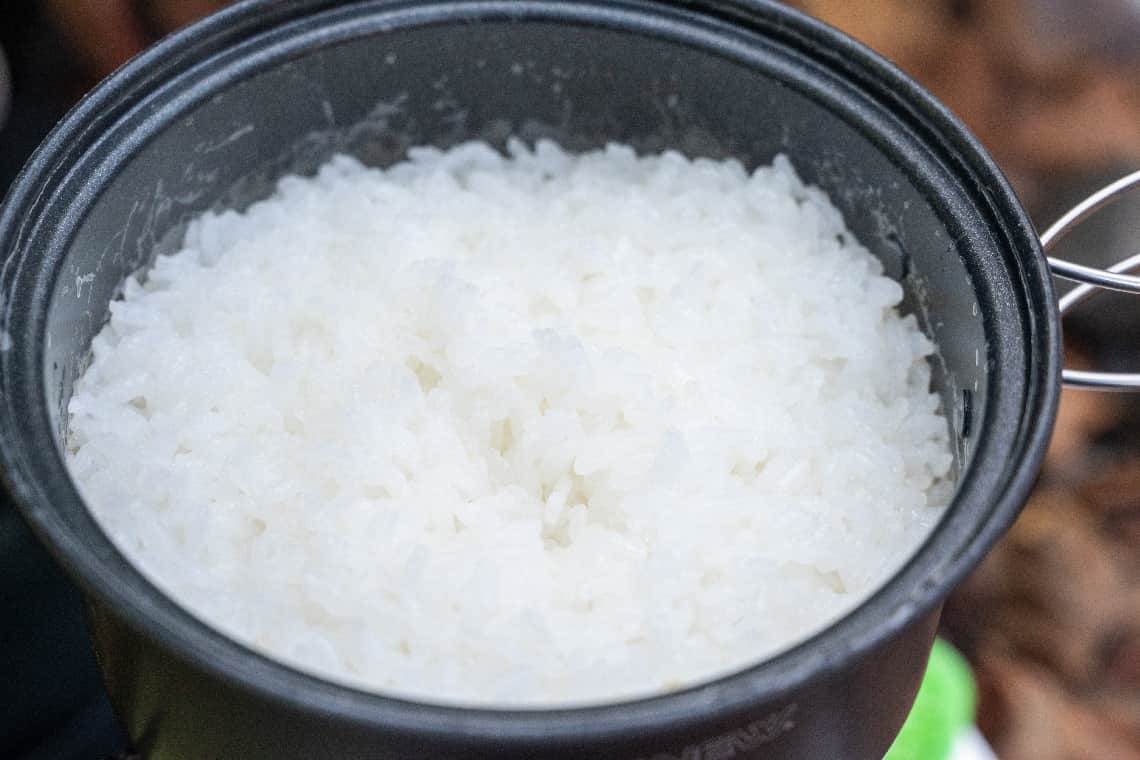 Backcountry
Almi Pot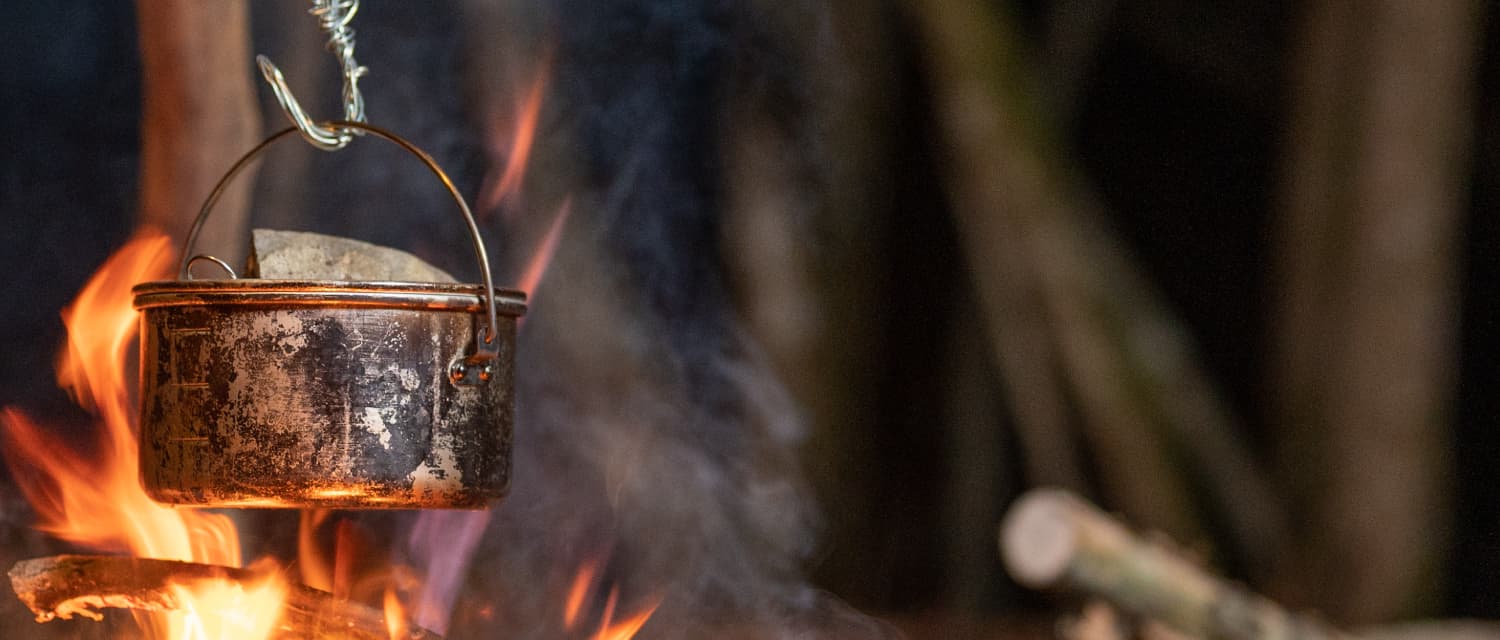 Revival of the classic "Almipot" in made-in-Japan
"With respect for a masterpiece and the expectations of many people who need this pot
We have revived it by boiling it down in a fire and reincarnating it as a Japanese-made product."
"The aluminum pot for one person is not tied to anyone or anything.
Your own personal cooker."
No matter how many times you make roasted rice on the fire,
You can wash it hard and the inside is always shiny and clean.
In the process, you may become an expert at adjusting the degree of roasting You may even become an expert at adjusting the degree of roasted rice.
Of course, you can also enjoy cooking with gas at a mountain tent site, whether it's ramen noodles or something for yourself.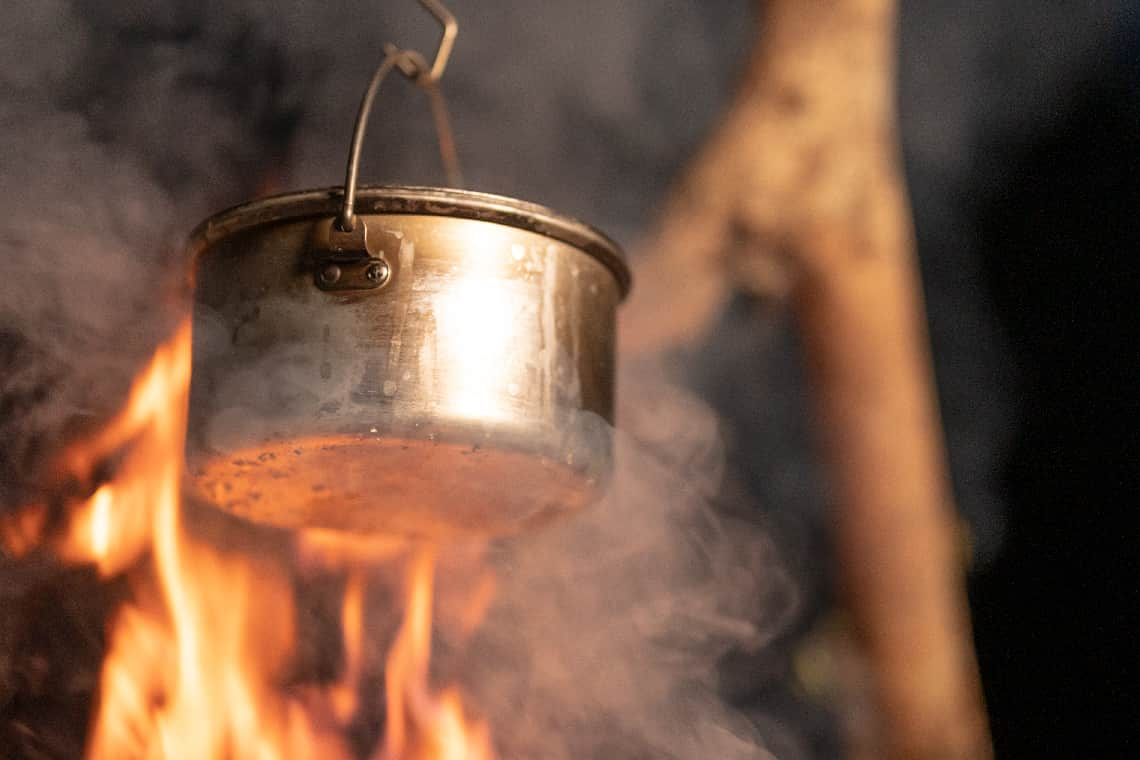 A product that will become
your partner
It is anodized only, so it is long-lasting.
The more you use it, the more you will enjoy its taste.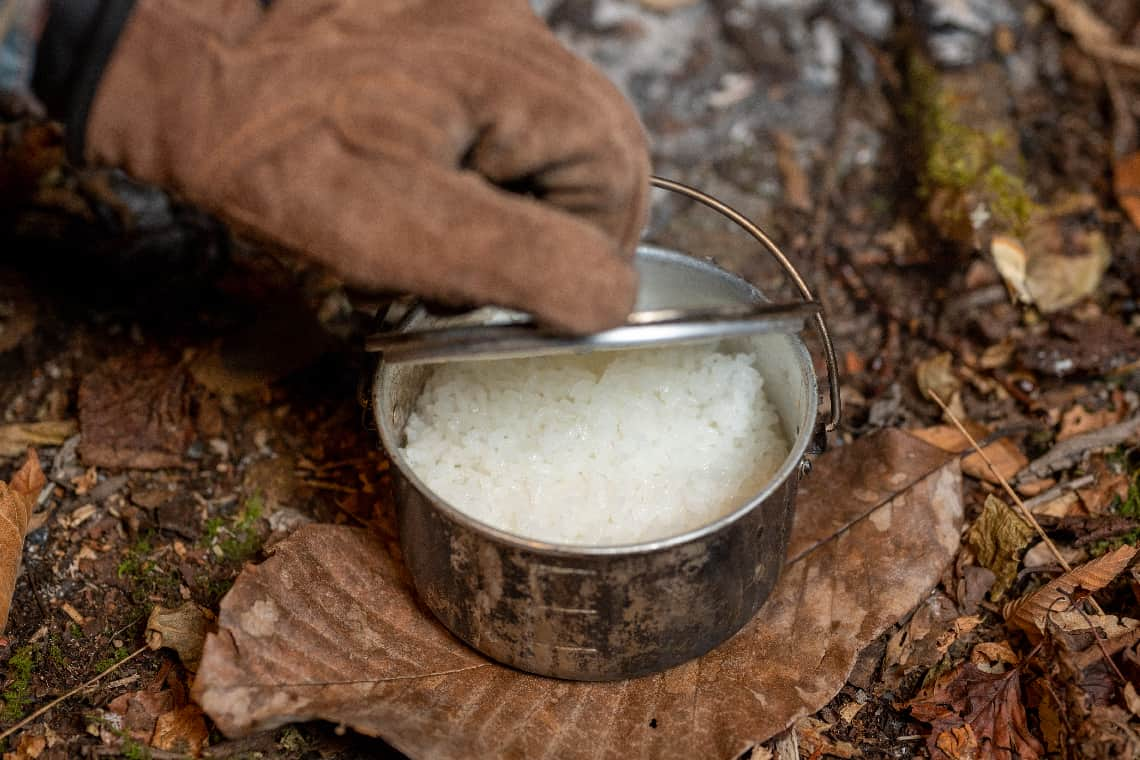 Combination with handle
It can be used more comfortably in combination with
"EBY168 NABETUCAM", "EBY169 Handle Short", and "EBY170 Handle" (sold separately).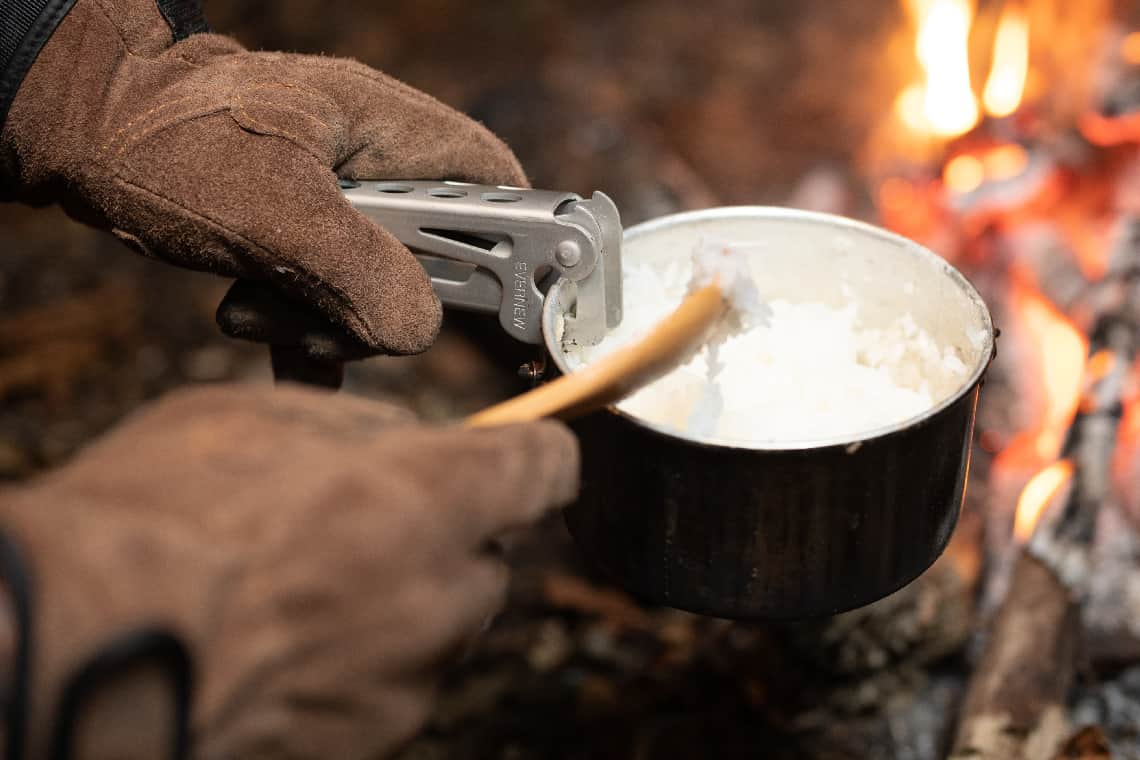 山岳飯盒 弐型

Text:Ryosuke Naka Photo:Ryohei Kawamoto
Respect to rice
It is less appreciation to the rice if you cook rice with cheap square box.
To express the maximum respect to rice, you should choose Hango in atmosphere, appearance, and power. It is Sangaku Hango 900
Functionality of Hango as an outdoor cooker is famous so we make this Hango based on Sento Hango 900 used by Japanese Self-Defense Force but change
the length of a handle and coating. Because of this, versatility, mobility and beauty as a cooker is improved.
Of course, material and manufacturing method is same as Sento Hango 900 of JSDF.
EVERNEW re-suggests Hango which makes rice happy as "Sangaku Hango 900" by mixing the skill of factory where has been manufacturing JSDF's Hango for long period and high quality material.
We know it is expensive. It's because there are many stages to make that we eager to include. Therefore, it is more expensive than usual cookers but it would be appreciated if you could admit it as our respect to rice
The perfect texture of rice will give you the happiness as a response for the love from you and your stomach will be satisfied with it.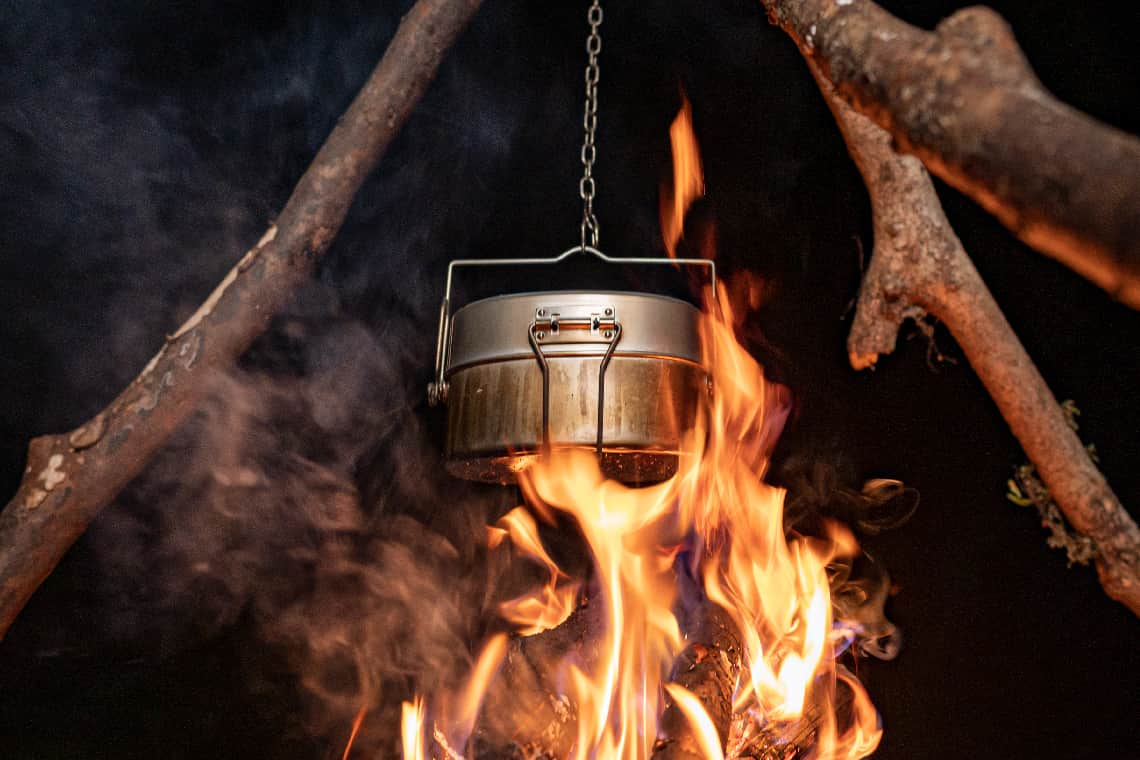 B.C. Cuisine
Pot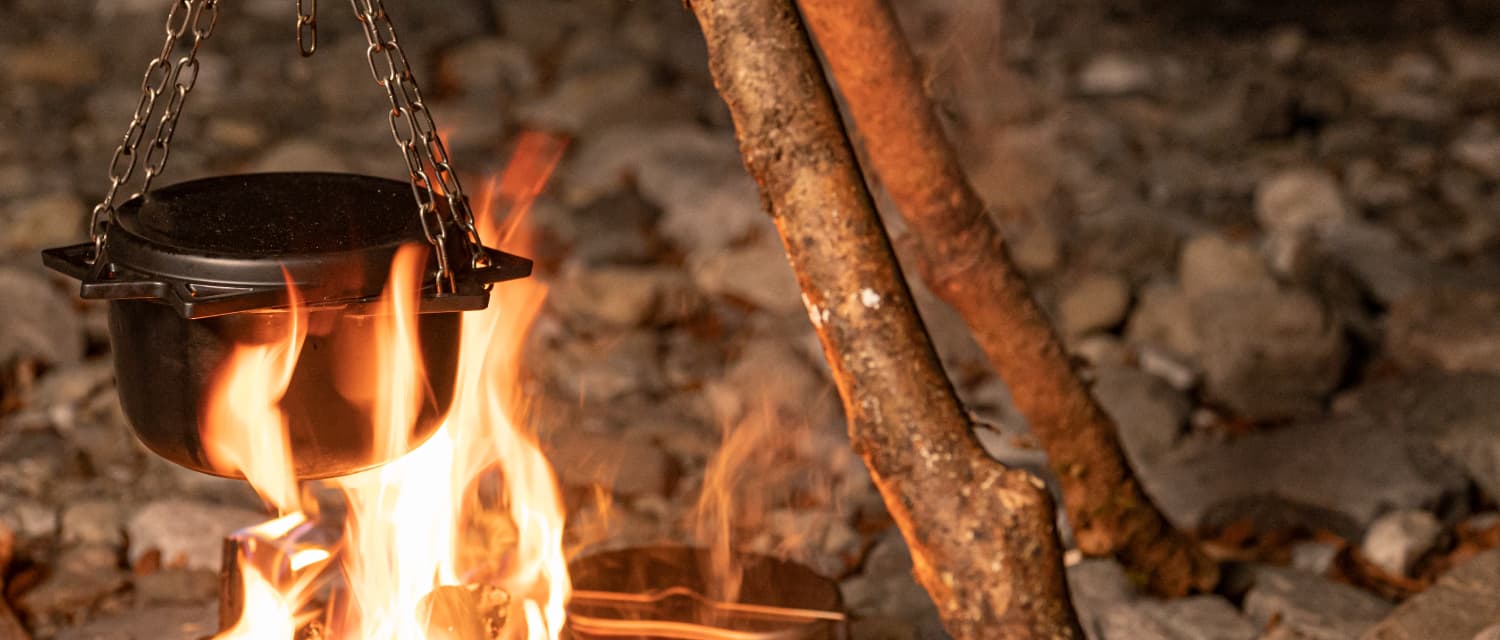 Durable one-piece handle that is easy to hold even with leather gloved hands.
The average thickness is about 4 mm. Both heat storage and heat conductivity.
The lid, which can also be used for sautéing, is airtight due to its weight and precision fit,
allowing for waterless cooking.
Heavy-duty non-stick coating, cast aluminum construction that is lighter than it looks.
Iconic handles that accentuate individuality
Uniform heating performance is brought about by aluminum material with an average thickness of 3.5 mm.
Aluminum has high thermal conductivity, The heat power allows the food to be heated well.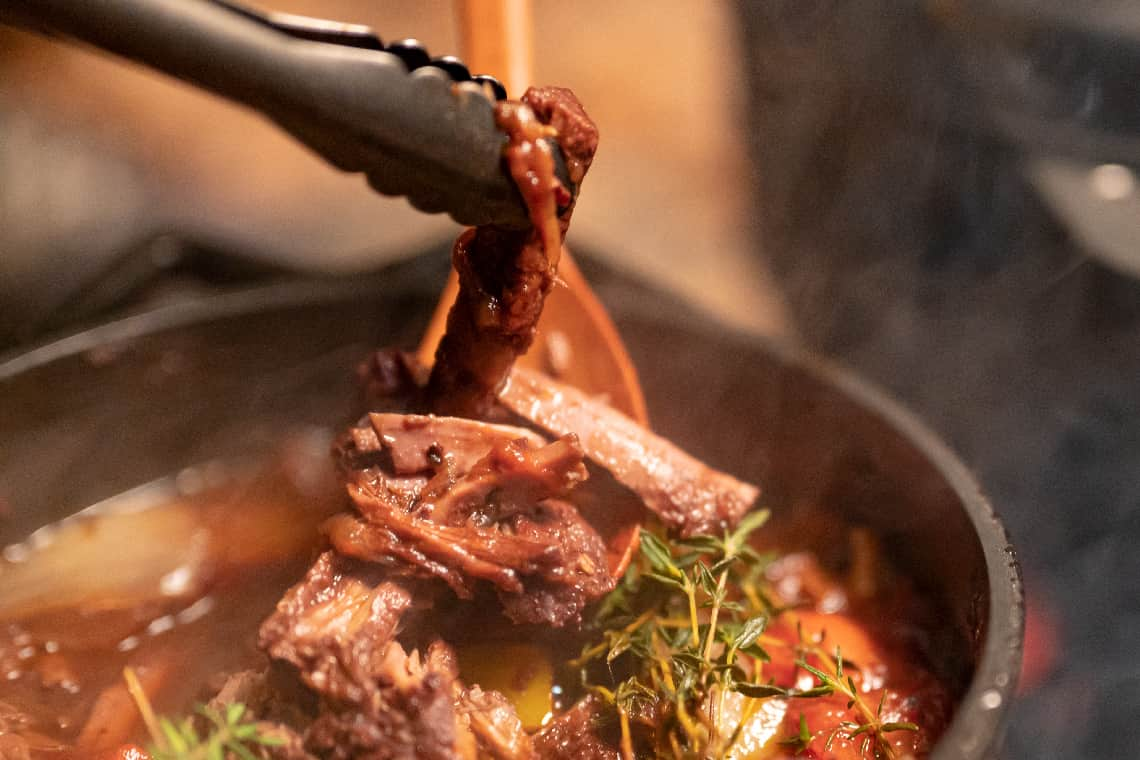 Melt in the mouth
It is not retrofitted with screws or rivets,
The handle is a sturdy, one-piece molding with the main body.
At first, it looks like it was designed for decorative purposes but it is easy to hold with gloved hands, dissipates heat, and is combined with a chain and lock when carried, etc.
The shape is the result of the pursuit of functionality.
It is interesting to note that the atmosphere of the pot changes depending on the angle of the lid!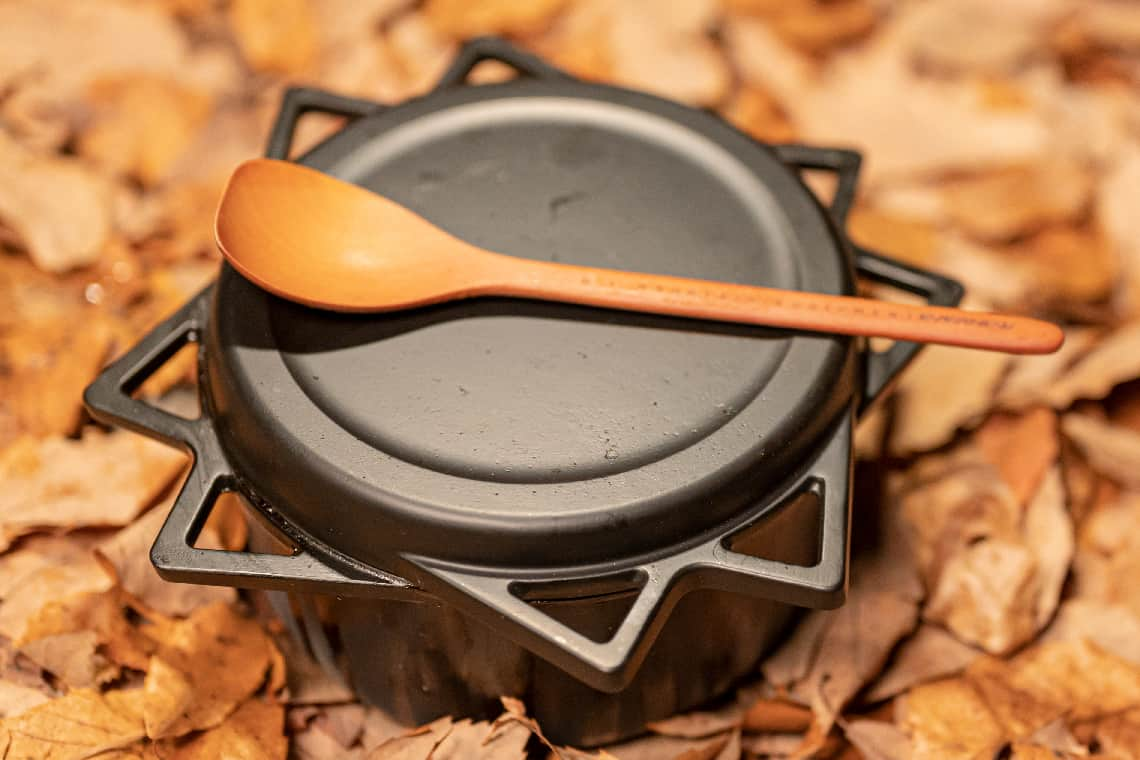 Advantages of lightness
It is easy to wash. It is easy to lay it on its side and turn it upside down.
You can wash every inch of it as if it were a large ceramic bowl.
It is made of rust-resistant aluminum, so after washing, simply wipe it dry.
Because of its high inner coating performance, when it is troublesome, simply wiping it with a wet cloth is sufficient to clean it.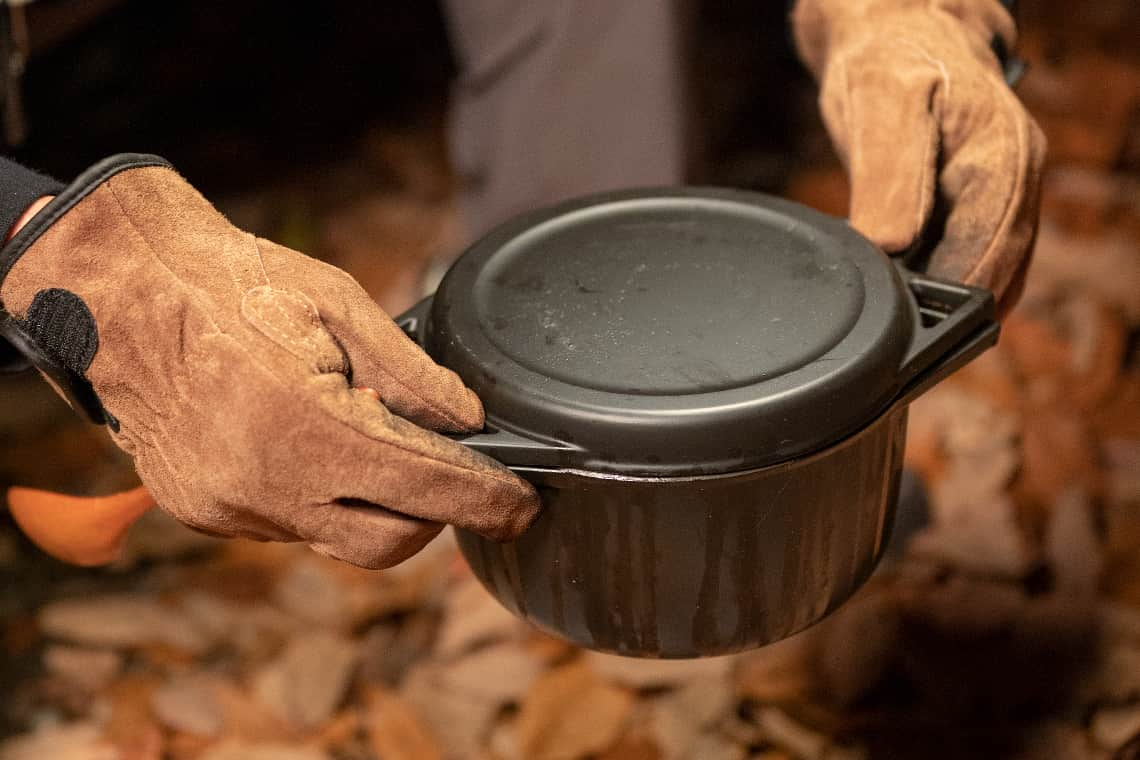 Coating
Finished with a fluorine coating agent that complies with food sanitation standards by baking twice.
The product is finished with a fluorine coating agent that complies with food sanitation standards and is baked twice. Why fluorine? Because washing up in the field should be reduced as much as possible.
The reason is that the amount of washing up in the field should be reduced as much as possible.
Because it does not burn and is clean enough to wipe clean,
No more oil or foamy messes to wash up.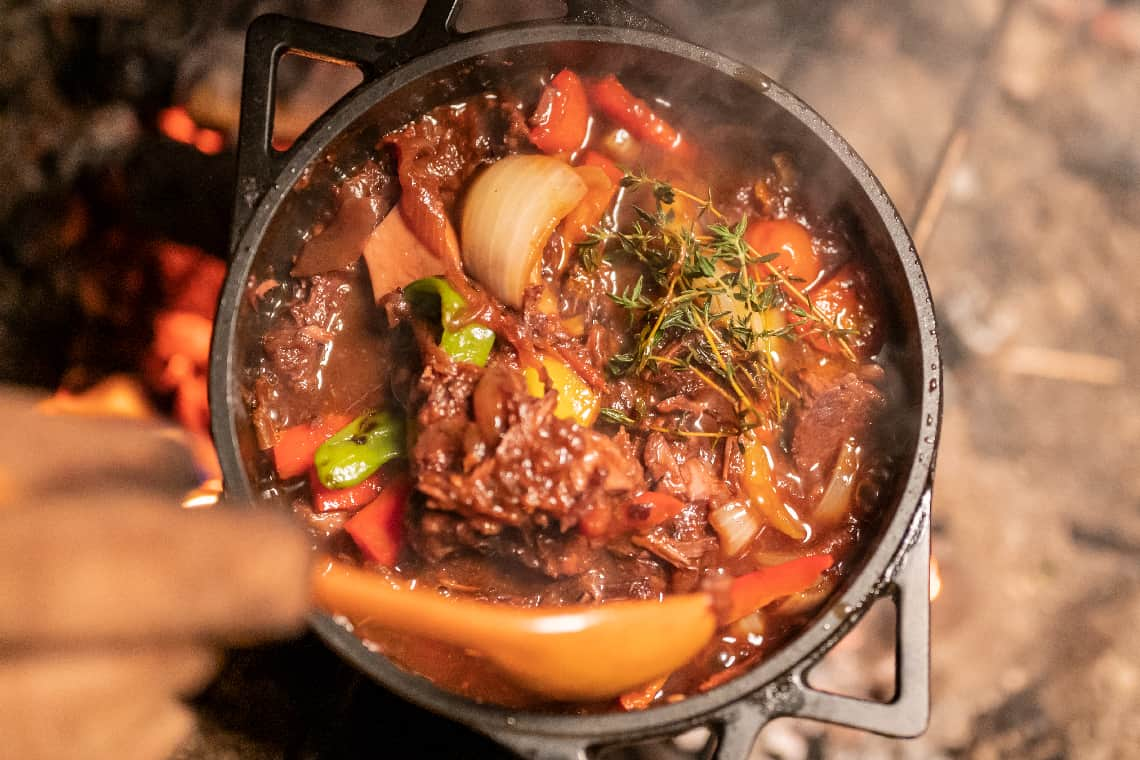 焚火

"OKUDAKE Trivet" "OKUDAKE Trivet Large"
He is a thick guy with a core who never complains even though he is continuously roasted from below and put on many things from above. And no matter how much he is abused, he stays straight and doesn't twitch.
It's such a reliable partner for bonfires,
Sorry for giving it such an easy name, "OKUDAKE Trivet".